Xbox One Reveal event viewed by 8.4 million people around the globe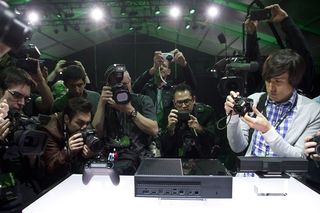 If you didn't notice from last week, Microsoft's Xbox One console made a huge impact on the press and consumers alike. Today the boys up in Redmond confirmed the number of curious eyes watching in on the Xbox Reveal event – 8.4 million.
When Microsoft's mysterious black tent was opened and the next revolution of Xbox was announced, 8.4 million people were ready to sneak a glance. The event rivaled as one of the top-streamed events of all time; its viewership rate surpassed the 2010 World Cup, the 2011 Royal wedding, and even the 2012 presidential election night coverage.
The numbers don't stop there; according to Nielsen reports, over 1.73 million people tuned in to watch the Reveal Event on SPIKE TV. The number of viewers was so high that day that the event was rated as the #1 television show for men ages 18-34 at during the 10 AM PDT timeslot.
Microsoft is touting that millions turned out to view the console's reveal, but the more important question is how the unit was received by media and gamers alike. The Xbox One has been a bit of a punching bag for some tech and gaming outlets, as they claim the PS4 has already won and that the unit has "already lost the console war". Common concerns include a required Kinect 2.0 accessory, no backwards compatibility, online game license verification and the name itself.
Initial reactions by the media don't necessarily decide a console's fate, so fans of the system (like myself) can breathe and worry a bit less. Once E3 hits and more games for the Xbox One are demoed, the negative reactions should subside a bit and the true capabilities of the console will have a chance to shine.
If you were one of the few who missed out, don't worry; you can catch up on what happened by checking out our Xbox One Reveal Day Wrap Up. If you did check out the event and want more, stay tuned to Windows Phone Central as we move closer to E3.
What are your overall thoughts on the console - is the media being too negative without giving the unit a chance?
Sources: The Fire House, PC Mag, WhatCulture
Get the Windows Central Newsletter
All the latest news, reviews, and guides for Windows and Xbox diehards.