Tools, tips, tricks and apps every new PC gamer should know
If you're a newcomer to the world of modern PC gaming, you don't want to miss this article.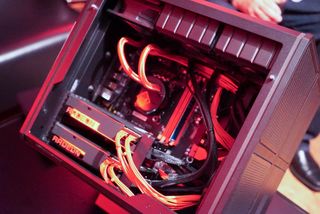 PC gaming contains a rich and relatively open world of niche titles, monstrously powerful systems, and epic Steam digital sales. It can, also, be quite complex and inaccessible.
Shrugging off the simplicity of the console world, Windows-powered gaming PCs give you access to piles of tools, tweaks, and various storefronts for buying all of those yummy games.
Whether you're a complete newb or a seasoned vet, here are a few tips and tools that might help you get more out of your gaming PC purchases.
1. Know your storefronts
If you're completely new to PC gaming, you might be wondering about the best places to actually buy PC games.
2. PC monitoring tools
Whether you're discussing your PC in a forum online or trying to troubleshoot an issue, knowing what's actually inside your PC is critical. That's why there are dozens of quality (and free) tools for this very issue.
Speccy

(opens in new tab)

is a lightweight tool that gives you quick information on everything inside your PC.
HWMonitor is another great app that gives you real-time information on voltage, heating, and the current load that's affecting your PC. It can be particularly useful for troubleshooting issues with overheating.
3. PC maintenance and optimization
PCs are a little like houses; without the proper care and attention, they can become cluttered, damaged and maybe even fall apart. Thankfully, there are piles of free tools to help keep your PC performing at its best.
IOBit Uninstaller

(opens in new tab)

helps you get rid of the remnants of uninstalled programs, plugins, and beyond, keeping your system cleaner, smoother, and happier.
GeForce Experience

(opens in new tab)

is a great tool for those who don't fancy tweaking the settings of each and every game. GeForce experience is a catch-all program for PCs using supported NVIDIA GPUs, and it contains a few neat tricks. First and foremost, it will automatically provide optimal visual settings based on your hardware for hundreds of games. Not all games are supported

(opens in new tab)

, but the list is growing. Additionally, it also allows you to quickly update and access new drivers, and even record, share and stream game clips.
AMD Adrenalin is similar to the GeForce Experience app, but is used for AMD-based PCs.
4. Capturing game footage
As noted above, you can use GeForce Experience and AMD Gaming Evolved to capture game footage. You can also use Windows Key + G to use the Windows 10 Game Bar to capture game footage, but there are also a few other tools worth considering.
5. Miscellaneous tips and tricks
Share your tips
What tools, programs, and advice would you offer new PC gamers? Let us know below, or in our dedicated PC gaming forum.
Affordable accessories that'll pair perfectly with your PC
Every one of these awesome PC accessories will enhance your everyday experience — and none cost more than $30.
KLIM Aim RGB gaming mouse (opens in new tab) ($30 at Amazon)
Whether you're a gamer or not, this is an absurdly good mouse for the price. It's ambidextrous, has a responsive sensor, a braided cable, tank-like build quality, and, yes, it has RGB lighting, though you can turn it off if that's not your thing.
AmazonBasics USB speakers (opens in new tab) ($16 at Amazon)
These neat little speakers may only pack 2.4W of total power, but don't let that fool you. For something so small you get a well-rounded sound and a stylish design. And they only cost $16.
Razer mouse bungee (opens in new tab) ($20 at Amazon)
Use a wired mouse? You need a mouse bungee to keep your cable tidy and free of snags. You get no drag on the cable, and this one has subtle styling, a rust-resistant spring and a weighted base, all for $20.
Windows Central Newsletter
Get the best of Windows Central in in your inbox, every day!
Jez Corden a Managing Editor at Windows Central, focusing primarily on all things Xbox and gaming. Jez is known for breaking exclusive news and analysis as relates to the Microsoft ecosystem while being powered by caffeine. Follow on Twitter @JezCorden and listen to his Xbox Two podcast, all about, you guessed it, Xbox!
Can't believe you didn't mention gog.com

I wouldn't recommend GFE. It breaks down after a couple of days/weeks and reinstalls itself with each driver updates

As a pc gamer for a long time, for me the least things i install the better. I recently fresh installed windows 10 creators and just installed steam, two games i was playing, nvidia display audio and physx and msi afterburner.

Worried that this article recommends CCCleaner to beginners (even with a rider) which is an awful habit to get in to and will lead to tragedy at some point. Awful software. And yet, no mention of Display Driver Uninstaller (DDU) which is the only cleaner used by anyone who knows their onions as it is extremely targeted. No other 'cleaner' software should be touched except by someone who knows exactly what they're doing to deal with a specific issue, and anyone like that will almost certainly do it manually instead. Such should NEVER be advised as a regular tool to 'keep your system running smoothly' or some such. It'll do the opposite, I guarantee.

I use it to clear out temp files across multiple browsers, I think it's pretty solid for that. I'm not suggesting people use it to mess with the registry.

But you know what you're doing and are being very specific, by the sounds. Very different from casually dropping a suggestion to use this dangerous tool in a general purpose fashion into an article for the inexperienced.

Yeah you're right, have removed that now. It was good back in the day lol.

Installed Speccu, and it automatically installs chrome. Google must be desperate to get its applications secretly installed with other software...

Really? It didn't do that for me! Where did you install from?

You have to uncheck to not install Chrome. You simply clicked away without reading.

My tips for new PC builders or buyers: Find the right monitor for your GPU: A nvidia 1060 won't perform well at 4k, likewise, a 1080 will be total overkill for 1080p gaming. * organize your folders smartly, and keep your OS drive clean. Leave at least 20% of space in SSDs. They burn out quicker if the few free memory cells are doing ALL the work. * Keep your games library to a service or two. Having multiple accounts makes playing games harder (EG, Two steam accounts, Origin, Uplay, or the Windows store, vs just a Steam + Origin account) * Don't overload you PC with bulky software. Try to keep it slimmed down. Uninstall and delete unnecessary programs and files. Use Task manager to see what's running, and in the Startup tab, disable programs that aren't needed at boot up. Software LOVES to startup at boot, which causes slowdowns. * use https://ninite.com/ to bulk install things you need. It also automatically unchecks all the boxes that install bloat plugins etc. *make backups of your computer, and BACK UP IMPORTANT DOCUMENTS AND INFO TO THE CLOUD. I immediately upload all my important code to Onedrive, in case something happens to my computer. * Use 2 factor authentication where possible. I have had a friend who has lost hundreds of dollars in steam games and all progress when someone cracked his password.

Good stuff, Ninite looks great. Will highlight that in another article.

Glad I could help! Its nice to not have to download tons of stuff, and have to carefully look for every checkbox and also unsub from every newsletter, haha.

Or just save yourself all that trouble and get a console instead.

If you play alot of multiplayer online tittles please: 1. Do not use Wi-Fi, use LAN, 2. If you use Steam, please turn off downloads during gameplay. Settings>Downloads>[Allow download during gameplay]. 3. Don't download during gameplay. 4. Turn off whatever cloud provider you use, especially if you share or on team account.

Very helpful article Jez! Nice one!

Nice article.
In the list of stores I would add Humble bundle. They don't only do bundles but sells games and ofc they have Humble Monthly which is great. There you buy a bunch of games not rent them.

If you have Amazon Prime you should sign up for Twitch and install the Twitch client to get free games every month. If you want more Free games every month, also look at Epic and the Epic Games client. Now I want MS to give me a single unified dashboard to launch my game regardless of what service it is downloaded from

Hey nice article liked it
Windows Central Newsletter
Thank you for signing up to Windows Central. You will receive a verification email shortly.
There was a problem. Please refresh the page and try again.