This unbeatable deal on the Razer Iskur X gaming chair can still be yours
Take a seat, go on, you deserve it
[Updated July 12 4:35 PM ET with latest pricing information]
Razer is a well-known brand for gaming peripherals, laptops, and accessories, all featuring flashy RGB lighting. The Razer Iskur gaming chair is different – it has no RGB, but it still looks sleek and stylish. If you want a gaming chair that is comfortable, sturdy, and not too flashy, the Iskur might be a good choice for you. In our review, we said it was absolutely worth splashing out $500 on, but now it's discounted by a lot, this chair just became one of the hottest deals for Prime Day and time is fast running out to get one at this price. You also don't need Amazon Prime to get it right now at this price.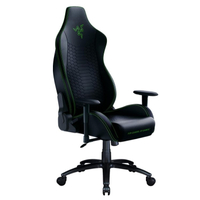 Razer Iskur X Gaming Chair: was $499.99 now $320.99 at Amazon

This price is an excellent deal for such a high-quality gaming chair. The Iskur is wrapped in multi-layered synthetic leather that's tougher and more resistant to peeling than standard PU leather, so this chair should be a long-lasting investment. And you don't even need a Prime subscription right now.
Price check: $399.99 at Best Buy

✅Best features: Unparallelled lumbar system, the support goes above and beyond your average gaming chair.
A chair that you're going to spend hours upon hours sitting in should be an important investment for your comfort, and we highly suggest checking out our review for the Razer Iskur when it was initially released.
The main difference between the chair we reviewed, and this updated Razer Iskur X is the lumbar support, which while great in this chair, is not adjustable like it was in the original model. The X is also lighter than its predecessor, so easier to move around if you wish.

For only $299, though, you can significantly improve your gaming and working environment. This chair is a beast for hardcore gaming, with a shape that hugs your curves, a seat that lets you lean back or forward, and a height that fits you just right. Plus, it's covered in premium quality synthetic leather that won't crack or peel like on cheaper chairs. Additionally, the armrests on the Razer Iskur X can be adjusted by height and rotation to your preference which is handy for switching between gaming and work use.
If you're looking for a chair that can handle long hours of gaming without compromising on comfort, support, durability, and style, then the Razer Iskur X is the one for you. Unlike some other 'gaming chairs' that are just repurposed racing seats with flashy colors and logos, the Razer Iskur X is designed specifically for gamers, with features that cater to their needs and preferences. The Razer Iskur X has a sleek and elegant design that doesn't scream 'gamer' but rather exudes a refined taste and sophistication.
Why we like this deal
The Iskur is expensive, but it's worth it if you spend a lot of time sitting in front of your PC. I believe that similar to where we sleep, somewhere we sit should be worth investing in. Many gaming chairs seem to focus on aesthetics rather than comfort, which in the long term just isn't good for your physical health, so for $300, this is a great investment.

On the whole, when searching for a great chair, I'd generally recommend looking at the best office chairs than one specifically marketed at gamers. Office chairs tend to be cheaper, with more features at the compromise of some style points, but overall, a lot more comfortable. But if you're looking for something that ticks both the comfort and style boxes, the Razer Iskur X is my top choice.
Get the Windows Central Newsletter
All the latest news, reviews, and guides for Windows and Xbox diehards.
Jen is a News Writer for Windows Central, focused on all things gaming and Microsoft. Anything slaying monsters with magical weapons will get a thumbs up such as Dark Souls, Dragon Age, Diablo, and Monster Hunter. When not playing games, she'll be watching a horror or trash reality TV show, she hasn't decided which of those categories the Kardashians fit into. You can follow Jen on Twitter @Jenbox360 for more Diablo fangirling and general moaning about British weather.