A purr-fect deal, 30% off the Razer Kraken Kitty RGB gaming headset
A paw-some headset, at a purrsuasive price.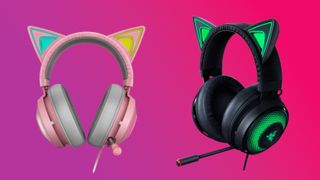 (Image credit: Jennifer Young - Windows Central)
Having recently reviewed the Razer Kraken Kitty V2 Pro, and admiring it's pawsitive features, it's come to our attention that the previous model Razer Kraken Kitty RGB USB Headset is available for a meow-nificent discount. You can now buy the Razer Kraken Kitty headset for $99 taking it to half the price of its successor. If cat ears take your fancy, and you're not interested in being a bear or a bunny, the previous Kraken Kitty is still an attractive and solid headset.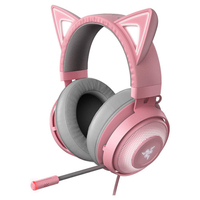 This isn't the first time we've seen the Razer Kraken Kitty at a discount, but those discounts have previously been reserved for Amazon Prime days and Black Friday deals.

The Razer Kraken Kitty is a USB-wired headset designed for PC, but can be used with Xbox via the 3.5mm audio jack. Though it's worth noting that the headset is not supported by Razer for use with consoles.
The Razer Kraken Kitty USB headset uses the Razer Synapse app to configure its lights to flash and react to games in real-time, so is a fantastic choice for streamers, or if you just want to add some pizzazz to your gaming sessions. The retractable noise-canceling microphone blocks out background noise, and the THX spatial audio delivers a fantastic surround sound experience, making this headset not just a cute accessory, but a functional piece of gaming gear.

At $99 it's firmly fighting in the mid-range headset space, and more than holds its own. This kitty certainly has claws, and at this price, you'll want to sink yours into this deal.
Get the Windows Central Newsletter
All the latest news, reviews, and guides for Windows and Xbox diehards.
Jen is a News Writer for Windows Central, focused on all things gaming and Microsoft. Anything slaying monsters with magical weapons will get a thumbs up such as Dark Souls, Dragon Age, Diablo, and Monster Hunter. When not playing games, she'll be watching a horror or trash reality TV show, she hasn't decided which of those categories the Kardashians fit into. You can follow Jen on Twitter @Jenbox360 for more Diablo fangirling and general moaning about British weather.