Light up your life, literally, with these amazing Govee deals that are still live
Lighting deals still running after Prime Day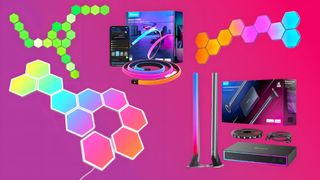 (Image credit: Future)
What instantly improves any gaming setup and takes it from drab to dazzling? Immersive lighting — and Govee is one of the best out there to do it. Not only do they pretty much have a product for any area in your home, their items seamlessly sync with each other and your existing smart home devices. For that reason, we love the brand here at Windows Central, and we're happy to see a bunch of items we've reviewed highly or have our eye on still enjoying a discount on Amazon, albeit with the addition of a voucher.
We liked the Govee DreamView T1 Pro when we reviewed it, and now the Govee Envisual TV LED Backlight T2 is here to improve on it. This device creates lighting effects behind your TV that match the content on the screen, making your viewing and gaming more engaging and enhancing your room's atmosphere. It has a dual-camera system, more LEDs per meter, and better color accuracy than the previous model.
The Govee Glide Hexa Pro LED Panels are a set of smart lighting panels that can create various shapes and patterns on your wall. They are also compatible with the Govee Glide Wall Bracket, which allows you to mount them vertically or horizontally. They are an easy option for anyone looking for a unique and fun way to add some color and ambiance to their space.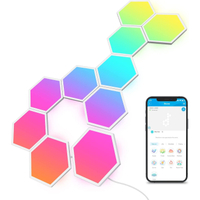 Govee Glide Hexa Light Panels 10 pack: was $179.99 now $119.99 at Amazon

Easy to install, customize, and control via the Govee Home app or voice assistants. These lights offer 16 million colors, 64 scene modes, and music sync features. You'll need to click 'add $60 coupon' before adding to your checkout to get this price.

Price check: $179.99 at Govee

✅Pros: Beautifully bright, easy to set up, and easy to apply with sticky adhesive pads

❌Cons: Not suitable for textured walls
These neon strip lights can create anything from bright and vibrant to soft and atmospheric lighting for your desk, perfect for PC gaming. It can be controlled by voice, app, or remote and can sync with music or sound. It supports Govee RGBIC technology, which allows each LED segment to display different colors simultaneously, and they work perfectly with Razer Chroma.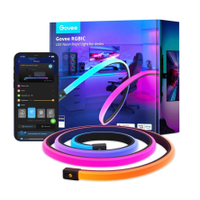 Govee Neon Strip Light for Desks: was $89.99 now $59.99 at Amazon

If you're a PC gamer, you'll love these lights. Transform your desk into a dynamic backdrop and easily customize your perfect gaming setup. You'll need to click 'add $30 coupon' before adding to your checkout to get this price.

Price check: $74.99 at Govee

✅Pros: 4 independent controllable segments, cuttable points that allow you to adjust the length of the strip

❌Cons: There are certainly cheaper strip lights available, but not from a reputable brand like this
The VIP product that brings all of the Govee lighting family together, the Govee AI Gaming Sync Box Kit is the way to turbocharge all of your immersive lighting. The kit contains a sync box, a camera, and two light strips. The strips can be mounted anyway, and the included camera captures the colors perfectly on your screen to sync with your array of lights.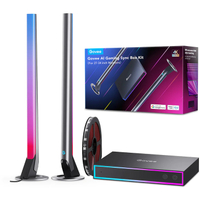 Govee AI Gaming Sync Box Kit: was $299.99 now $199.99 at Amazon

This device has a high price tag, but you can get it for less during with a voucher that's currently active, and it's surely an impressive gadget that can take your gaming experience to new heights. You'll need to click 'add $100 coupon' before adding to your checkout to get this price.

Price check: $299.99 at Govee

✅Pros: Supports up to 4K resolutions or 240Hz, with in-between options

❌Cons: No support for HDMI 2.1 features like VRR
Which we would choose
Of all the products listed, if you are a complete newbie to Govee or even ambient lighting products, I'd highly recommend the Govee Glide Hexa Light Panels for what is really an entry drug into the world of smart lighting.
These panels allow you to create any shape or design you like, and they are very easy to install and use right away. They have a similar design and performance to the Nanoleaf lights, which you can also find on sale on Amazon Prime if you prefer their app. However, I think Govee has a better value for money, as they are much cheaper than Nanoleaf's products but still look amazing.
If you want to compare the two brands, make sure you check the Amazon listings for the number of panels included in each kit, as there are different bundles available - a lower price may mean fewer panels to work with.

We are keeping our eyes peeled for more great deals for our readers, so be sure to keep tabs on our hubs and refresh the best deals hub regularly for our top picks from the sales.
Get the Windows Central Newsletter
All the latest news, reviews, and guides for Windows and Xbox diehards.
Jen is a News Writer for Windows Central, focused on all things gaming and Microsoft. Anything slaying monsters with magical weapons will get a thumbs up such as Dark Souls, Dragon Age, Diablo, and Monster Hunter. When not playing games, she'll be watching a horror or trash reality TV show, she hasn't decided which of those categories the Kardashians fit into. You can follow Jen on Twitter @Jenbox360 for more Diablo fangirling and general moaning about British weather.