Best Bluetooth keyboard alternatives to Surface Pro Type Cover
Just can't bring yourself to like the Surface Pro Type Cover? That's okay, here are some other options for your typing pleasure.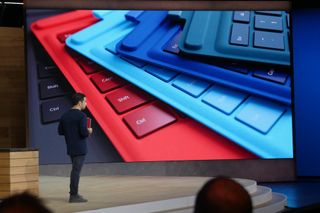 Microsoft's Surface Pro 4 and latest Surface Pro are versatile devices that you can use as tablets or laptops. While Microsoft's Type Cover remains the best fit for its Surface line because of the benefits it confers, it is expensive and might not be for everyone.
Here's a roundup of some awesome third-party Bluetooth alternatives that are compatible with the Surface Pro 4 and latest Surface Pro.
Logitech K810 keyboard
Why you can trust Windows Central Our expert reviewers spend hours testing and comparing products and services so you can choose the best for you. Find out more about how we test.
The K810 keyboard from Logitech (around $70 (opens in new tab)) is a light Bluetooth keyboard designed for portability. Although it doesn't attach to the Surface Pro and doesn't have a trackpad, it does have some advantages over Microsoft's Type Cover.
One of them is versatility. You can use it with any Bluetooth device, such as your smartphone or another tablet, something you can't do with the Type Cover.
Other features of this keyboard are its thin form-factor, which makes it easy to store and carry with you, even in a sleeve case, and its stylish appearance — it's made with a brushed aluminum finish and is back-lit for late night typing.
Reviews for this keyboard are overall positive, though you may find the keyboard a little on the small side if you happen to have larger hands.
See at Amazon (opens in new tab)
Anker Bluetooth Ultra-Slim keyboard
If you're looking for a set-and-forget keyboard, Anker's Ultra-Slim may be your best choice. This accessory comes from a reputable brand behind some killer products so you know you're going to enjoy a solid typing experience. The best part? It's only $20 (opens in new tab).
Unlike any of the other keyboards on this list, this one uses two AAA batteries instead of lithium-ion rechargeable batteries. According to Anker, these batteries will last 3 months before requiring replacement.
Similar to other third-party keyboards, you can't attach Anker's keyboard to the Surface Pro nor does it have a trackpad. However, it does offer advantages over the Type Cover, one of them being that it can be used with other Bluetooth devices as well.
See at Amazon (opens in new tab)
iClever keyboard
A unique keyboard on our list comes from iClever. It folds up to be no larger than a large smartphone, such as the trusty Lumia 950 XL. While unfolded, however, it is large enough to type on comfortably.
Made of aircraft-grade aluminum alloy, it is durable so don't be afraid to take it with you pretty much anywhere you want to go. It's also on offer for only $36 (opens in new tab).
Like all the other keyboards on this list, this one uses its own power source, which in this case is a lithium-ion battery. According to the manufacturer, the battery can last up to six months on a single charge.
Reviews for this device are for the most part positive; though one person noted that those with big hands might find the keyboard a little cramped (a familiar theme with some of these keyboards).
See at Amazon (opens in new tab)
Arteck keyboard
Arteck's keyboard is a good choice for those who love style and pizzazz in their technology.
Stylishly pretty, this keyboard comes with seven unique backlight colors, each with two brightness levels.
Like the other keyboards on this list, it works with the Surface Pro and other Bluetooth devices and at only 0.37 pounds, it's easy enough to carry around, even in a sleeve case.
This keyboard has its own lithium-ion rechargeable batteries, which Arteck claims will last up to six months on a single charge. It's also on sale at around $20 (opens in new tab), slightly cheaper than the Surface keyboard.
More keyboards
Updated March 30, 2018: This guide has been refreshed to reflect what's available now for the Surface Pro.
Windows Central Newsletter
Get the best of Windows Central in your inbox, every day!
I recently bought a copy of Battle & Get! Pokemon Typing DS, which comes with a standard bluetooth keyboard, for 6€ at GameStop. Unbeatable price and a very nice keyboard!

I have the Logitech one. It's really nice but I actually replaced it recently because it didn't have all of the control keys I wanted. I wanted one that worked better with W10M, and the Universal Folding Keyboard keys are all supported on W10M RS1 (play/pause, skip track, previous track, search, lock, volume controls, home key) Overall it had a much nicer set of control keys. Very important thing to consider when buying a keyboard. :) This isn't so much an endorsement for the MSFT Folding keyboard (as you wouldn't replace the type cover for a worse version of it) but that I found the key set on the Logitech lacking. Besides that though, I think its the most premium feeling Logitech keyboard I've ever used (normally not a fan of them at all).

Doesn't every Bluetooth / USB Keyboard work with a Surface?

yes, every, I use a apple bluethooth keyboard and works fine

I use a Logitech Keys-To-Go with my iPad. As someone who has also used the SP3, it is very similar in feel - kind of a mix of the original Surface Touch Pad and the SP3 keyboard.

I own the iClever foldable keyboard for a while. I'm using it to type this now, on my 950XL in Continuum. It's worth it. It has built-in rechargeable batteries. Back lit with red, blue, or green colors for low lighting conditions. You'll never go back to non backlit keyboards. Works for all 3 ecosystems/platforms. They keys are full sized and the key travel about as much as a typical laptop, so much like a typical laptop keyboard is how it feels.
The only gripe I have is the special mutlimedia keys, specifically the volume up/down, stops working until you unpair and repair. I'm not sure if it's an issue with the keyboard itself or Windows 10 Mobile, or the Lumia 950XL bluetooth chip. Or all the above. Not a deal breaker, but annoying. I've reached out to the manufacturer to see if there's a way to update the firmware. They've confirmed there will never be firmware updates. Sad panda.

What about the Microsoft portable keyboards? They fold up and works with any bluetooth enabled device.

It is very nice, but no back lighting. Not sure how well it works with ios and android. Someone else chime in?

Cannot talk about Android, but with iOS and Blackberry they just work fine.

If backlighting is a gamebreaking feature then you're probably not as good as typing as you think you are.

If you mean the foldable keyboard then yes it works on any platform. I use it daily

I came across the QQ-Tech Mini Bluetooth Keyboard a week ago, and I'm considering getting it for use as a multimedia keyboard and trackpad. If my Surface is connected to my TV, then it is very inconvenient to keep getting up to start, stop, pause, etc. The QQ keyboard is small enough that it doesn't seem out of place near remotes, and it would be perfect for a device like the Intel ComputeStick.

They just need to fix the surface's keyboard honestly. Mine broke within a few months of use, and I'm not going to buy another till they fix how they attach to the surface. Till then, these look like a nice alternative.

Would still recommend a type/touch cover for surface pro device over a Bluetooth keyboard alternative. A broth keyboard it's more value for a windows 10 mobile device.

Didn't they replace it under warranty?

I just want a cover for my Surface Pro, no keyboard. Why hasn't anyone made one exactly like their covers but no keyboard? I think that would be better for consumers, especially those just getting the Surface.

Zagg slim is not the only one... Have you heard of Megoo? They have also been producing type cover like bluetooth keyboard covers for quite some time and their products are quite affordable. I have one for my sp3. The keyboard is great but the magnetic force is a bit too weak. To me, those 3rd party alternatives to typw cover do not provide better experience and hence the only reason for me to purchase one of them is much lower price than type covers. Otherwise I would just recommend type covers Posted via the Windows Central App for Android

Any recommendations for a mobile Keyboard with Touchpad?

Logitech k400. It's not bluetooth, but comes with the tiny USB wireless receiver. I personally prefer the older white model.

The BlackBerry Passport! Keyboard and touchpad together, and no need to carry a third item.

Best alternative bluetooth keyboards, and not best bluetooth keyboard alternatives. These are all bluetooth keyboards.

I just bought the Surface Pro Signature Type Cover in Gears of War Red, its pretty decent, but I don't like the mouse pad so I bought the Arc Mouse, hopefully it's worth the money, not much use for the pen right now, but I really miss having a number pad on the keyboard, I used to have a 15" wide screen laptop, so the type cover is a big reduction in size for me! The Logitech keyboard is pretty good, I've used that on a variety of devices including the 950XL! Really enjoying the surface pro though so far!

I was a 15.6" user too. When I need to use Excel extensively, I opt for a full width desktop keyboard. Mine is the Microsoft Designer Bluetooth Keyboard (because it looks pretty & frees up the precious USB port for anything else). You might want to get a Bluetooth number pad.

How the heck isnt the Universal Foldable Keyboard here its literally the best portable bluetooth keyboard out there

Dude, Brydge. Why no mention?