Best External Antenna for the TP-Link Archer C7 AC1750 Wi-Fi Router in 2022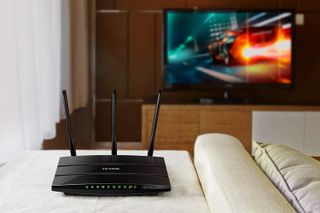 The TP-Link Archer C7 AC1750 Wi-Fi router comes equipped with six total antennas, three of which are external and replaceable. Using the common RP-SMA standard connection type, the antennas on the back of the router can be unscrewed and replaced with a third party option. Most of the time, a router can be moved to a better area to improve signal, but sometime there is no better option and more gain is needed. The HUACAM WiFi Antenna Dual Band (opens in new tab) has a strong signal up to 10dbi and supports both 2.4Ghz and 5Ghz frequencies. This is one of the best antennas you can add to your router without being too bulky.
Best Overall: HUACAM WiFi Antenna Dual Band
Why you can trust Windows Central Our expert reviewers spend hours testing and comparing products and services so you can choose the best for you. Find out more about how we test.
HUACAM WiFi Antenna Dual Band
Power with a little design flair
Reasons to buy
+
Dual-band
+
10dbi gain
+
Smaller size
Reasons to avoid
-
Only comes in a pack of two
If your TP-Link Archer C7 AC1750 router needs a little shot in the arm to cover your whole house, higher gain antennas may be the answer for you. You can use up to six antennas with this router — three are built in and three are replaceable with the RP-SMA style connector. The stock antennas are omnidirectional, meaning they broadcast in all directions equally and are configured to provide a strong signal up close with a wide vertical range of coverage. This will be better for houses with multiple levels.
The HUACAM WiFi Antenna Dual Band seeks to improve things by adding more gain without getting too long, coming in at a repsectable 10dbi with dual-band support. Many antenna packs, including this one, come in with two since that is the most common configuration, so you will need to buy one more antenna than you need in this case. Even so, with a reasonable price and a red accent bringing a little design flair, these antennas should be a good fit for your router.
Best Value: GP Electric HSA-2458TE9
GP Electric HSA-2458TE9
Greater length brings greater focus
Reasons to buy
+
9dbi gain
+
Dual-band
+
Comes in a pack of three
Reasons to avoid
-
Reduced nearby signal
-
Narrower range
GP Electrics' release of this common Hongsense design brings good value and high performance. Best of all? It comes in a pack of three, so you don't have to buy any extra antennas. These omnidirectional antennas look like a stretched out version of a standard antenna coming in at over 15 inches (39cm) and standing proudly above all your other networking equipment. It is possible for a more powerful antenna to perform a little worse at close range but this is mostly only a problem on the older 2.4 Ghz band.
It's important to note that increasing the physical length of an antenna like this can make performance on higher and lower floors worse. Antennas like this achieve greater range by narrowing the vertical focus of the signal. Still, that makes this antenna set a great value for a large flat home.
Best Directional: Alfa APA-M25
Alfa APA-M25
Lots of power in a small window
Reasons to buy
+
Directional
+
Better for long distance
+
10dbi gain
+
Dual-band
Distinguished by its flat boxy shape, the Alfa APA-M25 provides a high range signal with a laser focus. This directional antenna is meant to carry signal a long way and achieves this goal by only broadcasting in one direction. This can be very helpful for reaching a remote area of a house with low signal or even covering a small outdoor area like a work shed.
With modern specs, including support for dual-band signal and 10dbi of gain, this antenna can be a great solution for someone with some distance to cover. This can be used to aim at a Wi-Fi extender far away in order to create a remote hotspot without wires. However, you should note that at this price you only get one antenna, while for the same price you get multiple antennas at other brands.
Best Stock Replacement: TECHTOO STKA-7DX2-RSMA
TECHTOO STKA-7DX2-RSMA
Normal is good too
Reasons to avoid
-
Only 7dbi gain
-
Comes in a 2-pack
The TECHTOO STKA-7DX2-RSMA antennas feature some of the weakest stats on this list with only 7dbi gain. These omnidirectional antennas aim more to replace the stock antennas of your router if they have been lost or damaged. Antennas are actually rubberized sticks and can be a puppy's favorite chew toy while you are looking the other way. If you just want to replace your antennas with something close to stock performance, this is a good option.
These antennas still feature dual-band support a respectable 7dbi gain. If you need something that won't stand out too much and you were happy with the coverage provided by the stock antennas, these can be a great replacement.
Bottom line
At the end of the day, the right antenna really comes down to what is needed. Sometimes better performance can simply come from relocating your router to a more central location. If you need a strong Wi-Fi signal and don't mind giving up some vertical coverage, the HUACAM WiFi Antenna Dual Band (opens in new tab) antennas can be a great little upgrade that doesn't go overboard on reducing signal area. While a new set of antennas may be a good stopgap if your TP-Link Archer C7 AC1750 isn't reaching your entire home, a power line extender or a simple Wi-Fi extender may provide the performance you're looking for with none of the compromise.
Windows Central Newsletter
Get the best of Windows Central in your inbox, every day!