Best mesh Wi-Fi for gaming 2022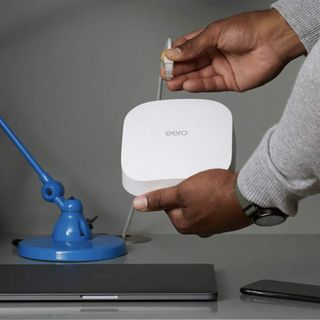 (Image credit: Eero)
The best mesh Wi-Fi for gaming requires specific technology that many routers haven't fully adopted yet. It can be hard to maintain a fast connection across several mesh Wi-Fi nodes in a large home or building. The best option for anyone trying to avoid lag in their games is the Eero Pro 6. Built with a strong QoS system that prioritizes low latency, it's the strongest choice for fast, reliable Mesh Wi-Fi gaming.
The best Wi-Fi mesh systems for gaming
Why you can trust Windows Central Our expert reviewers spend hours testing and comparing products and services so you can choose the best for you. Find out more about how we test.
Eero Pro 6
Best overall
Reasons to buy
+
Wi-Fi 6 (802.11ax)
+
Fast 1.6 GHz quad-core processor and 1GB RAM
+
Smart SQM QoS system
+
2 LAN ports per unit
When it comes to the best Mesh Wi-Fi for gaming, you need the fastest connection possible. Unfortunately, the nature of modern mesh Wi-Fi can't usually keep up with those types of demands, especially if you're playing games that require split-second reaction times. The connection has to go through too many hoops for most mesh systems to handle in a way that works well for gaming.
The Eero Pro 6 beats out the competition simply because it has the extra features that make mesh Wi-Fi gaming not only possible but reliable. The Eero Pro 6 has the hardware overhead to handle devices like gaming consoles and PCs that will want to draw a lot of bandwidth simultaneously as other devices. It's a tri-band router that uses a single 5Ghz band exclusively for talking to other Wi-Fi nodes so that your connection is free of commotion. And on top of that, it has a solid SQM QoS system that you can enable. It essentially prioritizes your gaming above all but is still in beta at the time of this writing.
The only downside to the Eero Pro 6 is that it's pretty expensive, given its robust set of features. It's a "pro" model for a reason. The Eero Pro 6 is designed for people with high-speed connections and for those who care about having extra ethernet ports for connecting wired devices to each node. If you're someone looking to have a pool of nodes, the cost skyrockets. The Eero Pro 6 works best with more than one of its pricey base models instead of the Eero Wi-Fi 6 extenders, forcing you to invest hundreds of dollars depending on your situation.
But the price gives you a Mesh Wi-Fi system for gaming that's unparalleled at this point. The competition can't match the pure power behind the Eero Pro 6.
Eero 6
Best budget
Reasons to buy
+
Wi-Fi 6 (802.11ax)
+
Smart SQM QoS system
+
Affordable expansion
Reasons to avoid
-
Average processor and RAM
-
Average 500Mbps Wi-Fi speeds
-
Dual-band
The Eero 6 is the cheaper mesh Wi-Fi gaming option. It lacks the speedy processor and RAM that the Eero Pro 6 has, but it runs on similar software that makes gaming possible: namely, its SQM QoS mode. Flipping that on should significantly lower latency in games, especially if your internet connection isn't blazing fast.
The Eero 6 should get the job done as long as you're not expecting esports-level latency in fast-paced games. As you drop down in price, you also drop down in capability, so the reliability can't exactly match the more expensive option. That said, it's still a powerful choice if you want to play games over a mesh network.
The best thing the Eero 6 has going for it is that it's also not too expensive to expand. If you need to play games in a large home or building, the Eero extenders are an affordable option for widening your Wi-Fi coverage compared to buying several Eero Pro 6 units.
Google Nest
Best value
Reasons to buy
+
Fast 1.4Ghz processor and 1GB of RAM
+
Wi-Fi 5 (802.11ac)
+
Priority device feature
+
Average price
Reasons to avoid
-
No SQM QoS feature
-
Dual-band
The Google Nest Wi-Fi is a perfect option if you want to spend a little more for the best mesh Wi-Fi gaming kit with more power inside but lacks some fancy features. Unlike the Eero line of mesh kits, the Google Nest Wi-Fi doesn't offer a reliable QoS option. Instead, it allows you to choose a priority device for connection speed that only lasts up to four hours. This can be annoying to configure, but it will do a lot for gaming if you need it.
Otherwise, the Google Nest Wi-Fi is still a good pick for a mesh router that can keep up with a fast connection speed, multiple devices, and general gaming use. While you might see some hiccups compared to the more expensive options, it should keep you satisfied for most situations.
Asus RT-AC86U
Best router mesh hybrid
Reasons to buy
+
Very Fast 1.8Ghz processor and 512MB of RAM
+
Wi-Fi 6 (802.11ax)
+
QoS feature
Reasons to avoid
-
Expensive
-
Limited expandability
The ASUS RT-AC86U Wi-Fi mesh kit is a tricky but powerful option for people looking for the best mesh Wi-Fi for gaming. It's a Wi-Fi 6 router with a speedy dual-core processor and a fair amount of RAM. It also has a QoS feature for those that need it. The big benefit to the Asus RT-AC86U is it's a standard router that also can be turned into a mesh network. That means it's built to be a one-stop shop for many high-bandwidth devices, unlike some other mesh kits.
The catch is that expanding it into a mesh network can be annoying. You need to purchase a router or extender that supports the AiMesh technology and then get it set up. Generally, they're more expensive and reportedly not as easy to set up than full-blown mesh solutions, but once you get them working, they seem to be competent.
Razer Sila
Best premium
Reasons to buy
+
Competent quad-core 717Ghz processor and 512MB of RAM
+
Wi-Fi 5 (802.11ac)
+
QoS feature
+
Tri-band
Reasons to avoid
-
Expensive to get mesh capabilities
-
Limited LAN ports
The Razer Sila is a gaming router with many features you'd want in the best mesh Wi-Fi gaming system, but it comes at a steep price. To make it a proper mesh kit, you have to buy one or two of them. If you do, though, the Razer Sila will cover up to 9,000 square feet with its Wi-Fi 5 signal. It's a serious contender with some major mesh networking solutions, but it can be a niche pick if you factor in price.
If you can afford this router, it'll get you Razer's tailor-made QoS for routing gaming traffic at a higher priority than other connections. This will likely reduce the lag and latency you can get while gaming on normal Wi-Fi. It also has a quad-core CPU and a fair amount of ram, which should handle heavy loads if you're in a place with many users.
How do I choose the best mesh Wi-Fi for gaming?
The best mesh Wi-Fi kits for gaming are hard to find. They need the right features to reach the tight demands of gaming, whether it's streaming or playing online. There's a handful of options out there, but only a few really stand out as the best and easiest choice for uninterrupted gaming. Even mesh kits like the AmpliFi HD are fine for gaming, but they don't go the extra mile like some of these picks do.
The Eero Pro 6 is a solid mesh kit for anyone, but it also directly targets gaming with its strong QoS feature and general speed throughput. It's an expensive choice, but it's what you'll need if you want a mesh Wi-Fi network that won't let you down.
Get the Windows Central Newsletter
All the latest news, reviews, and guides for Windows and Xbox diehards.
Tyler Colp is a freelance writer for Windows Central. He's written about tech, games, and the culture around them across the internet. Ask him anything about Dark Souls or just follow him on Twitter.