Best Xbox One couch co-op games for couples
By Lauren Relph , Matt Brown published
Get comfy on the couch with these co-op games for Xbox One – perfect for couples this Valentine's Day.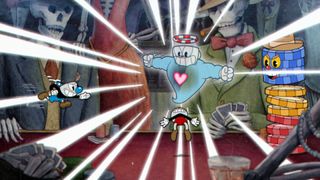 It used to be that multiplayer games were played side-by-side with a friend, sharing a console and a couch. But in the age of online multi-player, the couch co-op is still thriving, even if under the radar.
With Valentine's Day just around the corner, we've rounded up some of our favorite couch co-op games for couples. Forget the flowers and chocolates – just pick up one of these Xbox One games this February.
Cuphead
Cuphead emerged as one of 2017's top titles, through its challenging side-scrolling gameplay and endearing 1930-era art style. Pitting players against an onslaught of enemies and unforgiving platforming puzzles, the game has earned a reputation for the brutal nature of its gameplay.
The game is also built with local cooperative play in mind, allowing two friends to commandeer "Cuphead" and "Mugman" on tag team adventures through its fantasy world. Even with double the firepower, two players makes for a challenging, but equally rewarding way to experience the game. Just don't expect to talk to your significant other after defeating your first boss. Cuphead is available from the Microsoft Store, priced at $19.99.
See at Microsoft Store (opens in new tab)
Overcooked
Overcooked is a frantic cooking game, but I hope your wits are sharper than your knives. You (and your buddies) will have to prepare, cook and serve dishes for increasingly irate customers. As a periodical sufferer of "The Hangries" (hungry irritability), there is nothing worse than being kept waiting for food, so limber up and get serving those hungry customers! There are plenty of jobs to do in the kitchen and not nearly enough hands. As the old adage goes, too many cooks spoil the broth, but in Overcook's case, too few cooks can't get the job done. Overcooked is available from the Microsoft Store, priced at $16.99.
See at Microsoft Store (opens in new tab)
Lovers in a Dangerous Spacetime
Lovers in a Dangerous Spacetime is an action game in which you and your beloved take control of a ship, traversing a neon cosmos and manning all the battle stations yourselves. If there was ever a game that encompassed what being in a relationship is all about, Lovers In a Dangerous Spacetime is it. Team work is key, as you protect your tiny Love ship from Anti-Love. Run about the ship, activating shields and turrets as you go, keeping you and your loved one safe. If you honestly don't have anyone to play with, you can play with an AI dog. After all, isn't a dog a man's best and most loyal friend? Lovers in a Dangerous Spacetime is available from the Microsoft Store, priced at $14.99.
See at Microsoft Store (opens in new tab)
Neon Chrome
Neon Chrome is a roguelike game, where you and a partner can pick a character and battle your way through many floors in order to defeat the Overseer... before doing it all over again, only this time everything is a little bit harder. Not for the faint-hearted, Neon Chrome is already a pretty brutal single player experience, even if you have collected and found some decent power-ups. Taking a buddy with you multiplies your damage output, there are plenty of lives to go round, but you'll have to bicker amongst yourselves about who gets the next upgrade. Blade Runner meets The Matrix as you transfer your consciousness into clones, establish a neural link and control their bodies to take back control of Neon Chrome, the giant man-made city-in-a-building. Neon Chrome is available from the Microsoft Store, priced at $14.99.
See at Microsoft Store (opens in new tab)
Child of Light
Child of Light is a side-scrolling, platforming RPG, with gorgeous soft graphics and a gentle soundtrack that will capture anyone's attention. Player one controls Aurora, the feathery haired heroine, taking control of attacking and exploration. Player two controls Igniculus, the support character that can reveal hidden entrances, heal Aurora in battle and stun enemies. With a story of a forgotten kingdom told in the style of a poem, this is one fairytale that shouldn't be lost to the ethers of childhood memory. Child of Light is available from the Microsoft Store, priced at $14.99.
See at Microsoft Store (opens in new tab)
Castle Crashers Remastered Edition
Originally on Xbox 360, Castle Crashers was remastered for the Xbox One. Crash castles, save the princess and defend your kingdom. Play with up to four players, and throw yourself into zany co-op adventures. There are over 25 characters and 40 weapons to use, and various modes to test your expert castle smashing mettle. Bludgeon enemies, or set fire to them with magic. There is much more than meets the eye in Castle Crashers, offering a lengthy campaign and RPG elements to continue to level up your heroes. Castle Crashers is available from the Microsoft Store, priced at $14.99.
See at Microsoft Store (opens in new tab)
Rocket League
Who thought that cars and football would ever be a combination that works? Well, apparently, it does, and it's inexcusably huge. Rocket League is incredible fun, even if you're not very good at it, and is a game that will undoubtedly have you swearing and shouting at the TV (and each other) like its 1989. Rocket League is available from the Microsoft Store, priced at $19.99.
Star Wars Battlefront 2
Split-screen multiplayer is becoming a rarity for multiplayer shooters, following an industry-wide shift to high-framerate online play. Star Wars Battlefront 2 is one of the latest games to go against this trend, with support for two local players on console versions of the game.
Split-screen support is currently limited to the game's "Arcade" mode, meaning you won't be getting the full Battlefront 2 experience. But with unrestricted access to classes, heroes, and factions, the mode is still fun for any Star Wars fanatics. Battlefront 2 is available from the Microsoft Store, priced at $59.99.
Minecraft
More Minecraft, yes I know. But we can't possibly refute that this is one of the best games to play locally with buddies. It's now one of the biggest survival adventure games available. Build anything you can imagine, power it with redstone, create a stronghold and fight the monsters that come out at night. Its accessibility allows for even the youngest of players to take the controls, and players have built everything from basic shelters to massive basic electronics replicas in the Minecraft. The story really is yours to tell. Minecraft is available from the Microsoft Store, priced at $19.99.
So those are some of our favorite Xbox One couch co-op games. Let us know in the comments if we've left your favorite out!
Updated February 12, 2017: Updated with the latest co-op games available today, marking Valentine's Day 2018.
Lauren Relph is a games writer, focusing on Xbox. She doesn't like piña coladas but loves getting caught in the rain. Follow her on Twitter!
Not sure if this counts, but either of the Jackbox Party Packs. Can't wait for the 3rd one to come out soon! Posted via the Windows Central App for Android

Every. Lego. Game. Seriously, the Lego games are a lot of fun for casual players, and don't rely on split-screen, but rather, all co-op players are on-screen together in the same scene.

Lego games can be too hard for game challenged people from my experience. Controls might be simple but they don't always grasp the mechanics easily. Lovers in a dangerous... starts up fun but can be frustrating as you tend to end up covering everything for your partner or risk losing the game, and the levels can be long. Overcooked is just right, with simple controls, short levels, cartoony characters, and requiring the right mix of action, planning, and close and constant communication, though for a game challenged person you can spend hours with her/him just to beat one or two short levels - still fun as you spend time with your partner coming up and tweaking your strategies and finding room for improvement between every (failed) attempt. Most levels are very short so you don't feel being penalized for failing a level.

I found Mavel Superheroes super boring, as the dashboard is the whole NY city so it's a little hard to find the actual missions, also controls specially flying controls suck, making flying races almost impossible. However, Pirates of the Caribbean and Jurassic Park are really fun, and easy to control. My daughter also liked the Harry Potter ones, though there is a series of like 8 different wands, so you have to keep track of what each one of them do. I have yet to play the Hobbit and Lord of the Rings, but I think I did play like 5 minutes of LoTR and it was also pretty simple.

The Handsom Jack collection of Borderlands is an amazing couch co-op game, plus its like 100+ hours of content, so you wont run out of things to do very quickly.

FRU can also be a great game to play cooperatively. Probably some of the most creative completely out-of-the box Kinect gameplay to date. Love this game!

Superb, much needed article. Rocket League is good, and Lovers is pretty cool. Wish there were more. Not heard of Neon Chrome before, looks mental. Couch co-op and split screen modes are frequently overlooked. Great times.

Guacamele is great multiplayer. i havent played with 4 players but can only imagine the craziness.

thanks for this, always looking for coop games to play with my wife! canoli was a favorite, gonna try these others for sure

Rayman Legends is ours favourite! We also enjoyed Thumblestone even if the game is trash by itself but playing it with my spouse is really fun. We also enjoyed Chariot a lot so my recommendation for it. I think Divinity Original Sin Enhanced Edition is a good game for couch coop but I don't play it with my wife as she's not into such complex games and her English isn't so good. Besides, it's time consuming. Anyway, I like this article! I've bought Lovers on humble bundle for steam some time ago, but have yet to try it. Gotta keep others on my radar for future deals on Xbox store ;) Posted via the Windows Central App for Android

My son and I play Rayman Legends together, he loves it. Castle Crashers is my favorite co-op on the Xbox One though. We also play Bomberman, though he gets frustrated with it. We got Lego Batman 3, which he likes to play, but it's maddening for two reasons: 1, the split screen is annoying. and 2. Some puzzles require co-op, and he has trouble understanding what he needs to do. I try to walk him through it, but it's just a little above him yet. Maybe in about a year he'll do better, but for now, he's not quite there. Though he accidentally broke the disc for Mario Wii U, so we may revisit it this week, lol

I always get messages calling me a hacker. Ya know because skillz ;) On topic though I love these co op type games. A lot of fun to have.

They should add online co-op to Cuphead already.

Minecraft has splitscreen? Otherwise I don't see why is in this list over other games.

Splatter, peggle, are also fun
Windows Central Newsletter
Get the best of Windows Central in in your inbox, every day!
Thank you for signing up to Windows Central. You will receive a verification email shortly.
There was a problem. Please refresh the page and try again.