Comparing Synology NAS: Choosing between DS218+, DS218, DS218play, and DS218j
By Rich Edmonds published
Comparing the more popular Synology NAS models.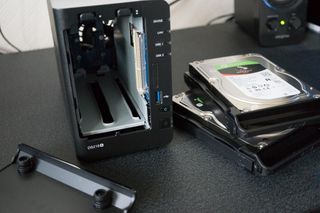 (Image credit: Windows Central)
Synology has a wide collection of network attached storage (NAS) models, just like its competitors. This allows you to choose the right unit for your requirements, but how easy is it to tell the different models apart? There are some differences between the units available so here's all you need to know.
The NAS company uses a suffix system to represent different price points and features:
se - Budget-friendly option.
j - Affordable option for home use.
play - Usually has a more powerful processor for better transcoding.
+ - Sports an Intel processor.
+II - The same model as the "+" but with a newer processor.
Using the list above, it's easy to see which of the DS218 range you'll be best suited with. (The DS218 is essentially the model year and the number of bays. DS216 would be a two-bay unit from 2016.) A DS218+II would be a DiskStation NAS with a newer generation of Intel processor.
The DS218j, on the other hand, would contain less powerful internals but command a more affordable price. A DS418 would sport four bays, though in this guide we'll be looking at two-bay units only.
Comparing models
Here's a comparison table with a few of the latest models from Synology. While specifications do not differ too much (aside from the upgraded Intel processors), pricing does range between around $170 to $300, depending on what you need.
Category
DS218+
DS218play
DS218j
DS218
CPU
Intel Celeron J3355
Dual-core 2.0GHz
Realtek RTD1296
Quad-core 1.4GHz
Marvell Armada 385 88F6820
Dual-core 1.3GHz
Realtek RTD1296
Quad-core 1.4GHz
RAM
2 GB DDR3L (6 GB max)
1 GB DDR4
512 MB DDR3
2 GB DDR4
Drive bays
Two
Two
Two
Two
Capacity
24 TB
Two x 12 TB
24 TB
Two x 12 TB
24 TB
Two x 12 TB
24 TB
Two x 12 TB
Transcoding
H.264 (AVC)
H.265 (HEVC)
MPEG-2
VC-1
4K 30 FPS
H.264 (AVC)
H.265 (HEVC)
MPEG-2
VC-1
4K 60 FPS
N/A
H.264 (AVC)
H.265 (HEVC)
MPEG-2
VC-1
4K 60 FPS
Ports
One Gb LAN
Three USB 3.0
One eSATA
One Gb LAN
Two USB 3.0
One Gb LAN
Two USB 3.0
One Gb LAN
Two USB 3.0, One USB 2.0
Warranty
Two years
Two years
Two years
Two years
Price
$297.98
$229.99
$169.99
$249.99
At this level, the choice available to you is fairly restricted concerning performance and price, but that can be a positive, negating the chance you'll pick a unit that doesn't suit the task at hand. Whether you opt for the DS218+ or DS218play, you're going to be able to transcode media, stream content, and store files.
If you're stumped, we reviewed the DS218+ favorably here at Windows Central and found it to be an excellent NAS.
More Synology resources
Rich Edmonds is a word conjurer at Windows Central, covering everything related to Windows, gaming, and hardware. He's been involved in technology for more than a decade and knows a thing or two about the magic inside a device chassis. You can follow him over on Twitter at @RichEdmonds.
Windows Central Newsletter
Get the best of Windows Central in in your inbox, every day!
Thank you for signing up to Windows Central. You will receive a verification email shortly.
There was a problem. Please refresh the page and try again.