Cyberpunk 2077 goes gold ahead of November 19 release date
Just a little while longer.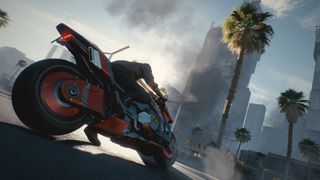 (Image credit: CD Projekt Red)
What you need to know
Cyberpunk 2077 has gone gold.
This means the retail disc copy is finished and can now be mass printed.
Bug fixes will continue for any patches around launch.
Cyberpunk 2077 is set to release on November 19, 2020.
CD Projekt Red announced today that Cyberpunk 2077 has gone gold ahead of its release next month. Going gold means that the disc is finished and can be produced for retail copies of the game. Development will still continue to get bugs fixes for patches however, so the developers are still crunching for launch.
Cyberpunk 2077 is promising a vast RPG set in the world of Night City, where players will encounter a whole list of gangs and have a completely different experience depending on choices and chosen Lifepath. Keanu Reeves plays Johnny Silverhand, who reminds players in some recent ads that there are no limits to what you can do and that you'll need to seize the day — or just burn it down.
Cyberpunk 2077 is set to release on November 19, 2020 on Xbox One, PC and PS4. A free upgrade sometime after launch (most likely in 2021) will add Xbox Series X, Xbox Series S and PS5 enhancements.
A dark and gritty world
(opens in new tab)
The standard for next-gen.

Cyberpunk 2077 is the latest project from CD Projekt Red, the developers behind the Witcher 3. To follow up the game that defined a generation of gaming, Cyberpunk 2077 needed to be huge, ambitious, and captivating. Every indication says that CD Projekt Red is posed to repeat history with their sci-fi, open-world RPG adventure.
Xbox Series X/S
Main
What is the Xbox Series X release date?
How much does Xbox Series X cost?
Why you can't preorder Xbox Series X yet
Samuel Tolbert is a freelance writer covering gaming news, previews, reviews, interviews and different aspects of the gaming industry, specifically focusing on Xbox and PC gaming on Windows Central. You can find him on Twitter @SamuelTolbert.
So they sell you a limited collectors edition physical game and it will be full of bugs and glitches...

You realize this is how practically every game works? The game "goes gold" several weeks before release so they can begin manufacturing of physical copies. There will always be a Day One Patch, which is the same for Digital versions of the game as well.

it didn't have to though. the final patched version could be put on the discs if they really wanted to

Are you kidding me? They have to have time to manufacture and ship all the discs. They also need to work until the last possible minute with such a big and important game. Even if they somehow manage to 'finish' before they publish the game to the discs, it isn't like they completely stop fixing the game after launch.

Going Gold means nothing nowadays.

Means nothing? It means there are no more delays. That's what it means. "Means nothing," lol. So many haters in the world these days.

The physical copy pre-order is actually $49 on Amazon right now. I'm not even going to kid myself. There's no way I would finish this game. 200 hours? I'm pretty sure I'll be burnt out at the 20-hour mark . There are only a few games that have held my attention from beginning to end.

Just sounds to me like you aren't as interested in this game as you think you are. You should just skip it and play something else.

This, all the way. I didn't start feeling burnt out on TW3 until I hit at least 100 hours if you don't count the very slow start to the game. Hell, I played RDR2 for well over 200 (15 days 6 hours), and that isn't even a RPG!. I am SO READY to sink at least 6 months into this game!

Hence the reason why I said I'm not going to kid myself😉. Games have to have a certain "it" factor to hold my attention. Halo 1 through 4, I couldn't stop playing. Gears 1 through 4 played from beginning to end. Gears 5 haven't completed. I think the open world aspect ruined the game. I'll go back and complete it eventually. Streets of rage, I couldn't stop playing it. Dishonor was played from beginning to end. Had a hard time putting down the controller. Days Gone was at least an 18 hour game and I enjoyed it from beginning to end but I love zombie games and they really handled them well. God of war 1 through 3 we're awesome. I like the balls to the walls gameplay style. Didn't care much God of war 4 4. Too slow and didn't like the camera angle. I'll go back to it eventually. I guess big games that have too many side quests that I get to a point that lose sight of what I'm supposed to be doing, put me off. To each his own. I'll probably eventually check out cyberpunk once it hits game pass down the road . Currently playing Diablo 3. I'm at the end of act 4 and there's only one act left. I'm level 38 and my character is a wizard and I'm pretty much unstoppable. I can kill every boss in less than 30 seconds. I had to stop playing it, because I was starting to feel the burn because I'm just rolling over every creature in my path. I go back to it this weekend and finish it
Windows Central Newsletter
Thank you for signing up to Windows Central. You will receive a verification email shortly.
There was a problem. Please refresh the page and try again.