Daniel Rubino dives into the Surface Duo with Double Tap TV
Daniel and Double Tap TV run through the Surface Duo from start to finish.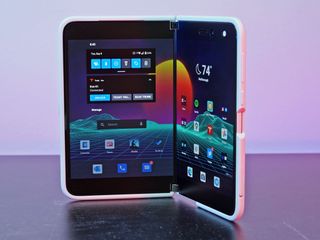 (Image credit: Daniel Rubino / Windows Central)
What you need to know
Our executive editor Daniel Rubino joined Double Tap TV to discuss the Surface Duo.
Rubino discusses the history of the Surface Duo, its launch, and what its future looks like.
The Surface Duo is currently on sale for $200 off through the Microsoft Store.
Our executive editor Daniel Rubino recently jumped onto Double Tap TV to discuss the Surface Duo. The video serves as a great refresher for the Surface Duo, running through its form factor, history, and how it will evolve in the future.
The entire video is worth watching, but if you want to jump straight to Rubino chatting about the Duo, he begins at the 7:43 mark of the video. Rubino discusses the history of the Surface Duo dating back to Project Andromeda, the launch event for the Surface Duo, and how the Surface Duo compares to other devices.
Even though the Surface Duo only launched a few weeks ago, it's already on sale for $200 off. Note that the discount in the Microsoft Store only appears when you configure the device and go to checkout. That sale reportedly ends on October 29, 2020, so you'll have to grab it quickly or hope that it goes on sale for Black Friday.
If you'd like to hear more about what Rubino thinks about Microsoft's folding device, make sure to check out his Surface Duo review.
Order today
(opens in new tab)
Two screens are better than one

Microsoft delves into the future of foldables with an ambitious dual-screen device, featuring two ultra-thin 5.6-inch AMOLED displays bound by a 360-degree hinge. This pocketable inking-enabled Android smartphone marks the latest in the Surface lineup, geared for mobile productivity.
Main
News Writer and apps editor
Sean Endicott brings nearly a decade of experience covering Microsoft and Windows news to Windows Central. He joined our team in 2017 as an app reviewer and now heads up our day-to-day news coverage. If you have a news tip or an app to review, hit him up at sean.endicott@futurenet.com (opens in new tab).
We are loving our Surface Duos! After using it you can't go back to a single screen devices (except when it's logical) We are hating our cameras, though. Of course, we accept the camera on the current devices, but we are looking forward to a better experience with future generations. And, it's imminent that it will improve.. The majority of complaints are not even related to image quality. The problems people are having are more related to usability, and features. That's a good thing, because software can be updated... There are also quite a few people who would like to have a camera on the front and the rear, even if the rear camera is the same as the one we currently have on the front (with not protrusion). Either way, the device is relevant and I would guess it has a solid future. 👍🏾👍🏾👍🏾

I mostly agreed, but included a top 10 list of features I hope MS fixes either through software or in the Duo 2, but Windows Central's buggy Windows app deletes the text of a reply if it bounces to another post before hitting the Post button (which it is incredibly easy to do by accident -- simply hitting the down arrow key when at the end of the post or the up arrow key at the beginning or scrolling the mouse wheel when the mouse is not over a scrollable part of the window). Not willing to re-write. :-( Some of the main issues were the camera, multitasking (UI) problems, Qi charging, and want to sync my music playlist in Windows to the Duo w/o paying Spotify $10/mo.

The multitasking element that the Suface Duo provides is new and as such still needing to be adopted by developers. I think you will continue to see that evolve. The camera app is the most common denominator and I think Microsoft expected that. I expect the software to get better with this like Rodneyej mentioned. I don't think Qi wireless charging or NFC is as big a deal as 5G. I'm a little confused as to what you are referring to when you mention having to pay $10 a month to move your music over from Windows to your Duo. Spotify is cross platorm, so regardless of the device you're using, the playlists should replicate on all your devices.

He's saying he wants the option to sync his personal library through Onedrive to Duo, which would require a "native" audio player in Duo.. Microsoft did this through "Groove" with Windows Phone.. He doesn't want to pay for a subscription service.. And, I have no data speed problems with current LTE. I would rather have Qi & NFC than 5G... But, I'm not the one to talk about having this vs that too much. I expect it all to be there.

I agree with everything you say here. Software has a few minor issues, but really the only thing I want is a rear camera. I do however think it should be with a bump and should be flush with the included case bump on the back right. Thinness is great but with the included case it doesn't matter anyway. Also, it would allow the led to be on the back so I wouldn't blind myself using it. I know I can flip it around, but still getting used to that when using the flashlight

If you fold the camera around to the back FIRST, and then launch the camera app from the other screen it will be a rear-facing camera. If you launch the camera app from the screen the camera is built into then it will be front-facing. If you do it wrong, then a quick flip over will switch from front-facing to back-facing (or vice versa). Do it quickly though, not slow!

What you just mentioned was a workaround, and workarounds aren't usually the least cumbersome way... For easy of use and speed Duo needs an FFC and RFC, like other devices. You should be able to quickly take a picture no matter what position you are holding the device in. Fumbling with Duo trying to get the camera to work; flipping it back and fourth, tapping the screen, the screen switching around by itself,, is a no go.

The camera is totally fine, BUT the Camera app needs a software update to allow for manual mode (for ISO, manual focus, shutter speed, etc) to really unlock the potential. The automatic settings and lack of options are what's lagging right now. Fingers crossed this is easily fixable and forthcoming in future updates.

Can you use third party camera apps from the store, with those features?

Yes, you can, but if Samsung and Apple have competent cameras apps Microsoft should as well. We don't want a repeat of Windows Phone.

I imagine they will at some point. I was just asking if there are other options available now.

So many people are saying the camera needs an "orientation lock" button/option.. That would ease a lot of frustration with using the camera to the rear in phone mode. Maybe it should have a "view screen to the left lock button" with a memory setting... Actually, there's no maybe about, because most pictures are taken in RFC orientation than FFC orientation regardless of what people say about it being a productivity device and the camera is for "conference calls". That's reality well over 95% of the time for Duo users.

After being skeptical of the Duo, I am _mostly_ loving it. The software was rushed. With some more spit and polish, it could be rather great.

It'll get better.. I would guess we are going to get the November update within the next 2 weeks.. Possibly next week.

The Surface Duo is excellent for those who want to take advantage of two screens. I love it and have only three quibbles: the Camera app needs a manual mode, touch sensitivity is a little bit on the jittery side, and the ability to switch Android user accounts is missing. All three of these are entirely addressable via software updates, so I hope Microsoft is listening.

Another feasible improvement would be support for the protocol which feeds phone calls directly into smart hearing aids. Both Samsun and Pixel phones support this feature on Adroid 10 or higher.
I do hope they pick up this comment
Roger Stenson

I think it's worth noting that most of the "issues" with this device are improvable. What hasn't really been mentioned is what they got right with a "first generation device" that was presenting an entirely new form factor. I know Daniel Rubino and others mentioned the build quality, but it cannot be undestated how refined this piece of hardware is. It represents everything about the "Surface" brand. The wider screen orientation is definitely better and almost makes the larger than usual bezzles irrelevent. The posture detection software was better than expected in my opinion and overall this had the chance of being an epic fail. Instead it's a pleasantly adaptive and innovative device that oozes with potential. I had my reservations for wanting to buy one after release, but now I actually use it more than my Surface Pro, and can't see myself using a single screened phone again. In fact I've had two of my friends purchase a Surface Duo after seeing mine. Good job Microsoft.

I'm loving my Duo. Here are my top 4 complaints. #1. Cam app behavior makes it unreliable for me. In taking a 'quick' snapshot, I'm

Well before Duo came out (in October 2019) I stressed so much about how a good camera experience with Duo is necessity. But, so many people disagreed because the nature of the device.. Now that people have Duo one of the biggest complaints is the overall camera quality. I will say it 1000 times again and again until it's understood; no matter what a device is intended for (or what people try to force it to be intended for) the majority of people are going to want a good camera experience because 1. most people aren't going to carry 2 devices, and 2. taking pictures has become a big part of our lives... There really is no reason wasting time arguing about this. This is the way it is🤷🏾‍♂️ If your camera experience is bad your device will NOT be relevant.

As one of those who found objectivity to your comment, I think it was you stating that the camera expereince had to be the best that was out there that was the basis of my response. I don't think you have to have the best camera experience for a device to be considered a success. I do recall you also mentioning that as long as the camera expereince continued to improve, the device would be relevant. I agree completely with that statememt.

I don't I would ever say a device has to have the best experience of any camera on the market to be successful because there are a lot of successful devices on the market with varying camera experiences. If I made that statement I would be saying there is only one successful device on the market.. Now, I do believe a device needs to have the best possible experience it is capable of, and that experience needs to be good.
Windows Central Newsletter
Thank you for signing up to Windows Central. You will receive a verification email shortly.
There was a problem. Please refresh the page and try again.