Dell starts pre-orders for select PCs with Windows 10 pre-installed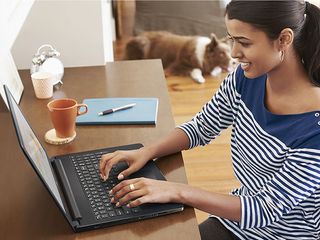 If you don't want to bother with the process of updating your Windows 7, 8 or 8.1 PC to Windows 10 with its free update, Dell is ready for you. The PC company has announced that a select number of its laptops and desktops can now be pre-ordered with Windows 10 pre-installed.
Dell's Windows 10 PCs that can be ordered now include its Inspiron and XPS 8700 desktops, its Inspiron 15 laptop and its Inspiron 11 2-in-1. Pre-orders for those PCs with Windows 10 will ship on July 29, the official launch date for Microsoft's next OS. Dell says its Inspiron laptops will have Intel's RealSense cameras installed, which support the Windows Hello facial security system that comes with Windows 10.
This will likely be just the first of many announcements by PC makers who will also offer Windows 10 pre-installed on their devices for the operating system's launch date.
Source: Dell (opens in new tab)
Get the Windows Central Newsletter
All the latest news, reviews, and guides for Windows and Xbox diehards.
Still didn't get the Windows 10 taskbar notification. Think I'm gonna give up haha.

Off topic, but Cortana in India is strangely offering all interests but none of them are working!

I think you need to have genuine Windows computer direct from Microsoft. I do and I have that notification.

I'm running build 10130 on a Surface Pro 3. It's pretty genuine. Lol

If you are running Windows 10 preview you won't see the upgrade icon right now. Posted via the Windows Central App for Android

Not true. Many people running W10 TP have received it.

Even if that's true why do you care? Surely you will install a new build when released.

Because it bothers me that some VERY criitcal files are missing on my Surface. Who knows how many updates I've missed if I haven't gotten the one that launches the notification. Every time I diagnose Windows Update it says "some system files are missing or corrupt: Fixed". But it's never fixed. I even contacted Support and they told me upgrade to the next build (Which was 10130 on ISO; I did Slow Ring.) I did a clean install of Build 10130 (wiped EVERYTHING), and I still don't get the notification.

To me it is not happening on windows 7 pro, but on my windows 8.1 laptop I did get it.

See if the computer is joined to a domain. Domain computers will not get the pop up for that.

Download this and run it, it will work: http://www.ghacks.net/2015/06/08/how-to-display-the-windows-10-upgrade-i...

Didn't work for me. It said "An unexpected error occurred." Then just crashed. Immediately after I pressed any button to continue. I was somehow missing my GWX folder, so I got my friend to email me his and it's still not working.

Is your computer joined to a domain? Domain computers will not receive that pop up. Think of what happened if a chunk of users upgraded their company computers without knowing better.

Only if you have a genuine product For now

If this is the case, I think its safe to assume that Windows 10 is going to RTM very soon

If these Dell machines ship on 7/29 than I would expect RTM to drop by the first week of July. While I'm sure Dell has been testing with preview builds they need time to test on the RTM build prior to the units release. Posted via the Windows Central App for Android

To get the Windows 10 upgrade prompt have a look if the following KB is installed: KB 3035583

As far as the update, will it do a fresh install? Will I have to backup my data? I run a recording studio and I don't have the time to do that.

You can chose if you want to upgrade directly (From Windows 7 SP1 or Windows 8.1.1) and migrate all your data, or to do a fresh install (Anyone not on the versions of Windows mentioned will have to do a fresh, clean install). Assuming you're on a supported version, everything should migrate just fine. However, I highly recommend you backup your data regardless, in case something goes wrong.

Excellent. Just so long as you're updated enough that Modern apps have an X appear in the top-right corner of you hover your mouse near the top: You're good to go. Again, I recommend doing a full back-up anyways, just in case. Also, the Windows 10 reservation client will help you, by telling you exactly what you need to do to prep for the update, in addition to alerting you of any applications that might have difficulty migrating during the upgrade.

One quick question, guys. Since I live in Indonesia, where internet is slow and true unlimited access is hard to find, is it possible to upgrade a Windows 7 PC to Windows 10 from an ISO or live CD? Thanks guys :)

I have the feeling we will be able to do that

It is possible, yes. Just have to get the right RTM ISO and you should be good to go.

Is Cost of Windows 10 is same as Windows 7,8 ? B'cz it offers free update to its predecessors...!

I don't understand the question here...

Kind of. If you already have Windows 7 or 8, upgrade is free to 10. If you have neither, you could conceivably buy 7 or 8 and update for free and in doing so make the cost of 10 be the same. In reality, its probably better to just buy 10 of you don't already have an earlier qualifying version which can be upgraded.

I am really excited about real sense technology coming to the Inspiron.

But xps 15 is not listed?

Its coming! What will we chat about once it goes RTM? I know, W10 Phone, of course. Then flagship phones. Then Hololens.

Waiting for Dell to start offering Area 51s with Windows 10!!

Meh. Dell designs are getting better, but their quality control and their after sales support is still bottom of the barrel.