XPS 13 vs. XPS 15 vs. XPS 17: Which Dell laptop is better for you?
By Cale Hunt published
Dell's premium XPS notebook lineup comes in three different sizes. Which one are you picking up?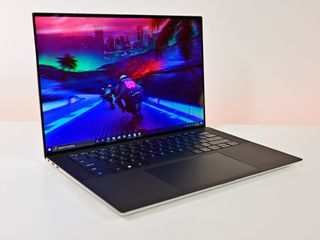 (Image credit: Daniel Rubino / Windows Central)
Dell's XPS laptops have long been near the top of the overall best Windows laptop stack, bringing premium build quality, beautiful display options, comfortable keyboard with large touchpad, and powerful hardware configurations. XPS laptops were once available only in 13- and 15-inch sizes, but a 17-inch model has entered the fray for anyone who wants a huge screen. If you're interested in a new XPS laptop but don't know where to start, we've put together this guide to help you decide which Dell laptop is for you.
Why buy the Dell XPS 13?
We've gone hands-on and tested every XPS 13 model that's come out in the last few years, and it's safe to say this is the best Dell laptop available. The latest XPS 13 Plus (9320) is a major refresh of the previous XPS 13 (9310) model, though you can still find plenty of the older models for sale. In many cases, you can save some money if you don't want the latest advancements.
If you do go with the latest and greatest, you're in for a treat. The XPS 13 Plus (9320) comes at you with larger keycaps that spreads the keyboard from edge to edge, capacitive function buttons above, and a new haptic touchpad that's covered by a full glass palmrest. Underneath the keyboard are new speakers to boost audio quality, and the IR and RGB cameras have been separated for a better picture.
On the performance side, processors (CPU) have been bumped up to Intel's 12th Gen mobile chips. They offer far better performance, ideal for anyone who likes to tackle work head-on. The CPUs are joined by integrated Intel Iris Xe graphics, up to 32GB of LPDDR5x-5200MHz RAM, and up to a 2TB M.2 PCIe 4.0 solid-state drive (SSD). If you're not getting into specialized work where a discrete GPU is necessary, the XPS 13 should handle anything you throw its way.
The XPS 13 is the smallest and lightest of all the XPS laptops. Even the new Plus 9320 model still weighs in around 2.71 pounds (1.23kg) and measures just 0.6 inches (15mm) thin. The full aluminum body is firm and not prone to flexing, and it just looks fantastic. You can get it in platinum or graphite colors.
The XPS 13 Plus (9320) is available with the same four displays that are still available with the older 9310 model. The most affordable has a 1920x1200 (FHD+) resolution, is non-touch, and has an anti-glare layer with brightness up to 500 nits. Going a step up, there's an FHD+ touch option with 500 nits brightness and an anti-reflective layer for better glare mitigation. It hits 100% sRGB color reproduction.
The most expensive options are a touch display with 3840x2400 (UHD+) resolution and a touch display 3.5K resolution and OLED panel. They both have an anti-reflective finish, Dolby Vision, and excellent color reproduction. The UHD+ model also comes with VESA DisplayHDR 400 certification.
Ports on the XPS 13 are comparatively limited, even moreso with the XPS 13 Plus (9320). Gone is the 3.5mm audio jack and microSD card reader, leaving you with two Thunderbolt 4 and some included adapters. Rounding out features on the XPS 13 is Wi-Fi 6 and Bluetooth 5.2 connectivity, fingerprint reader, and IR camera.
Dell XPS 13 9310 models are still readily available if you don't want to pay top dollar for the latest XPS 13 Plus (9320). In any case, you're generally going to pay the least for the XPS 13 compared to its siblings. Our guide on which Dell XPS 13 you should buy has more information about whether or not this is the laptop you should choose.
Bottom line
Due to the XPS 13's size and hardware options, it's best suited for professionals or casual users who like staying as mobile as possible. There's no dedicated GPU option for getting into heavier specialized work, but Intel Iris Xe graphics and the 12th Gen Core CPUs will handle photo editing and even some light gaming. Rest assured, the XPS 13 is loaded with extra features that make it the best 13-inch Ultrabook on the market today.
13-inch perfection
(opens in new tab)
Dell XPS 13 Plus (9320) laptop
The smallest, most affordable XPS

The XPS 13 might not have as powerful hardware or as large of a display as the XPS 15 and XPS 17, but it's still a superb Ultrabook for anyone who wants to remain as mobile as possible.
Why buy the Dell XPS 15?
The XPS 15 is larger and heavier than the XPS 13, but that doesn't mean it's not thin and light in its own right. It's just 0.73 inches (18mm) thin and weighs about 4 pounds (1.84kg) for the non-touch models with an 86Wh battery. Its CNC-machine aluminum chassis comes with a Platinum Silver finish and black carbon fiber palm rest.
The keyboard and Precision touchpad make great use of space, and you should have no issues typing all day on the XPS 15. Instead of the keys reaching from edge to edge like on the XPS 13, the larger chassis has room for top-firing speakers along the sides of the keyboard. These are combined with dual down-firing speakers, for a total of 8W of output. The audio is excellent with this setup.
The XPS 15 has also made the move to displays with a 16:10 aspect ratio. It's sized at 15.6 inches and is available in a few different types. The most affordable has an FHD+ resolution, 500 nits brightness, 100% sRGB color reproduction, and anti-glare finish without touch. If you're not interested in upping to 4K, this is still a beautiful display that will suck up less battery life.
The XPS 15 9510 model also introduced a 3.5K OLED display, which has continued over to the latest 9520 model. It comes with touch support, anti-reflective coating, and 400 nits brightness. It's a great option if you want darker darks and lighter lights. The XPS 15 9500 model, which is still available from Dell, doesn't have the OLED option.
The other option is a touch display with a UHD+ resolution, 100% AdobeRGB color reproduction, 500 nits brightness, and anti-reflective coating. While both displays include Dolby Vision, only the higher-res option is VESA certified DisplayHDR 400. It's going to use a lot more battery compared to the FHD+ version, but if you're getting into specialized work or need the touch function, it should be worth the upgrade.
Performance hardware is where the XPS 15 really starts to pull away from the XPS 13. The XPS 15 9520 is equipped with Intel 12th Gen H-series CPUs, while the XPS 15 9510 has 11th Gen H-series chips. Not only that, but the XPS 15 9520 and 9510 are also available with up to a dedicated NVIDIA GTX 3050 Ti Laptop GPU.
Whether you're looking at some gaming or intensive tasks, the XPS 15 is much more cut out for the job. The XPS 17 is going to beat out all XPS models in terms of maximum performance, but the XPS 15 is still impressive.
Configure an XPS 15 with up to 64GB of DDR5-4800MHz RAM and a 2TB M.2 PCIe SSD, and rest assured you can upgrade both SSD and RAM in the XPS 15 after purchase. The larger chassis allows for more ports, including two Thunderbolt 4, USB-C 3.2 (Gen 2), UHS-II SD card reader, and 3.5mm audio jack. Rounding out features is Wi-Fi 6 and Bluetooth 5.2, IR camera, and fingerprint reader.
Bottom line
The XPS 15 is larger and more expensive than the XPS 13, but anyone who wants the extra screen real estate and boost to performance from Intel H-series CPUs and dedicated GPU will undoubtedly opt for this choice. It's still not as powerful as the XPS 17, but it's more mobile and doesn't cost as much.
If you can't decide between two smaller models, our Dell XPS 13 vs. XPS 15 comparison can help.
More power, bigger size
(opens in new tab)
Dell XPS 15
The balanced middle option

The XPS 15 is an excellent pick for anyone who needs significant performance without getting into the 17-inch laptop range.
Why buy the Dell XPS 17?
The Dell XPS 17 is the newest addition to the XPS family, but it is instantly familiar. It has a CNC-machined aluminum chassis that's strong and relatively light, with Platinum Silver outer finish and black carbon fiber palm rest. It's the largest and heaviest XPS on the market, coming in at about 4.87 pounds (2.21kg) for the non-touch version and measuring 0.77 inches (19.5mm) at its thickest point.
Like the XPS 15, it includes dual 1.5W tweeters and dual 2.5W woofers, split between down-firing speakers on the sides and top-firing speakers along the edges of the keyboard. With the same MaxxAudio Pro by Waves mix and Waves Nx 3D audio as the XPS 15, you can expect some truly impressive sound. The keyboard and Precision touchpad are comfortable to use for long periods, and anyone typing all day shouldn't have an issue.
If you'd like the biggest display possible in your laptop, the XPS 17 delivers. It has a 17-inch Sharp IGZO display with a 16:10 aspect ratio and almost no bezel at all, making it an excellent option for serious multitaskers and those involved in specialized work. In the 9710 and the 9720 versions it is available in two different flavors — no 3.5K OLED option here. The more affordable FHD+ non-touch display hits 500 nits brightness, 100% sRGB color reproduction, anti-glare layer, and Dolby Vision.
There's also a UHD+ touch version, with VESA certified DisplayHDR 400, 100% AdobeRGB and 94% DCI-P3 color reproduction, 500 nits brightness, and Dolby Vision. It also has an anti-reflective display to cut down on glare. The UHD+ model is going to cost more, and it will drain the battery faster, but it's definitely the right choice for designers and developers.
The new XPS 17 9720 has been refreshed with 12th Gen Intel Core H-series CPUs, with up to an i9-12900HK. Pair it up with an NVIDIA RTX 3060 discrete laptop GPU, and add in up to 64GB of DDR5-4800MHz RAM and a 2TB M.2 PCIe SSD.
Older XPS 17 9710 configurations with 11th Gen Intel Core CPUs, NVIDIA RTX 3060 Laptop GPU, and DDR4 RAM are still available, though the jump between processor generations is huge. If you want the absolute best performance, going with the XPS 17 9720 model is advised. That much power beats out even the XPS 15, making the XPS 17 the new top performer in this group.
All the extra room in the chassis means Dell has included four total Thunderbolt 4 ports, as well as an SD card reader and 3.5mm audio jack. Like the other models, it includes Wi-Fi 6 and Bluetooth 5.2, a fingerprint reader, and an IR camera for Windows Hello.
Bottom line
Dell's XPS 17 is designed to be the ultimate XPS laptop with creators in mind. The display, design, and performance hardware all come together to deliver a truly potent laptop that can replace your desktop. It's a lot bulkier than the other models, but the tradeoff is no doubt worth it for those who need the oversized features. If you don't need all it has to offer, you'll be able to save some money and go with the XPS 13 or XPS 15.
Big laptop, big performance
(opens in new tab)
Dell XPS 17
The XPS 17 offers a massive display with tremendous performance inside. It's big and expensive, but it'll no doubt appeal to creators and designers.
Cale Hunt is a Senior Editor at Windows Central. He focuses mainly on laptop reviews, news, and accessory coverage. He is an avid PC gamer and multi-platform user, and spends most of his time either tinkering with or writing about tech.
Dell XPS 13, portable and powerful, adios Surface, questionable battery longevity for me, 4 devices and down to 2 hours (under 200 lifecycles!!) doing basic thing, hoping XPS is better. Does the 17 inch not have a separate number pad? if not unforgivable! May as well get a LG Gram 17!

And another plus about the XPS laptop series is the ease with which you can swap out the batteries when they eventually wear out. WAY harder to do on a Surface device.

I gather you are comparing a Pro/Book to a clamshell laptop? Why even buy the Pro/Book in first place than?
I personally don't share your experience concerning battery life (considering I have a 7 year old Pro 1 that sits at 85-90% capacity), but older surface products definitely had some quality check issues (as did xps though, so you might want to look at something else, like a Zenbook or Envy or such).

My Pro 4 developed an issue where the battery discharged when it was switched off was not encouraged to upgrade... Went to a Razer Blade Stealth myself and have been very happy with the experience...

As a said older surface products had a lot QC & engineering/heat issues, especially the Pro 4.

I have an XPS 15 2-in-1, essentially a year off this series. It's a worthy machine, and any of these will do nicely.

If I had to choose I'd opt for the XPS 13. Nothing worse than a big heavy laptop. But if I was in the market for a new laptop I'd be looking at the high end MacBook Pro 13". It's a beast with its 28W Ice Lake CPU.

I considered this...only to the point where I saw they offer 8th gen processors in thier 2020 lower spece machines..mugging thier own customers off as usual. I wish Windows laptops lasted as long as Macs.

"I wish Windows laptops lasted as long as Macs.", some do, just need to buy one with good quality check, build quality, good heat management, good (or oversized) battery / good components etc. Usually that means the more expensive premium laptops or easy to service business laptops. Some laptops that come to mind: ASUS ROG Flow X13, Surface Laptop 4 Amd (not sure about the metal deck versions) and highend Thinkpad / HP elite/Zbook / Dell Latitude/Precision laptops. To a certain degree also XPS, Spectre and Zenbook. It might also be interesting to get a business tablet (as long as the battery life is good) because you can easily replace the keyboards and hinges.

I would not not buy a mobile device without a touchscreen any more.

XPS 13 or 17. Probably 17 since I already have a 13 in ThinkPad.

Without a full keyboard on the 17, there is still something missing from the options.

I have the XPS 13 an unexpected but very welcome xmas gift and it's a real workhorse. I have an older inspiron notebook as well and neither of them have let me down. unlike my surface pro which has frequently failed to live up to expectations.

I'm torn between the 15 and 17. Surface Book 3 was in the running but being able to see the display clearly on a sunny day outside is important to me and based on the windows central review of the SB3 it's not really good for that. It's been a long time since I bought a new laptop and I've been saving for quite a while so I am willing to spend top dollar for something that will last me years and fit my situation. Which is: - Web developer. Lots of photoshop, video editing and coding so I need power.
- 100% work from home, even before COVID. Currently use a desktop with specs that are starting to show their age.
- Would like to replace my desktop setup with a powerful laptop which can provide me the power I need but also the ability to move my office around, including outside.
- Will be pairing the laptop with a good docking station to allow for a multiple monitor setup and other peripherals when I'm at my "normal" desk. Really struggling with this for some reason. I guess the easy decision would be the 17" so there is no compromise with power (will be maxing it out). But is it really necessary? The maxed-out 15" is still way more powerful than my current, aging setup and my fear is that the 17" is just going to look and feel obsuredly huge when using it on the couch after work for casual use.... Any adivce appreciated! - Thanks....

Bit late but for desktop replacement really get the 17". It still portable and 17 inch will always help with productivity work. And another even more important detail is that 17 inch has better cooling which is very important for when you stress your laptop for longer periods of time (rendering, compiling etc). Speakers are also better.

Nothing to be torn about you can only get the RTX 3060 card in the XPS17

I own an
XPS 13 32GB RAM 1TB
XPS 15 9500 64GB RAM 2TB I'm buying an XPS 17 9710 primarily for the RTX 3060 w/ 6GB RAM
-i9 64GB 2TB Surface Pro 7 is my portable machine!

So is 10-key just gone now for all of these ...?

I'm still waiting for the Surface Book 4. We need more companies working on the Detachable design, it's the best of both worlds.
Even if I get an XPS, I still need my iPad, and I don't like juggling multiple PCs and Operating System to do marginally different things.

Agreed, I want more detachable's. I'm not a fan of 360 hinge laptops.

I have completely moved away from Surface products. I own a Surface Pro 7, SB1 and SB2. Microsoft does not seem to be committed to performance for the SB line. I want portability AND performance

I've had a couple XPS 13s and a couple XPS 15s. Both great machines. In general I prefer the portability of the 13. But for work I recently switched from a 13 to a 15. Both had a Core i7 (obviously different models, one quad core, the other hex core), but with 32 GB of RAM. For most things the 13 was fine, but when running half a dozen Docker containers, two or three instances of Rider, half a dozen C# projects, and a couple instances of VS Code for good measure, when I'd go to compile my Angular projects they'd just take too long. With the XPS 15 running the exact same things, the compile times were much lower. So for doing beefy coding or other heavy computing, I'd go with an XPS 15, but for lighter tasks (even light coding would be fine) I'd go with an XPS 13. I haven't ever tried an XPS 17. They just seem too ginormous for me.
The one thing I hate about current XPS machines is that that took away the ability to Fn+Left and Fn+Right to do home and end. They used to have that option and it a brilliant. I don't know how anyone does any serious text editing by using the home and end keys on the function row.

I miss a XPS (or Spectre) device with the Surface Pro form factor, and with a ~13-14 inch screen. Hopefully Intel's big little cpu's will finally push this form factor more.

Recently I picked up a 15" Inspiron. Been a Dell customer for years and had always considered the Inspiron line a step down from XPS, and it is, sorta. The line has changed a lot from the earlier bulky plastic models. Mine is thin, metal, full size touchpad, number keys, Hello camera and all. It is also touch/pen enabled and has a storage garage for the pen above the keyboard, reminiscent of the Surface Pro X/8. It's a convertible so can be used in all those form factors. I was honestly looking at XPS when I saw this, and found it had more features for less money, and no particular drawbacks. It is a little heavier, but that tradeoff wasn't a deal breaker for me.

I had the XPS 13 and returned it. I don't know what it was about the unit but the speakers, even when muted, buzzed when I used the trackpad. I exchanged it for another one and had the same issue. I could live with that, but the performance was iffy, the cooling fans fired up when using Edge, and the battery life wasn't as good as Dell's claims. Performance was fine when plugged in but would often slow down when unplugged, even with the performance preferences being altered. The display was fine except for the large amount of ghosting I experienced. I guess I shouldn't complain too loudly, the 2-in-1 units I had were only $1100 with 16GB of RAM, 1TB SSD, and the 1165G7. Still, it wasn't the experience I wanted. Eneded up exchanging it for a SP8. I spent more money, but battery life is better, the display is better (especially with the ghosting aspect), and I'm getting a good 2-in-1 unit that doesn't fire up the fans when running a browser or have weird electrical issues. After this, and my experience buying an Alienware, I doubt I'll be returning to Dell anytime soon.

With the systemic design failures of battery bulging by design and other spicy pillow fun, I'm never going to spend more than $400 on another laptop again. For 10 years I have bought five $2000+ workstation laptops and they've all been destroyed by something OEMs were well aware of but ignored to chase stupid slim design that no one was asking for. I hope after the pandemic sales slow down, many OEMs start to clean house and fire many of their employees for sucking really hard at life.

Work Data Analytics, Video Editing, Flight Sim
I literally own all 3.
XPS 13 2-in-1 - Portability
XPS 15 9500 - 64BG RAM 4TB Storage - this machine I had to add an eGPU (in a Razer Core X Chroma) to be able to play Flight Simulator The Beast:
XPS 17 - 64GB RAM 4TB Storage RTX 3060 /w 6GB
Is EXCELLENT AT EVERYTHING. The screen is gorgeous. Nice Speakers.
This solves the problem of having to add an eGPU. With 4TB 4 ports it is ready for the future. I "hope" this is the last laptop I will need. Because I already have the eGPU, the only thing I'll be doing in the future is upgrading my GPU.
Windows Central Newsletter
Get the best of Windows Central in in your inbox, every day!
Thank you for signing up to Windows Central. You will receive a verification email shortly.
There was a problem. Please refresh the page and try again.