Having Wi-Fi issues with your Dell XPS 13 ? Here's how to fix the problem.
How do you upgrade the wireless card in a Dell XPS 13?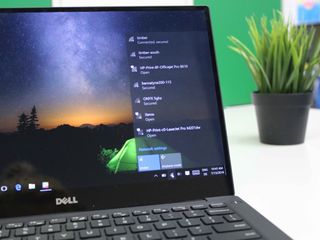 One small complaint about the stellar Dell XPS 13: The stock wireless card sucks. To be more precise, many users have a hard time finding bars when not located directly next to a wireless router. While this might not be such a big deal at home, you can't exactly move your desk at work or your seat at college.
Other XPS 13 users who installed a Linux-based OS discovered that the stock wireless card didn't want to play nicely with their new install.
The solution to both problems? You can try a driver or a BIOS update, or you can invest about $30 in a new Intel wireless card (opens in new tab). The Intel wireless card has both better reception overall and also plays a lot better with Linux.
Updated April 25, 2017: We refreshed this guide to ensure it still applies to the XPS 13 9360. Although the images in the guide are of the older XPS 13, the steps remain the same and still apply. We also updated the wireless card to the Intel 8265 in place of the Intel 7265.
The process to replace your wireless card takes about 10 minutes and is super easy with the right tools — the best part is you probably already have the tools lying around the house. Want to take the plunge and completely replace the wireless card in your XPS 13? Here's how to get the job done.
Tools you will need to replace the wireless card in a Dell XPS 13 9350
The tools needed to replace the wireless card in your XPS 13 9350 are:
T5 Torx screwdriver.
Phillips No. 2 screwdriver.
tweezers.
plastic opening tool (called a scribe).
a receptacle for the small parts and screws.
If you don't have these tools already lying around the home or office, you can pick up a kit with everything you need and more. Delcast has a great 23-piece set that starts around $27 (opens in new tab).
See at Amazon (opens in new tab)
Our recommended replacement wireless card
The Intel 8265NGW wireless card will solve reception and Linux problems. It is a dual-band 2x2 AC that has 802.11ac and Bluetooth 4.2. It has an M.2 interface, making it compatible with the latest laptops, including, of course, the XPS 13 9360. You can pick it up on Amazon for about $30 (opens in new tab).
See at Amazon (opens in new tab)
How to remove the wireless card in a Dell XPS 13
Power off your XPS 13, close the lid, and flip it over.
Unscrew the eight edge screws on the base cover of the XPS 13 with a T5 Torx screwdriver.
Unscrew one screw beneath the magnetic system badge using a Phillips No. 2 screwdriver.
Pry up the base cover of the XPS 13 with a plastic scribe starting at the back corners, near the hinge.
Remove the base cover completely using your hands.
Unscrew one screw securing the wireless card brace to the motherboard using a Phillips No. 2 screwdriver.
Remove the wireless card brace.
Disconnect the wireless card cables from the wireless card.
Slide the wireless card out of its slot.
How to replace the wireless card in a Dell XPS 13
Slide the new wireless card at an angle into its slot on the XPS 13.
Attach the wireless card cables to the wireless card.
Replace the wireless card brace.
Fasten the wireless card brace using one screw and a Phillips No. 2 screwdriver.
Replace the base cover using your hands. (Start at the edge furthest from the hinges and work your way back around the edges, and then ensure you also apply pressure to the middle of the base cover.)
Fasten the middle screw beneath the magnetic system badge using one screw and a Phillips No. 2 screwdriver. If the screw doesn't find a hold, apply pressure again near the middle of the base cover.
Fasten eight edge screws using a T5 Torx screwdriver.
Flip over your XPS 13, open the lid, and power it on.
Your wireless card
Have you replaced the wireless card in your XPS 13? Which wireless card did you use? Is your wireless connection better now that you made the switch?
Windows Central Newsletter
Get the best of Windows Central in your inbox, every day!
Senior Editor, Laptop Reviews
Cale Hunt is formerly a Senior Editor at Windows Central. He focuses mainly on laptop reviews, news, and accessory coverage. He's been reviewing laptops and accessories full-time since 2016, with hundreds of reviews published for Windows Central. He is an avid PC gamer and multi-platform user, and spends most of his time either tinkering with or writing about tech.
IMHO, Dell must replace that card with something that actually works. Fortunatelly I've had good luck with my Dell 2-in-1. This article makes me think twice before buying any Dell in the future.

would like to see this done with HP, they are known to have whitelists for pcie cards

This is pathetic really. Posted via the Windows Central App for Android

I thought the same thing. Why on earth spend that kind of money and then have to turn around and replace the radio card?

Dell can replace a new card in warranty period.

It is. For all that WC hypes and supports this particular laptop, I thought better of it. I wouldn't buy a model of which I know it has wifi problems by design.

Many of Dell users in India suffered from this problem. Me too.
I've Dell Inspiron 5000 series laptop.

You can get one for 12 bucks at ebay http://rover.ebay.com/rover/1/711-53200-19255-0/1?ff3=4&pub=5575095911&t... you don't mind a new pull.

I installed this same card in my Yoga 2 Pro because the Yoga came with only a bg card. Now I have ac connectivity on my machine.

I agree there should be a decent Wi-Fi card to begin with, but regardless this is a nice, easy to follow how-to article.


Unless you have a ******* OEM like Lenovo. My thinkpad Helix didn't get reliable wifi 5ghz drivers in Windows 8.1 for almost a year. A $30 solution to put a Wireless AC card in right? Not with a QVL in the BIOS, it wont boot without the listed approved device. Never buying Lenovo again, worst driver support I've experienced from any vendor.

I also faced the same Wi-Fi problem since first day in Dell Inspiron 5559 and it has intel DualBand Wireless 3160. My dealer installed CISCO PEA,LEAP MODULE drivers. That's work.

Ehhh, what about the antennas by the screen! Ain't that supposed to be the reception problem? I do know the wireless card counts as an upgrade adding features, but how does this improve reception without touching the screen antennas? Reception power thru the features in the radio?

It's not just about new XPS series only. As I found this problem in Vostro, Insipiron models as well, and all of them had Dell's DW1705 card.

Some Dell accounting drone saved 50cents on the bills of materials specifying a PoS card

why not just use warranty?

I just got one of these, and I must be lucky, this thing is amazing.

I think it's very important to state not to switch the wireless antenna cables around by accident as this might cause damage to the wireless card itself. Black has to connect to auxiliary while white has to connect to main.

The only problem I have with wireless on my XPS 13 is sometimes when it wakes from sleep it is in airplane mode. It is inconvienient to switch it on, but it is not that big of a issue.

I am a huge fan of the XPS 13 (my daily driver since about 18 months). I also had the WiFi-issues. Dell replaced the WiFi module which didn't help. Also a complete re-install of Windows 10 didn't help. I constantly had bluescreens when I was using WiFi. I recently replaced the WiFi card with an Intel Dual Band Wireless-AC 7265 (M.2 (PCIe), 866Mbit/s) and now, everything is working perfectly again.

There's a workaround for that, you need to turn off the option "let windows turn the device off for power saving" and in the device manager, you edit advanced settings for the card and use the highest throughput available. It will not fix but will make much better the connection.

Everytime I open a Dell PC the more I love my PC.

just replaced mine too. White cable was a pain to reattach. Mine is still a bit loose but seems to be holding. Those who swapped it, was it a pain to snap back in?

Nice How To Cale!
I did the same for my Dell XPS....AIO 2720 Touch though

Another dell pc with a crap WiFi card...nice

Typing this on my XPS 13. Wondering if this fix would also help with the wifi vs cabled connection (via usb-c adaptor) issue I have. Basically if I have a cabled connection plugged in and wifi on nothing really works right. I turn wifi off and it's great.

Remember if you ever need service or worse, have to send it back to Dell for repair they will ask you to put all the hardware back to shipping condition. Second remember that the idiotic Killer wifi card does some rather deep software installs in your system and best practice would be to remove those. All Dell's business stuff uses Intel Wifi cards. They do an incredible disrespect to consumers by cheaping out on such a low cost part. Killer should be rebranded Dead. Just junk.

Non-working wifi is not a 'small complaint ' it's a pretty serious problem

I did this on my first gen XPS 13 with an Intel 8260 and it made a huge difference. The original card did not like Hyper V at all.