An official Dropbox app is coming to Windows Phone!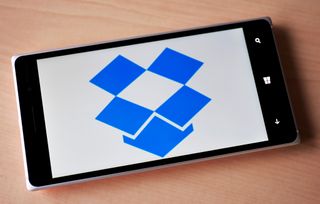 After years of waiting, Windows Phone owners will soon be able to get a native Dropbox app. The cloud storage company has entered into a new partnership with Microsoft that will include an agreement to create an official Dropbox app for Windows Phone. The app will be released "in the coming months."
While Dropbox released an app for Windows 8 nearly two years ago, the addition of an app for Windows Phone to their lineup will be a huge boost for owners of those smartphones who have had to work with some admittedly excellent but still third-party apps such as CloudSix.
In addition to Dropbox support for Windows Phones and tablets, Dropbox integration is also coming to the Microsoft Office suite. The first integration will be for iOS and Android users, alas, and is expected in the next few weeks, while Office Online will see Dropbox integration in the first half of 2015.
While it's always good to see more apps and services supporting Windows Phone, is this too little too late for Dropbox, or a welcome addition to the party?
Source: Microsoft (opens in new tab)
It's a miracle!!!! I use dropbox everyday will be welcomed the app for windows phone platform

Too late Onedrive already Rule with unlimited storage + office 365

This. OneDrive has won the Windows ecosystem war. Dropbox is too late and will be too ugly as well.

It seems like any cloud storage competition is dead in the water after Microsoft's unlimited offer.

Unfortunately, Onedrive does not rule, and it won't until it supports shared, local folders. While there is much to recommend Onedrive (really only that it has native Office Web App integration), Dropbox is still much, much faster, much, much more reliable and, with that one noted exception, much, much more full-featured. That said, fixing up the reliability bit and adding shared folders is all Onedrive really needs to be the cream of the crop.

I have my OneDrive folders shared locally and I've had that running for quite some time.

@q21701 No, you don't and no you haven't.

Yes I do and can. I can navigate to my one drive folders from another computer on the same local network and access them from a PC that does not have the OneDrive desktop client running. It took some doing altering security settings and folder permissions, but it can be done. It's not easily done by your average computer user

Yeah, you can access it, but others can, at least not locally. They can only access it online but not locally on their PC.

Isn't this called "map network drive"? I've mapped my OneDrive account on another computer and was able to access it

Yes you can on OneDrive have been able to for years almost now

@q21701 "You're right. I can only navigate to my one drive folders from another computer on the same local network." There. I fixed it for you. With Dropbox two or more people can "co-own" a folder and use it like any other on their computer. Whenever they add, delete or update a file, everyone else who has the Dropbox app installed and is a co-owner will get a notification and automatically have that file downloaded to their own, personal computer in its latest-and-greatest form. The lack of this obvious feature is the major obstacle to Onedrive adoption. Indeed, it is a fatal omission, in for many use cases. When (if) Onedrive gets this feature, then we can have a serious debate about it vs. Dropbox. But for now, for many uses, Dropbox is unequivocally a better choice.

I do have. I have a webapp project shared on OneDrive, and I have shared locally through LAN on my workplace.

But you can't get folders shared with you available on your desktop with, something Dropbox, Google Drive and formally Windows Live Mesh. "supports shared, local folders." I suspect it means a shared folder that is available locally/on you PC and not "folders shared locally" as you say.

I miss Live Mesh. It worked so well MS had to kill it. RIP Live Mesh, we hardly knew you...

OneDrive is the best, by far. Unlimited storage for Office 365 users + apps on every device I use (unlike Dropbox), including Xbox One. I just wish it was still called SkyDrive. That was a much better name.

But unlimited for some,I used dropbox, and still using both but all my files are in dropbox although OneDrive even with 40Gb is superior to any offer of dropbox my dropbox it's my files but my pictures and Things are in OneDrive

You might be thinking something else. Dint know that.
But let me remind you that non app in windows phone launch with full features at once.
So don't expect to get all dropbox features a once. That ll take more 10yr on windows to come.
So when all dropbox feature would hit windows with minimum 10yrs wait till than MS will expand oneDrive and will add more features to it compare to dropbox of windows version.

Unfortunately, not too late. Certain apps work with dropbox integration. One I am waiting on to make the leap permanent is YNAB. It's not on WP because they want Dropbox integration solely. There is a third party app, but Divvy Pro still needs to mature before I can fully rely on it. I am loving OneDrive, but I do need dropbox.

I have to think the geniuses at Dropbox who decided not to bother with Windows Phone did a pretty huge facepalm when that saw that Office 365 deal. I mean, now, who cares?

Agreed. Too little too late. Unsubscribed a long time ago from Dropbox. Poor vision and business model

Disagree. Dropbox has their own fans. I don't know why, but I feel it's much easier to sync and use any files in dropbox than OneDrive. My OneDrive often rejects to sync Office 2003 files. It troubles me since many of my clients still send Office 2003-based files.

Cloudsix has been here a while

I never liked cloudsix much, but it did fill the need for a WP dropbox client

Too late dropbox... I installed it first time I even had google drive installed but there was no apps in wp... Uninstalled both.. switched to one drive and never going back again... Take that...

I'm sure that hit em right in the feels

Meanwhile try File Manager http://www.windowsphone.com/en-us/store/app/file-manager/42380d5b-b735-4... - Supports Ftp, Box, OneDrive, DropBox, Google Drive

I wonder if DropBoxes late response to Windows owners demands is in response to Microsoft's unlimited offering of OneDrive. Drop box can't really compete with a service that offers UNLIMITED storage AND a full productivity Suite(office subscription for $99) for about the same cost it would be to get storage and NO productivity suite on DropBox.
Still a smart move to become a part of ALL cloud services ecosystems, but one I think is more a attempt to survive.

Happy 4 u, I m super happy with OneDrive :)

Dropbox dropped.. Not going back after their security breach.

With unlimited storage from OneDrive with my office subscription, why would I care about dropbox?

I'm with you but we need official apps to help grow the WP platform.

OneDrive isn't "official"?

LOL. You totally missed the point.

Second that. Aaaaand 'CloudSix' is great.

dropbox is way more usable. I've tried both and db won by a landslide for me. Different strokes.

How so? I used to swear by dropbox until they didn't support Windows Phones, that irritated me, started using onedrive and functions very well...just curious what you use on dropbox is all

The tray app is great. link to DB folder, DB website, real time updates (which is key if you're using a shared dropbox), selective sync is easy, and i can link my work and personal dropboxes. The context menu entries are really useful too. there are only 3 but they work really well.

No co-owned folders. That's why :/

said by someone who truly has no idea.

Said by someone who spent a whole semester struggling with the damn thing and its shit apps. OneDrive is vastly superior.

This is good news. Official apps are always welcome and a good sign.

And, they are always bound to come sooner or later.

This is pretty great news. I've since switched over to OneDrive but it's good to see Dropbox finally acknowledging Windows Phone.

Yep, better late than never.

Lol after Microsoft basically put the final nail in Dropbox's coffin with unlimited Onedrive storage, I'm surprised

Oh crap! They are giving away unlimited storage and the platform isn't going away! We better make an app ASAP.

exactly. thats how business works. WP was basically a black sheep that flirted with outright failure until like early 2014

Why should I care? I have unlimited OneDrive storage.

I understand what you're saying, but I would say you should care because the more official apps the platform has, the more outsiders are likely to at least give WP a try....now if we can just get some more true flagship devices.

People just love saying "official". We have "official" OneDrive. Cloud space is a commodity. No one I know ever said that their must have app is DropBox. This "official" worship is getting ridiculous.

You have it already? Mine is still with 1TB, when will the unlimited storage rollout?
by the way, OneDrive still have some reliability issues, and you can't share a folder as in both users having the same folder locally.

It's started rolling out already and I've got mine too :)

And it's probably gonna be beta forever.

And with half the features of the iOS and Android apps

And life will continue as normal!

Lolzz.. Agree with you...

We Don't need DROPBOX on this platform

But those who use drop box can now switch to WP without any regrets........:)

Cloudsix works fine, only difference is the name on the app

Unless you count the fact that you still can't upload videos to instagram natively or without paying (one of the apps I saw that offers it)! I convinced my mate to get a windows phone...he hasn't stopped cursing me since, lol! I love WP but will no longer recommend it...just can't afford to lose more friends lol!!!

What does uploading Instagram videos have to do with Dropbox making an app?

I was referring to the comment from anandv427 regarding switching 'to WP without any regrets'. So it is in context I believe, no?

If you lose your friends if they don't like what you recommended to them.. I'm sorry to tell you, but they were never friends to begin with :P I've recommended my friends all to Windows Phone, and they ALL love it.

I haven't actually lost any friends, lol. It was just a little hyperbole. ;) But yeah, his experience echoes countless others I have heard before. Be it within my social circles or the forums. We all love WP. Sometimes I wonder if that makes us sidestep the issues we have with our beloved OS. Sub par functionality compared to Android and iOS for official apps for example.

Switched over many android users to WP :) Got the Mrs to swap from an iphone to WP too :D

Speak for yourself. I use YNAB and I need dropbox.


Yes, but you need to understand that for WP to succeed and gain more than a 4% market share, we need official apps like Dropbox, Snapchat, Tinder and others to be present and fully functioning. While it's true that OneDrive is better, iOS and Android users who were thinking of switching will be grateful for an official Dropbox.

"Fuck you Suzy, you stood me up for that date, but I dont need you anyways!" Thats how you sound.

Soon as in like 6 months im thinking

ABOUT dam time. Kinda to late though, pretty much completely switched to onedrive now.

Onedrive is perfect. no need for dropbox. but ok, one more app...why not. But its coming "in the coming months". So hahahahahahahahaha 2017

It's far from perfect. Onedrive doesn't even let you sort by date in the metro file picker.

the problem with wp apps is not in quantity.. It's in quality. I hope they will not abandon it just after its release. *cough* imdb *cough*

Yes, I think Microsoft needs to include upgrades and maintenance in these "agreements". I suspect MS is handing over a bag of cash to develop the app and there is little incentive or motivation to keep things current (or even working). Hopefully market share will eventually drive this, but until that time MS needs to make sure their agreements include long term maintenance and new functionality.

You're probably right about MS sweetening the deal. And yes we do have a lot of orphan apps on WP, so thats shitty..

I used to love imdb when I used Windows Phone 7. That was when the app wasn't bad. ...sigh...

Well, I too don't care about Dropbox as we already have OneDrive. Anyways, another official app on the floor and that's good for WP platform.

Hope they also do a port of MailBox which DropBox own. As soon as that (or something like it with swipe away to a later date or move to folder) is available for Windows Phone I will swap from Android to it to complete my Windows set up of desktop and Surface Pro 3

Let me use OneDrive and fill its storage... Then I will thinking of Dropbox

Right? They missed the boat when they didnt release it after mango amirite? Right?

Wow finally!!!!!! This is much needed and its finally coming!!!!

To bad I'm sitting with 60GB OneDrive storage. Good luck Dropbox.

Too bad I'm sitting with 150GB of free OneDrive Storage. Won't ever use drop box!

I love OneDrive and I have a tonof free storage with buying a surface but it's awesome getting another official app on WP!

Dropbox isint secure unlike OneDrive or Younited

Betcha cant substantiate that claim.

To late stupid dropbox CEO

a) sweet avatar b) your comment is trash c) *Too late, stupid Dropbox CEO.

Ok you're being way too defensive all over the comments section...
Let it go...this is Microsoft's backyard...anyone who challenges them will get trash talked, nothing you can do about it mate...;)
those who trash are clueless...those who are neutral or positive...hang out with them and enjoy the company...!

I've been using WP since i picked up my focus the week it launched. I remember the days where we didnt have copy and paste. I certainly know that the mere fact that MS made something, does not make it good. The comments section on WindowsCentral used to be decent, and some people still chime in with great comments. Unfortunately most of the comments are just "+myphone hurr hurr", or somebody pimping MS products and trash talking the competition without even considering that there may be people who make more innovative products. It isnt about being in MS' backyard, its about people making useful comments that dont consist of 'fuck the competition'. Calling out people for perpetuating the "MS is god" culture here is definitely something more people should do here.

In 100% agreement. I used to be a MS apologist but not anymore, I'm actually right at the end of my tether with them:(

I like the phone I have, and I think Ms are doing a lot of things right at the moment. So I'll stay a while.

I love my 930 but it just seems like MS miss the fundamental things in their search for market share. And having a CEO saying that market share doesn't matter is just ludicrous. I think maybe its the Hindi as Eminem said lol

definitely good news but too late (for me at least) there is no way i am leaving onedrive

Too late, who needs dropbox when you have unlimited Storage on OneDrive with office 365. There you see how much dropbox care about WP, desperate measures

Seems like they're getting hacked every other day, no thanks.

MS working really hard! About time ...

It's great for the platform, but OneDrive covers all my needs.

They can shove it up their assess!!

Fuck dropbox I have OneDrive 100 Gb

we get it, you have a lot of storage and/or are super tough. congrats!

Not to mention I got it for free. And dropbox sucks in features, initial free space and interface as well. One drive is just too good.

Too little, too late. As mentioned, OneDrive with unlimited storage plus Office 365 is now the cloud king!

It's really good that dropbox is coming for WP, but personally I m nt gonna install it as OneDrive itself is offering almost lke 50 GB free cloud storage and I don't think that I need more cloud space.

I'll install it...not use it and delete it a week later so as give I a tick on their download count so they stick around for those that "need" Dropbox. Sticking with my 150GB free storage on OneDrive.

Even though Dropbox is late, this is important because prospective WP users nay want to use dropbox. Another official app is what we need.

Funny how company's wait until they are forced into a corner. WP was practically ignored by dropbox all this time, encouraging even their WP users to move to OneDrive. Now that OneDrive is pretty much the cloud storage of choice at least for me, they bring an app.. Just like BBM for WP. Too late, the train's moved on!

Agreed, too little to late - though I carry another device with access anyway.

All in with OneDrive now. I still use dropbox to host my mixtapes because so many people use it and know it already. Plus its easier to just click and download zip files than OneDrive.

I find most things to be easier with dropbox

More official apps! Even though I've switched from Dropbox to OneDrive completely because its app on WP is better but I'll download the official one from the former just to welcome it in our Store.

Android users..... You don't have OneDrive.... We have OneDrive and now Dropbox Aksai

You do know the WP onedrive app is based on the android version, right?

I own a dropdox account that I haven't logged in since I can't remember. Developers are seeing the hike in Microsoft and are now starting to think about moving over. Nice welcome Dropbox. Windows 10 will be sick on Mobile can't wait to see the future.

I still wait for Mega app in windows phone :(

Wow...10 years later... But great to hear.

OneDrive is better, and Dropbox has been working fine with 3rd party apps for a long time...

We need folder collaboration and file versioning on OneDrive...can't believe that OneDrive has not implemented that yet, they just don't seem to care: http://answers.microsoft.com/en-us/onedrive/forum/sdfiles-sdsharing/oned.... I'd switch from Dropbox to Onedrive in a sec once Onedrive would offer that....until that time: Dropbox rules in the syncing area and this app is very, very welcome!

To late DB, I moved everything to OneDrive already...

Official app? Great. But how good will this app be? I mean, remember official Instagram app?

I'm using just 1gb of 30 with OneDrive , its perfect, but official apps such as dropbox is a good sign that windows phone is improving so much !

Good news! ".......The app will be released "in the coming months."...and will be added to the list of apps that doesn't get updated for several months after,unlike the Android and iOS counterparts...Hopefully not...

I can almost guarantee that you are correct. To Microsoft and Dropbox both, it's just a checkbox for apps they have. Whether it's good or not is irrelevant after launch to them.

I think DropBox is slowly becoming irrelevant. I don't see any advantages over either OneDrive or Box. More apps is good, though

Too late. I'm already moving to OneDrive.

I'd prefer less apps with quality than many apps that are beta and become outdated.

I logged in specially to 'down' vote this bullshit.

same to you, molester of goats.

Why do most of the people who comment here act like jilted lovers every time we get an official app? The ecosystem is growing, and thats a good thing. It doesnt matter if you love onedrive, the addition of an official Dropbox app is a positive thing. Saying 'Dropbox is stupid for not adopting earlier, i hope they fail now cause they're stupid and onedrive won' is just pathetic. Recognize this for what it is; growth. I'm happy to get an official app, because as much as i love Mr. Huyn's other work, i don't like cloudsix. Clearly it was a business move to wait till the platform unification is close at hand, and I'm glad dropbox is hopping on that train early.

I'm happy Dropbox gets a WP app! But don't we all know what's going to happen? It will be a buggy, barebones effort with less features than the Android and iOS versions, will get a few updates to fix bugs... and then never touched again. That's how it usually goes. Can you blame people for not being thrilled?

Well by the scale of this partnership, I would be surprised if we see usual shtick of creating a barebones app that is quickly orphaned. It doesn't seem like the usual deal, so don't call it too early.

Why do people mess themselves just to say "official". I hear it like you're saying "my precious". If DropBox sucks, it sucks. I don't care if it's "official".

The drop box app with the 6onthe cloud seams good waiting for this

Nah, OneDrive all the way. Or color me too spoiled by the beautiful interface of OneDrive that any other cloud storage offerings are subpar...

Would've been a good step toward converting me back when I had only 7gb and was pissed that MS downgraded me - like two years ago.
Now with 30gb free and integrated OneDrive... too little too late.

I agree. Have you notice that MS has been kind of spoiling us lately

About time! Even tho I live one drive I like drop box as well for my secondary storage

I told dropbox to come early. Now it's too late. They didn't listen to me and now missed opportunity. OneDrive rules!

aaaaand I finally just got an S5 yesterday.

Wow that's too bad, I'm pretty set on OneDrive. But I'm sure their customers will love it if they ever switch or currently are on WP

Not thinking about anything other than one drive but official apps always becomed...

Loads of ppl still use dropbox. This is good news. Better (really really) late than never

I see this as a good stepping stone for users converted from Android or iPhone... they will be able to get their dropbox account up and running without making the switch to OneDrive. For the rest of us, this is pretty useless.

Why so much hate? Every major player is needed at the table regardless of how long it takes them to pull up a chair. There are certain apps that don't/won't work with OneDrive that work with Dropbox, etc. and we need to have platform parity in order to be seen as a viable alternative to the other two major platforms. Options! We need people to have as many options as they do on other platforms to come over. That's the gateway. They arrive as dropbox users, they start taking photos which backup to Onedrive and they start checking Onedrive out. Eventually if it suits them, they switch.

Reality check, no one is switching over to WP, not in any meaningful numbers anyway, and having dropbox wont make an ounce of difference. And if history serves this will be another half baked effort that will do more harm than good to WP as a platform. Not to mention the security issue.

how powerful Microsoft is getting when it comes to cloud services.

I've switched to OneDrive exclusively because of no Windows Phone support from dropbox and having more storage on OneDrive. I don't plan on changing back.

It's a nice addition because quite a few people use it compared to oneDrive (assuming).

No plans to use it. I want a good & official Youtube app & not the official one present in the store!!

I say "too late for me", but I guess it's an "at last" for others. Onedrive does what I need to be done and it has a seamless integration with my phone. Haven't used my dropbox account since I bought my first windwos phone.

I mean, ill download the app, but Onedrive is where its at - i already transferred all of my files from Dropbox to Onedrive after i got a Windows Phone due to lack of support from Dropbox...........they lost a customer. Not to mention that I have 200gb of Onedrive storage, vs. 7gb of Dropbox.

There's no way they can compete on value! I'm getting the office suite and unlimited OneDrive storage for £10ish a month... How the hell could anyone else compete!

Sorry dropbox you are very late.
OneDrive just stole your whole market with unlimited storage.
But still an addition to the WP store is always welcomed.

I'll stick with OneDrive, thanks anyway.

Who cares, we have 6Cloud from Rudy!

Too damn late. I shifted everything from Dropbox to onedrive ages ago. Having unlimited storage also helped with that. Sorry DB, we were close once but the distance is just too much now.

People who state "I prefer OneDrive", great, but it's inconsequential. Never too little too late when you want people from other platforms to migrate over, especially if you want this platform to thrive. This isn't anything but excellent news.

Until OneDrive supports synchronization of files shared with others, Dropbox will be the more useful product for many people. Sad. Wish OneDrive had this ability. :'(

Last time I used Dropbox was in in 2012 just before I switched to Windows Phone. I used to have it eversince I started using smartphone and I was an Android user that time. I am not so sure if I am going to use it because Onedrive is more than enough for my needs of cloud storage.

No thanks. Sticking with OneDrive.

Lol, i already move to onedrive :v . Too late.. :'v

What will Rudy do when all his apps come original in store?

Keep making better apps with more features, as he does now?

Hope it won't go the Instagram/Vine way! Yay an app... then nuthin'...

"The first integration will be for iOS and Android". How come MSFT is pushing the ONE system idea if as usual other platforms are getting better Office integration. Ridiculous.

Is that a Lumia 830, the keys are lighted

Too late. I've already ditched dropbox

Welcome dropbox, but a Little late for the App, and nice for early adopters of the OS that have their information on dropbox

Who cares... I have CloudSix For Dropbox! ;)

I think it's to late now for most people. They are stupid!

Welcome Dropbox on board but it will be wieaed to hear that 512MB devices are left behind. Something which happend with flipboard!

Cool.. I'll be sure to drop a Thank You review when DB makes it's way here.. Don't count on me to use it though... 1Drive FTW!

Too late Dropbox! I requested an official app months and months ago and you just said, use a third party app...I moved everything to Onedrive and it works great...plus I have 160gb of storage vs dropbox's 10gb

"In the coming months" that's all I read, sorry

About time. I use OneDrive mostly, but others I know use DropBox so this is great news. Options are good.

6 months from now a web wrapper will drop to little fanfare. Onedrive is my choice anyway though.

I never used dropbox, have used sugar sync before OneDrive and now most of the data goes into OneDrive, I can't think of any other cloud services. But its a great addition for users who are still using dropbox.

If I understand things correct, this could be good for the app community who on Android and iPhone have heavy integration with DB. As a Microsoft user OneDrive covers all my needs, but for the app development this have to be a good thing for WP as a OS. That is if DB is actually care and make it accessible for devs. to use in games etc. Considering Microsoft's aggressive pricing with OneDrive this could be the positive side for us WP owners as DB looks for more markets to keep money coming. Not sure, thinking out loud here.

I look forward to the "Dropbox Beta" app that will sit at v1.0 for the next five years.

Dropbox go Home. I don't need you.

I have more storage now than I will ever use. Dropbox is too little, too late.

I don't think its too late. Its a welcomed addition although OneDrive has my vote. Do they even update their app on Windows 8 or just create a basic app to say they have one in the store? I haven't used it nor have I checked what features it has vs the app on the other platforms.

Don't care. I use OneDrive. It's awesome.

Can anybody help me..i cannot sync any onenote files to OneDrive..ehats the problem?

Not everyone is all in on Onedrive. If someone is coming from another platform, chances are you are not using OneDrive. WP needs all the official apps it can get regardless of those features (cloud storage) being a staple of the platform.

Hmm... Have abandon my dropbox, sticking with OneDrive!

OneDrive owns dropbox's soul.

Facing same problem with one drive S Choudhury.....that is why i work more on dropbox....i never purchased any subscription and i have got 100 gb of dropbox space through various sources and generosity of dropbox....its good news anyways.....however, what is the meaning of ' in comming months'.....thats the important question........

Ya weird problem it is..earlier in wp8 one note used to automatically sync to OneDrive..but after the 8.1 update..one drive just doesn't sync the contents of my onenote notebook..

Is anyone else out there facing one note syncing problem with OneDrive..then do let me know

All I need is Santander uk app please.

While apps are always welcome for new & future users from other OS', for those already on WP, I doubt many would move away from OneDrive.

Since they have a Windows 8 app it should be fairly easy for them to make a universal app now.

This'll be good for any enterprises that have a contract with them.

Cool...but OneDrive... So there is that...

In the OneDrive dominated ecosystem why Microsoft is integrating native dropbox support???

Who needs dropbox when you have built in OneDrive

Too late. I was using it before I moved to Windows Phone. I'm now using OneDrive and I'm very happy with it. Especially with the App on Xbox One to check my pictures

Dropbox integrated with MS Office, why??? MS forgot about their OneDrive??? Some times i can't understand these type of ducking decisions...

Google map official seriously needed. OneDrive do magic for me.

Too late for a lot of people but not all. So keep trying to gain costumers

OneDrive is all I need!!!

Well at least it helps when others move over to windows phone.

Is anyone else facing problem syncing onenote to OneDrive..lemme know then

Good news but it has been deprecated for my computing needs and have been replaced by OneDrive. They waited entirely too long and no longer a must have app/service.

OneDrive FTW!!!!! Burn in hell Dropsux!

I used to use Dropbox, but I stopped using it when they had that "breach" some time ago. I remember there were quite a few warnings and discussions about that. I ceased to use it after that.

I'm OneDrive 100% but for someone wanting to switch from iOS or Android that uses Dropbox this is a good thing..... yeah I laughed too when I just re-read that.... but some one might want to switch ;)

And they will release their first update as soon as 2017. :P

In other words... Not coming until Windows 10

I trust and support Microsoft, what can I do...
OneDrive is a strong competitor with or without unlimited storage (10T)

iPad app screenshot in the source post on the official MSFT blog, nice.

Too late.. OneDrive rules

I'll stick with OneDrive. Unlimited. Available everywhere. Great interface. They've WANTED my business.
.
Dear Dropbox. Thank you for your interest, however I currently have no plans of integrating your service into my daily routine.

Too little too late for me... I've planned to remove my Dropbox and use OneDrive only

Good option for backup cloud storage.

It's never too late. New apps are always welcomed. (Y)

I use OneDrive only but great to see MS being open to competitors apps and platforms. Benefits everybody including MS

We definitely need dropbox. The more the merrier! Welcome!

This is awesome news. The crummy modern app of Dropbox for my Surface RT/Surface 2 was the reason I finally switched to onedrive. I still use dropbox for shared stuff with people, but that's it.

Not interested to little 5 years late!

It is good For people like me that constantly use dropbox, but, come on...who they think they are to snob WP in this way for so long! I hate the fact that I need it! If it wasn't foe the fact that is so much spread all over the world(and my colleagues, I would just use something else like OneDrive, that is letting me use 40 GB for free!
I just hope the app won't be so bad that will make me think it was better without one, like happened with some other big names in the recent past!

To little to late I'm afraid... That aside, I've dumped DropBox due to them losing 6yrs of my data due to a sync bug which they fixed but recovered my data as .pdf files only... (So where was the back up guys!) followed by circa 7 million users password credentials being hacked in the second week.... Not happy... 100% SkyDrive (or should I say OneDrive!) it is....

A little too late. OneDrive and Box are more than enough now.

Dropbox would cater well for personal users, that if you can stand losing your data. For enterprises, OD4B is the king.

Cool. Now I can get a dropbox account.

Why bother when OneDrive is moving closer to being fully integrated. All I need is some extra features - like saving music to my collection from OneDrive - and I'm set. Dropbox has fallen too far behind imo

Great. So Windows Phone platform is not interesting enough, Microsoft needed a business aggreement to have Dropbox to make an official apps.
Windows Central Newsletter
Get the best of Windows Central in in your inbox, every day!
Thank you for signing up to Windows Central. You will receive a verification email shortly.
There was a problem. Please refresh the page and try again.