Every game shown during the PC Gaming Show
So many games to look forward to.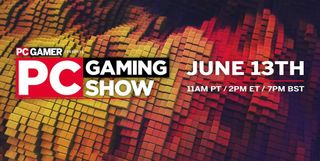 (Image credit: PC Gamer)
Today, Sean "Day[9]" Plot and Frankie Ward are hosting the PC Gaming Show. A showcase filled with developer interviews, premier trailers, game reveals, and more. This will include over 50 upcoming video games. We're reporting live on the event and will update this article as everything gets announced. Check out the list of announcements below.
Valheim
This game by Iron Gate Studio lets you explore a prodecurally generated landscape in the world of vikings.
Ooblets
Glumberland's colorful title is a life sim, farming sim, and creature collection game all rolled into one.
Torchlight 3
Join other player to protect Novatstraia from the Netherim. This game takes place about a decade after Torchlight 2. It also allows you to decorate your own fort for other players to see. The game is available in early access right now.
Elite Dangerous: Odyssey
Trade, fight, and build alliances in this space exploration game by Frontier Developments. Along with maneuvering aircraft, players will now be able set foot on planets and explore. The game will release in early 2021.
Persona 4 Golden
Play as a school student and his friends who must encounter the deep dark parts of themselves in this classic from Atlus.
In Sound Mind
This first-person horror game from We Create Stuff has you attempting to escape your own mind.
Airborne Kingdom
Manage a floating civilization while exploring barren landscapes in this strategy game by The Wandering Band LLC.
Dwarfheim
Split up the work of building, fighting and defending as you work with others to create a thriving civilzation of dwarves.
Humankind
This historical strategy game by Aplitude Studios allows you to create your won civilizations based on a mix of histories. I's coming in 2021.
Icarus
This free-to-play game from RocketWerkz has you playing as an astronuat on an alien world. See how well you can survive in this multiplayer co-op.
Evil Genius 2: World Domination
This hilarious game by Rebellion allows you to build up your base while playing as an evil villain. See how well you can defend your base against the forces of good. This title will release sometime in 2020.
Godfall
In Gearbox Games' upcoming title, the world in split up into realms of Air, Fire, Water, and Earth. You play as a sprit being who challenges enemies and a mad god.
Prodeus
This action adventure game by Bounding Box Software Inc. has visuals reminiscent of classic shooters like Doom or Duke Nukem.
Fae Tactics
Follow the adventure of a young magic weilder in this game by Endlessfluff Games. Befriend a rag-tag group of characters as you learn to cast spells and dive into this magical world. It will release in 2020.
Carto
This laid back adventure game is a gorgeously illustrated world filled with shifting puzzles and quirky characters. IT's coming Fall of 2020.
Project Wingman
This flight action game by Sector D2 puts you in the cockpit of advanced fighter jets. It releases in Summer 2020.
Blankos Block Party
This game by Mythical is all about vinyl toys coming to life when humans leave the room. Hang out with other players to build, explore, and collect.
Everspace 2
This single-player space shooter allow you to control space craft and explor. The closed Alpha opens on Steam on June 15.
Inkulinati
This unique strategy game by Yaza Games employs an art style similar to 700-year-old medieval illustrations. It will release sometime in 2021.
Total War Saga: Troy
This strategy game from Creative Assembly has you taking control of an army during the Bronze-Age. Replay the story Mycenae and Troy.
Remnant from the Ashes: Subject 2923
This DLC for Gunfire Games' Remnant from the Ashes lets you meet new characters and explore new locations.
Mafia Definitive Edition
In this remake, you play as Tommy Angelo during the 1930s. He starts of as a car driver and later gets embroiled in a fued that makes him a respected member of the mafia. The game will release in August 2020.
Rogue Lords
This rogue-liike game from Nacon has you play as the devil and control popular figures like Dracula to wreak havoc and terror on the world.
Unexplored 2: The Wayfarer's Legacy
This roguelike from Ludomotion allows you to venture into an fascinating world. The game will release sometime in 2020.
Dauntless Call of the Void
This update to the popular game by Phoenix Labs and Iron Galaxy adds more content for players to enjoy.
Among Trees (Early Access)
Explore a gorgously illustrated world in this sandbox survival game by FJRD Interactive.
Potionomics
Experience what it's selling potions to explorers in this hilarious game by Voracious Games.
Mortal Shell
This action-RPG is a challenging experience Posses lost warrios, explore a dark world, and face difficulty enemies. Beta comes on July 3.
Shadow Man Remastered
This classic game is getting a remaster for PC. This will involve updated visuals and effects for a modern playing experience.
Blightbound
In this hack and slash adventure from Ronimo Games, A corrupting fog besets the land bringing hordes of abominations. Conquer various dungeons while playing with other players.
Shadows of Doubt
ColePowered Games' first-person detective game has you exploring a sci-fi noir city in order to find a serial killer.
The Forgotten City
Explore an open world locked in time. Someone you encounter will be responsible for the downfall of this civilization. Can you figure out who it will be?
Paradise Killer
There's been a murder and its up to Lady Love Dies to solve it. Figure out who is innocent and who is guilty in this game by Kaizen Game Works.
Haven
Two lovers have escaped to a lost planet in order to stay together in The Game Bakers' upcoming title. See who well you work together in this co-op survival game.
Cartel Tycoon
In this game by Moon Moose and Tiny Build, you run a world of death and violence that revolves around the 1980's narcos trade.
Trash Sailors
In a world completely filled with junk, you must find a way to survive while afloat on a small raft. This is an online co-op game created by FluckyMachine.
Cris Tales
Experience the past, present, and future simultaneously in this gorgeously created game by Dreams Uncorporated, SYCK.
Alaloth: Champions of the Four Kingdoms
This RPG is created by Gamera Interactive. Players get to explore a vast fantasy world and experience fast-paced action.
Weird West
This is an action RPG from Devolver Digital that takes place in a bizarre version of the wild west.
Story of Seasons: Friends of Mineral Town
Bullets' game is a life sim, farming sim, and dating sim all rolled into one. Experience the chill gameplay of life on a farm.
New World
This MMO by Amazon Games takes place on the shores of Aeternum the Eternal Isle. Compete against other players and see how well you survive.
Twin Mirror
Dontnod Entertainment's upcoming adventure game has you playing as Samuel, a 33-year-old man who has returned to his home town. He wakes up in his hotel room to discover blood on his shirt and no membory of what has transpired. See if you can discover the truth.
Red Sails
Red Sails Team is creating a game that will allow you to explore the desert aboard the titular boat with red sails.
Surgeon Simulator 2
Unlike the original game by Bossa Studios, which only had you taking control of doctor's arms, you can control the entire body of medical personel. This game will also have a creation mode.
The Last Campfire
This game by Hello Games is all about finding connection in a lonely world. Solve puzzles as you search for meaning and try to find a way home.
Escape from Tarkov
This first-person shooter by Battlestate Games offers a realistic story-driven RPG with MMO features.
The Outlast Trials
Red Barrels has been giving us some seriously twisted horror games for the past several years. This one takes place in the same universe as the Outlast games and centers around horrific test trials for up to three players.
Watch the PC Gaming Show here:
Main
Windows Central Newsletter
Get the best of Windows Central in your inbox, every day!
Self-professed gaming geek, Rebecca Spear, is one of Windows Central's gaming editors with a focus on Xbox and PC gaming. When she isn't checking out the latest games on Xbox Game Pass, PC, or Steam Deck; she can be found digital drawing with a Wacom tablet. She's written thousands of game guides, previews, features, and hardware reviews over the last few years. If you need information about anything gaming related, her articles can help you out. She also loves testing game accessories and any new tech on the market.
Maybe its me but I think this was a more exciting presentation than the PS5 reveal. A lot more noteworthy games.