Fallout 4 Collector's Edition comes with a real Pip-Boy that you can strap onto your wrist
During its E3 2015 keynote, Bethesda shed details on a limited edition of Fallout 4, which includes a real Pip-Boy you can wear on your hand.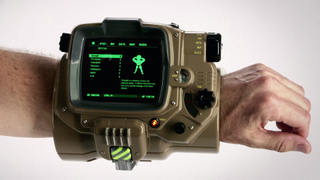 The Fallout 4 Pip-Boy Edition comes with a housing that allows you to slot your phone, with a second-screen app — available for Android and iOS — creating an interface that lets you use the wearable as a fully-featured Pip-Boy. The collector's edition is now up for pre-order on Amazon (opens in new tab) for $119.99, with both Xbox One and PC versions listed.
Even if you don't get the sleeve, the second-screen will app will let you access all the functions of the Pip-Boy through your smartphone or tablet. The app will debut in time for the game, which is launching on the Xbox One, PlayStation 4 and PC on November 10. As for availability on Windows Phone, we'll let you know once we know more.
Bethesda has confirmed that the Pip-Boy Edition will be available in very limited quantities, so if you're a fan of the franchise, head to the link below to get your order in while it's still available. Along with the sleeve, you get a manual for the Pip-Boy and a Fallout 4 art book, all encased in a metal box.
Pre-order Fallout 4 Pip-Boy Edition on Amazon ($119) (opens in new tab)
Windows Central Newsletter
Get the best of Windows Central in in your inbox, every day!
Harish Jonnalagadda is a Senior Editor overseeing Asia for Android Central, Windows Central's sister site. When not reviewing phones, he's testing PC hardware, including video cards, motherboards, gaming accessories, and keyboards.
This will surely protect your virgi..

A virgin at 30 years becomes a wizard. Yer a wizard Harry.

Geek syndrome...next level.

No Windows phone version of the app?

I'd rather want a pipboy Windows 10 app running on my surface pro while I'm playing the game on my desktop PC.

Then that would be a really big Pip-Boy on your wrist.

No windows/windows phone. There rally isn't more to know, despite the article. They said IOS and android. Legends is on PC, but as a win32 application. WP isn't getting either of them, just ios and android.

Yeah, w/e. I'd like to see my LG G4 fit to that Pip Boy. It probably only fits iPhones perfectly.

No windows phone no party

Welcome to windows phone. It's the phone that makes sure you don't waste you life playing games! Cause there isn't any!

Lmao.! Get back to work!!

Only $119... I expected at least $200

I hope they release a Ghostbusters game lol, I am a 38 year old that would wear the shit out of a proton pack!

Looks bigger than the model in the game.

No Windows Phone support? Why is this even posted here?
If it is the Pip boy Central.

Because this has been Windows Central for months now. NOT Windows Phone Central. Is Fallout 4 being released on Windows or Xbox? Yes, on both actually. Now stop whining.

The thing is, historically a lot of this site's users are WP fans, and there will be some understandable frustration at not being able to use the Pip Boy accessory, even though these same fans can still play the game on Windows/Xbox....

Historically people used to have to start cars with cranks. Things change

Get realistic, even if it were supported how many would actually buy? Not worth the investment by either parties.

Probably waiting for 10 to hit and then hit the button on the ios code to win code.

The app can be used without the Pip Boy accessory, which is how everyone will use it anyways. Is it a big deal that the accessory doesn't work with Windows Phone? Not really. Is it a big deal that Windows Phone users can't even use the app? Probably, if you're a Fallout fan.

Maybe you can use the smartglass app on windows phone to get access to the pip boy app, that's what dead rising 3 did.

Possibly. But since Windows Phone will have become Windows 10 when this launches, we really can't speculate right now.

Considering the Smartglass app has kinda of stagnated when it comes to gaming connectivity I find this unlikely.

What does it do? It looks like you can wipe a city device.

Dear Bethesda. Not going to buy your products as long as you treat Widows Phone toting Gamers as second class citizens.
Great excuse to wait till your games are available nice and cheap in the discount bin.

Why would they announce a Windows Phone app when this game launches in a Windows 10 world firstly. Not saying there will be an app, but when Fallout 4 comes out, Windows Phone is old news.

Windows is old news, full stop.

Fair point, but then why not make it clear that they will be releasing a Windows 10 App?

Looks too much like the Apple Watch for my tastes

You mean looks like diarrhoea coloured plastic

This thing is going to plastic at a level of which is on par with a quarter gum machine prize.

It looks something like old 90's samurai series

if it ain't for "us" it ain't sh*t ;)

3d printer + Kinect = supply availability. ;-)

Kinda mad there was no Windows 10 mobile support or windows store app. Don't care that it hasn't launched yet, it will and porting code from IOS or android is even easier then before, there's no excuse, except exclusion. Still, I'm buying the F*** out that collectors edition!

Hopefully MS' new dev tools will be up to scratch and this can eventually be converted to WP (or Windows 10 for Mobile as it will probably be known as). I've long come to accept that due to low marketshare, it's far from the priority for many developers

As a billion companies have said, it hasn't ever been about building an app. It is about supporting it. These dev tools wont change anything because they're trying to fix a problem that has never existed. Why do you think all these major companies HAVE apps they're pulling from the store? If you're on windows phone you'll never have the majority of high profile quality apps.

And every day more apps are put on the store from even smaller companies. That line is BS. So much so that dropbox even hired a outside dev to do their code. Sounds like they can snatch up coders at probably cheaper costs than internal devs. Reality is they are lazy. And yes, even with supporting it, the tool conversion still works. Just update the ios code, put it into the tool, make sure the other code isnt broke, release. Should take a good dev less than 2 days to port it over. If it takes longer, then hire MS to do it for you. It is not like Bethesda and MS are not in bed with each other for years.

If only they could've made the Microsoft Band like this! :P

Who in here played Fallout 1? Im sure that i will probably be the only one who played the demo. I remember exactly where and how much time I spend on that.

I played Fallout (1) back in the day. Bought the sequels but never had the time, so I just grabbed them on steam again, last week. Still don't have the time, heh.

The only problem with Fallout is that it takes your life away. You can't play one hour here and there. Well maybe it's just me.

I have played fallout 3. It was awesome.

1 and 2. Still the Best Fallouts out there IMO

I played Fallout 1 & 2 - I have the original game boxes sitting on my shelf, and the game cd's in a folder...

Yep, I did. I even played the horrible pre patch version that had a time limit (I frigging hate time limits on games because I play very slowly and explore absolutely everything). Fallout 2 is my favourite in the series, by an incredibly long margin.

Fuck the Apple Watch I need this.

So stupid but I want one!

Gota get one and go to work with it on LOL

Is it a digital display that remains working when your smartphone is not in hand?

I don't want it in brown ): I want the gritty version from Fallout 3. Bethesda is my dream company

Everyone tweet them about no app for windows.

Dang, I can only pre order one. Time to make a fake account to get a second. Serious note, any other game site having this edition? Didn't see o. Game stop

sold out within minutes of being announced
Windows Central Newsletter
Thank you for signing up to Windows Central. You will receive a verification email shortly.
There was a problem. Please refresh the page and try again.