Figure and Shazam developers talk about making Windows 10 music apps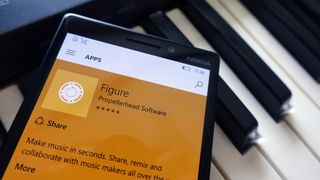 Microsoft wants to show off how the teams of two popular music-based apps, Figure and Shazam, created their recent universal Windows 10 versions for both PC and Mobile. The promotion comes via the official blog of Steve Guggenheimer, Microsoft's chief developer evangelist.
Developer Propellerhead first launched the Windows 10 version of Figure in December. The app, which initially launched for iOS, allows people to compose and create their own music beats. Propellerhead decided to release Figure on Windows 10 ahead of Android due to the new audio drivers on Microsoft's platform.
Shazam, which allows users to discover new music tracks, was easy to create for Windows 10, according to product manager Piotr Bar:
Figure is even looking towards the future, and a possible launch of an app for Microsoft HoloLens
Source: Microsoft (opens in new tab)
So Shazam is now a web app. Wonderful.

It doesn't matter actually. It works perfectly.

Wonderful on win10? Hadn't seen results in months

What do you mean? It's a great app here.

True...It works great! :) but the first launch did have a few things not working...like the contact section...but it works really well otherwise...

TripAdvisor is also a web app app. And location services in that are useless and don't work. And it shows ads for Android apps in there too. Web app apps are not always great. If they are that good then Shazam would ditch their iOS app and have one Cordova web app for all platforms. I agree it's better than nothing though.

Shazam works flawlessly in W10M

I hope they update the current app on wm10. Its damn slow.

Yeah, sometimes it doesn't open

If it works, don't fix it

So this is why Shazam is so small in size to download. Its so perfect!

Well done Shazam. It's impossible to tell that Windows 10 apps it's a web ported app. BTW Figure it's awesome.

MSFT needs more of this. Not just on a website for users of the platform. They should be making 30 second comercial spots that put the developers in mind so current developers can think about what they are missing and for 'new developers' that may be starting a new app...that they arent just thinking iOS or android.

Not really.. it looks more like you think it is raining apps but you just jump into this puddle of windows phone 8.1 apps and believe that rain is the reason you are wet

So happy Propellerhead brought Figure to Win10. Been using it daily since it came out.

Shazam doesn't work on windows mobile for me

Works flawlessly for me on my L925 running Windows 10 Mobile

Wow, I didn't realize that Shazam was a web app. I must admit that I'm impressed with the Westminster bridge.

My Shazam app isn't working, it open but never discover any songs

Works flawlessly here. What device are you using? I've used it to search music in several languages as well.

Awesome story regarding Figure. It's getting 5 star reviews in the store too. I'm glad to see developers looking at all the options, not just the stereotypical two.

I didn't know about Figure.... Guys, I've download it here and it's great!!! TRY IT GUYS. :D

Has Anyone gotten Shazam or Soundhound to work on their Lumia 950? I have reported it to I guess Deaf ears...

Shazam doensn't work on my 950, though on my 720 was pretty fast

Doesn't work on my Lumia 950 either - or Windows 10 on my Surface Pro 3!

If web ported apps have this great user experience, feels native and can also use native features like Cortana and Live Tiles, then I'm all in for it! We need for more apps like this.

Ehemmm..... SoundCloud...

Still waiting for PowerAmp
Windows Central Newsletter
Get the best of Windows Central in in your inbox, every day!
Thank you for signing up to Windows Central. You will receive a verification email shortly.
There was a problem. Please refresh the page and try again.