Double your Steam Deck storage for half the price with $45 off the best SD card
Grab the perfect SD card for your Steam Deck while it's cheap.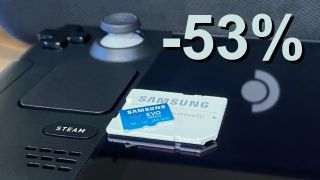 (Image credit: Ben Wilson | Windows Central)
Valve's Steam Deck is a portable console offering handheld PC gaming wherever you are, supporting thousands of compatible games initially designed for Windows and the potential for custom installations of almost anything else.
Available with 64GB of storage in its cheapest model, it's easy to run out of space. Luckily, Samsung makes the perfect expansion card for Steam Deck, with the 512GB EVO version discounted by 53% to $39.99 at Amazon (opens in new tab) and a smaller 256GB alternative reduced by 25% for just under $30 (opens in new tab).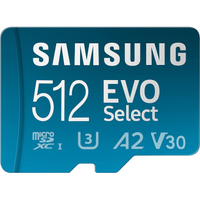 (opens in new tab)
Samsung EVO Select 512GB $84.99 $39.99 at Amazon (opens in new tab)
The Samsung EVO range of SD cards offers up to double storage space for your Steam Deck at a considerable discount, and they're perfect for Valve's portable PC gaming handheld.
There's a reason Samsung tops my list of the best SD cards for Steam Deck, alongside the EVO Plus as the non-Amazon variant. Closely matching the maximum read and write speed potential for external storage on the console, they're an ideal solution for cutting down the console's asking price.
They're easy for me to recommend whenever there's a sale on high-end microSD cards since I use one daily with my own 256GB Steam Deck. It barely takes any effort to get started with external storage, with my straightforward instructions on how to format an SD card on Steam Deck covering everything you'll need.
Extra savings from JSAUX
To explore the potential of the Steam Deck as a fully-fledged gaming PC, you can save even more cash on an affordable alternative to the official Dock that scored highly in our JSAUX docking station review.
The 6-in-1 variant connects to the single USB-C port of your Deck to offer external HDMI connections to compatible screens supporting up to 4K resolutions at 60Hz alongside Ethernet LAN and various USB expansion ports. It's temporarily discounted to $39.99 for an 11% saving on Amazon (opens in new tab), fulfilled by the official manufacturer.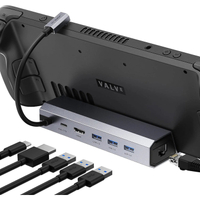 (opens in new tab)
JSAUX 6-in-1 docking station $44.99 $39.99 at Amazon (opens in new tab)
Turn your Steam Deck into a desktop gaming PC or connect to your big-screen TV for couch gaming with JSAUX's docking station offering 6-in-1 port expansions.
Windows Central Newsletter
Get the best of Windows Central in your inbox, every day!
Ben is the channel editor for all things tech-related at Windows Central. That includes PCs, the components inside, and any accessory you can connect to a Windows desktop or Xbox console. Not restricted to one platform, he also has a keen interest in Valve's Steam Deck handheld and the Linux-based operating system inside. Fueling this career with coffee since 2021, you can usually find him behind one screen or another. Find him on Mastodon @trzomb@mastodon.online to ask questions or share opinions.