How to play Diablo 4 on the ASUS ROG Ally
Lilith approves of handheld devotion.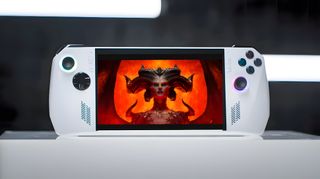 (Image credit: Future)
Diablo 4 is available to play on PC, Xbox and Playstation consoles now and is shaping up to be one of the Best PC Games of all time. With fans not knowing yet if we will ever see a Nintendo Switch release, you may be wondering if you can play on the Asus ROG Ally as a handheld solution.

A direct competitor to the Valve Steam Deck, the ROG Ally doesn't require any workarounds to run full Windows, and consequently, it will run any game compatible with Windows 11 as long as it meets the minimum system requirement and storage space.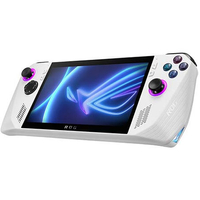 Can I play Diablo 4 on ROG Ally?
Read more
- Asus ROG Ally review
- How to play Diablo 4 on Steam Deck
- Can ROG Ally play all Steam games?
- Best ROG Ally alternative
- The full story of Diablo
Yes. The minimum system requirements for Diablo 4 are extremely generous and the ROG Ally has more than enough power under the hood to run the game. The Asus ROG Ally is a Windows 11 gaming handheld powered by a custom AMD Zen 4 APU, and lets you play games like Diablo 4 on a 7-inch 1080p LCD touchscreen with a 120Hz refresh rate. You may need to adjust the graphics setting and resolution of the game to get the best performance on the ROG Ally.
It also has up to 512GB of SSD storage, which is enough for the game as it only needs 90GB of available space. You'll be glad to know that while Diablo 4 enjoys some impeccable cut scenes, the general gameplay isn't particularly taxing on your CPU or GPU and should run fine on the ROG Ally.
How to install Diablo 4 on the ROG Ally
You will need the Battle.net launcher to install and play Diablo 4 on the ROG Ally, this is the official platform for Blizzard to distribute Diablo 4 and it's other games like World of Warcraft and Overwatch. It's as simple as visiting the official Battle.net website and installing the launcher on your ROG Ally.

You will then need to log in with your Blizzard Battle.net account or create one if you don't have one. Following this you can purchase Diablo 4 from the Battle.net store or redeem a code if you have one. Install and start playing, simple! It's markedly different from the experience of installing Diablo 4 on a Steam Deck, as while this is possible it does require either forcing a Windows install which can cause issues with the unit or using Lutris to install Battle.net which then involves some tinkering with compatibility tools.

We recommend you also install the Blizzard Authenticator on your mobile device to set up two-factor authentication for your account, nobody wants to have their sweet Diablo 4 loot stolen.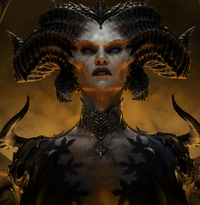 Diablo 4: Ultimate Edition
Diablo 4 is already out now, but you can still get a headstart on your journey through Sanctuary with the Diablo 4 Ultimate Edition, a digital-only bundle full of extras such as cosmetics, an accelerated battle pass and 20-tier skips for the first Season in July. Demon slaying in style.
Buy on: Xbox|PC(Battle.net)
Get the Windows Central Newsletter
All the latest news, reviews, and guides for Windows and Xbox diehards.
Jen is a News Writer for Windows Central, focused on all things gaming and Microsoft. Anything slaying monsters with magical weapons will get a thumbs up such as Dark Souls, Dragon Age, Diablo, and Monster Hunter. When not playing games, she'll be watching a horror or trash reality TV show, she hasn't decided which of those categories the Kardashians fit into. You can follow Jen on Twitter @Jenbox360 for more Diablo fangirling and general moaning about British weather.