How does Diablo 4 play on the Xbox Series S?
Is the game as stable and visually impressive?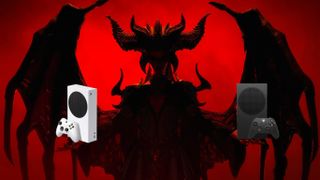 (Image credit: Windows Central)
Diablo 4 isn't the most taxing game when it comes to specs if you check out the PC requirements they are remarkably generous. You may want to know just how well it does perform on the Xbox Series S though, given it's the smaller of the two Xbox consoles but still promises to deliver 60FPS and 1080p.

I've been playing Diablo 4 primarily on the Xbox Series S both connected to a standard monitor and the Depgi attachable screen and can report it plays absolutely fantastic on this little box.
Download size
Due to not needing the high-resolution 4K assets, the download size on Xbox Series S is considerably smaller at 40GB compared to 74GB on the Xbox Series X.
Loading times
The loading time between the two systems is honestly barely perceptible, in fact I'd argue my Series S loaded a millisecond faster due to not having the high-resolution assets to consider.
Visuals
Diablo 4 is a stunning game that showcases the dark and gritty world of Sanctuary with impressive lighting, shadows, and textures. The game also features ray tracing, which enhances the realism and atmosphere of the environments by simulating how light interacts with objects. However, the Xbox Series S doesn't have ray tracing, only the Xbox Series X, PC, and PS5 have this feature enabled.
There is some visual fidelity and detail lost when playing Diablo 4 on the Xbox Series S, but it's extremely minimal and as I tend to play on a smaller screen when using my Series isn't something that particularly bothered me. You have to physically see the two versions side by side to really notice the difference in small detail and lighting, the candle lighting specifically being just that bit better on the Xbox Series X.

The video below on Youtube is the best side by side I have seen and very reflective of the visuals I myself experienced. On the whole though, the game still looks absolutely beautiful. The shadows are still just as reactive, the textures are great and the character models still have plenty of detail.
Performance
Diablo runs solidly at 60FPS on the the Xbox Series S, the only time I felt this dip minimally was in busy town hub areas like Kyovoshad, which is similar to what I experienced when playing on the Steam Deck. It's rare for a game to run consistently and stably at 60FPS all the time but Diablo 4 is pretty damn close and I was impressed in busy dungeons and fighting world bosses with its smoothness.
The Xbox Series S is still a great choice to upgrade to current gen at a lower price
The Xbox Series S is the smallest Xbox console ever made, able to easily fit into a backpack, or squeeze inside its bigger Xbox Series X bigger brother.

The white Xbox Series S is priced at $299, or £249 in the UK in various online or retail stores but it's often on sale. Additionally, you can spread the cost of the Xbox Series S over 24 months using Xbox All Access, at $25 per month on a two-year contract.

This contract also includes Xbox Game Pass Ultimate, giving you access to hundreds of Game Pass games right out of the gate. Soon we'll even have an all-black version as announced at the Xbox Games Showcase, with 1TB of storage for all the best Xbox Games. If you're wanting the darker sibling, you can pre-order now for delivery in September for $349.99, which is still a great entry price into current-gen console gaming.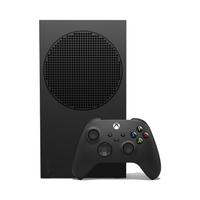 Xbox Series S Carbon Black
The 1TB version of the Xbox Series S comes equipped with a slick new colorway and a still-attractive price point of $349.99. Launching Sept. 1, you can preorder starting today.
Preorder from: Microsoft
Get the Windows Central Newsletter
All the latest news, reviews, and guides for Windows and Xbox diehards.
Jen is a News Writer for Windows Central, focused on all things gaming and Microsoft. Anything slaying monsters with magical weapons will get a thumbs up such as Dark Souls, Dragon Age, Diablo, and Monster Hunter. When not playing games, she'll be watching a horror or trash reality TV show, she hasn't decided which of those categories the Kardashians fit into. You can follow Jen on Twitter @Jenbox360 for more Diablo fangirling and general moaning about British weather.