Persona 3 Reload and Persona 5 Tactica get new Xbox gameplay trailers
New trailers showcase the new voice cast for Persona 3 Reload and the tactical gameplay of Persona 5 Tactica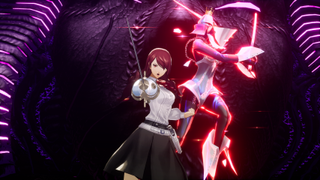 (Image credit: Atlus)
What you need to know
Atlus has unveiled new gameplay trailers for Persona 3 Reload and Persona 5 Tactica.
These trailers show off the English voice cast for Persona 3 Reload and the tactics-style gameplay of Persona 5 Tactica as well the new character Erina.
Persona 3 Reload is scheduled to be released in 2024 for Xbox consoles and PC, while Persona 5 Tactica will be released on Nov. 17, 2023. Both titles are also coming to Xbox Game Pass.
---
On July 4, 2023, Atlus unveiled two new gameplay trailers for their upcoming Xbox JRPGs, Persona 3 Reload, and Persona 5 Tactica, during the ATLUS Presents: The Official Persona 3 Reload Panel at Anime Expo 2023.
The trailer for Persona 3 Reload displays new footage of the remake's upgraded visuals, combat, and a taste of the new English voice cast for the game. For those unaware, Persona 3 Reload has completely re-cast every character from the original PS2 version of Persona 3 with new voice actors.

Some of the new voice actors include Heather Gonzalez as Yukari Takeba), Alejandro Saab as Akihiko Sanada), Suzie Yeung as Fuuka Yamagishi), Zeno Robinson as Junpei Iori), Allegra Clark as Mitsuru Kirijo and Aleks Le as the Protagonist (whom the player can name).
Persona 3 Reload is set to launch on Xbox Series X, Xbox Series S, PlayStation 4, PlayStation 5, and PC via Windows and Steam in 2024. In addition, Persona 3 Reload is coming to Xbox Game Pass.
The Persona 5 Tactica gameplay trailer does a deep dive into the game's combat system as well as spotlights several playable characters. Unlike the original Persona 5 which was a turn-based JRPG, Persona 5 Tactica is a strategy game akin to XCOM: Enemy Unknown where characters must take cover and fire at enemies at long range.
However, this strategy mixes up the genre's gameplay formula with Persona 5's combat mechanics and usage of Personas to help players flush out enemies hiding behind cover and exploit their weaknesses.
The trailer also goes into detail about some of the characters you will be controlling: Joker, the main hero of Persona 5 that snipes enemies from afar with his pistol. Morgana, a talking cat who can attack multiple enemies at once with wind-based area-of-effect skills. And Erina, a brand new character in the Persona 5 universe who can shoot down multiple enemies with a machine gun and support allies by raising a flag that heals party members and cripples enemies' defenses.
Persona 5 Tactica will be coming out later this year Nov. 17, 2023, and will launch on Xbox Series X, Xbox Series S, PlayStation 4, PlayStation 5, PC via Windows, and Steam in 2024. Persona 5 Tactica will also be coming to Xbox Game Pass.
With these two hotly anticipated upcoming Xbox titles as well as Atlus' mysterious and stylish new IP, Metaphor: ReFantazio, it looks like Atlus is firing on all cylinders to make sure it produces some of the best Xbox JRPGs on the market in the coming days.
Get the Windows Central Newsletter
All the latest news, reviews, and guides for Windows and Xbox diehards.
Alexander Cope is a gaming veteran of 30-plus years, primarily covering PC and Xbox games here on Windows Central. Gaming since the 8-bit era, Alexander's expertise revolves around gaming guides and news, with a particular focus on Japanese titles from the likes of Elden Ring to Final Fantasy. Alexander is always on deck to help our readers conquer the industry's most difficult games — when he can pry himself away from Monster Hunter that is!