The HORI Flight Stick for Xbox is normally horrendously expensive, but it's over half price right now — fly fast!
An unbeatable upgrade for Microsoft Flight Simulator at a rock-bottom price
The HORI Flight Stick for Xbox is the perfect companion for Microsoft Flight Simulator or basically any game that you want to immerse yourself in flight such as Elite Dangerous and Star Wars Squadrons. It's one of the few Xbox licensed flight sticks available and one of the Best Flight Sticks you can get, but we don't normally recommend it due to its insane price tag of $220. Right now though in a limited offer on Woot, you can grab this stick set for only $94.99, that's more than half price and I've never seen it as low as this.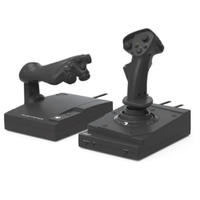 HORI HOTAS Flight Stick for Xbox | was $219.99 now $94.99 at Woot

A perfect gift for a Microsoft Flight Simulator player, or even a great companion for Starfield or Star Wars Squadrons. Really immerse yourself in gaming flight with one of the few Xbox licensed and approved accessories at an unbeatable discount.

👍Price Check: $214.64 at Amazon
This officially licensed product is a must-have for aviation enthusiasts, bringing you closer to the action with precision controls. Experience a vast improvement over standard Xbox gamepads with this HOTAS setup, featuring a dedicated joystick and throttle. The stick allows for pitch and roll adjustment, while the throttle boasts rudder controls and three-step sensitivity adjustment for the joystick. Enjoy a realistic feel with adjustable sensitivity and haptic feedback. Fly fast, and fly accurately,

Key features:
Separate joystick and throttle modules for enhanced control
Adjustable sensitivity and haptic feedback for a realistic experience
Dedicated joystick and throttle controls for precise maneuvers
Various assignable buttons for common flight and Xbox inputs
3.5mm headphone jack for immersive in-game audio
Compatible with Xbox Series X|S, Xbox One, and PC
Whether you're already a flight simulation enthusiast or gearing up for the release of Microsoft Flight Simulator 2024, this deal is not to be missed. Woot offer some crazy discounts with free shipping via Amazon but it's deals are notoriously short lived, and we won't likely see this price again if the HORI stick goes out of stock, as it's still selling for full price through Amazon directly — so go fast!
Get the Windows Central Newsletter
All the latest news, reviews, and guides for Windows and Xbox diehards.
Jen is a News Writer for Windows Central, focused on all things gaming and Microsoft. Anything slaying monsters with magical weapons will get a thumbs up such as Dark Souls, Dragon Age, Diablo, and Monster Hunter. When not playing games, she'll be watching a horror or trash reality TV show, she hasn't decided which of those categories the Kardashians fit into. You can follow Jen on Twitter @Jenbox360 for more Diablo fangirling and general moaning about British weather.