While there is a trend in mechanical keyboards to go for smaller, compact devices that save space and look clean, sometimes you need more buttons, more macros, and more control over your system. That's where the Corsair K95 Platinum RGB mechanical keyboard comes in to play. Today you can get this customizable mechanical keyboard on sale for $119.99 at Best Buy. This is a very low price for a keyboard that can sell as high as $200 at Best Buy regularly.
The same keyboard is currently going for more than $170 at Amazon, too, and for even more at other retailers. This is the best price around and within $10 of the best we've ever seen. Today's sale is also part of Best Buy's deals of the day, so the price won't stick around forever.
Feels Good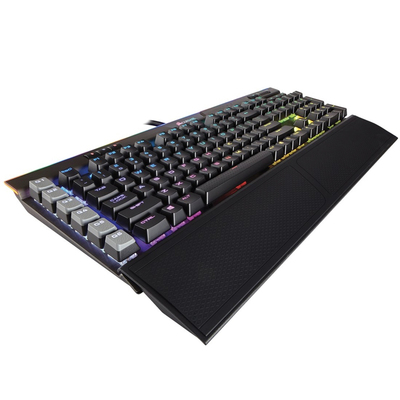 Corsair K95 Platinum Cherry MX Speed RGB mechanical keyboard
Full-size keyboard with Cherry MX Speed mechanical switches. Includes six one-touch keys you can program to do anything you want. Create custom macros with the 18 programmable G Keys. Includes a USB passthrough port and a palm rest.
$119.99 $200.00 $80 off
You're not going to have to worry about this keyboard's durability anytime soon. It is made with an aircraft-grade anodized aluminum frame, which means even if you're a heavy typer or just plan on using this keyboard a lot and for a long time it's not going to give way on you.
It also has Cherry MX Speed mechanical switches, which are great switches that are super fast and have extra durable gold contacts designed to withstnad millions of keystrokes. You'll get precise timing and improved performance with every hit of the keys. The full-key rollover and 100% anti-ghosting features mean that you can type as fast as you're capable of, including performing quick actions during video games, and the K95 Platinum won't leave any commands behind or forget to execute the buttons you press.
The side of the K95 features six programmable G keys, most of the keys along the top row are programmable as well for a total of 18 programmable keys. You can set up tons of custom macros and complex commands, including in-game macros. Perform a single keystroke with each press or execute multiple functions at once. One of the things that makes this really cool is that you can now use those G keys with Elgato's Stream Deck software. This is a program normally reserved for something like the Stream Deck Mini, but it allows you to execute special commands while you're creating content or streaming live.
The keyboard also includes programmable lighting with dynamic multi-color per key backlighting. Adjust the colors, the brightness, or add effects.
We may earn a commission for purchases using our links. Learn more.