Halo Infinite launch time: When you can play, preload, download size, and more
Here's when you'll be able to download and play Halo Infinite on Xbox and PC.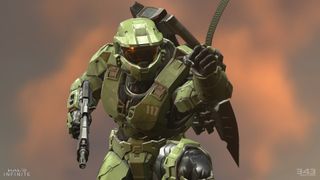 (Image credit: Xbox Game Studios)
The Halo franchise is home to many of the best Xbox shooters ever made, and Halo Infinite is expected to be no exception. Between its expansive free-to-play multiplayer and its innovative open-world take on Halo's typical story campaigns, Halo Infinite looks like it's going to be incredible.
As we get closer and closer to the game's launch, we're now starting to learn specific details regarding the Halo Infinite rollout and how you can play. Here's everything we know about Halo Infinite's launch time, including what time the game goes live, the expected download size, when you can preload the title, and more.
A new journey awaits
(opens in new tab)
The next big adventure

Halo Infinite's campaign promises fans the most expansive single-player Halo experience to date, featuring a dynamic open world brimming with stories to uncover and hours of shooter action. It's a modern masterpiece that's familiar, yet fresh, in all the right ways.
What is Halo Infinite?
Halo Infinite is the next main entry in the Halo franchise, featuring a brand new $60 story campaign and a free-to-play multiplayer experience. The Halo Infinite campaign focuses on Master Chief and his allies as he takes the fight to the ruthless Banished faction on the Zeta Halo ring. Notably, Halo Infinite's campaign is a semi-open world and features many accompanying systems like outposts to capture, various minibosses to slay, and tons of collectibles to find.
We recently published our Halo Infinite campaign review, with Windows Central contributor Brendan Lowry describing the title as a "masterpiece" in modern Halo. While recent Halo entries have been hit or miss, with Halo 5: Guardians facing relatively mixed reception, Halo Infinite has emerged as the latest critically acclaimed entry in the sci-fi shooter franchise. We praised its story and gameplay for delivering everything we expect from a Halo game, nailing the transition to an open-world setting with some striking visuals to pair.
Meanwhile, Halo Infinite's multiplayer suite includes both 4v4 Arena and 12v12 Big Team Battle, with a variety of game modes like Team Slayer, Capture the Flag, and more available in both experiences. You can check our Halo Infinite multiplayer review or a deeper dive into what to expect, including our thoughts on the modes, maps, and other content available from launch.
Unlike previous Halo games, Halo Infinite's multiplayer has been designed from the ground up with live service-style systems like the Halo Infinite Battle Pass. Every few months, new seasons will start and a new $10 battle pass will become available. By completing in-game daily and weekly challenges, players can progress their Battle Pass and earn cosmetics items such as new armor pieces for their Spartan and both armor coatings and weapon coatings that change the color and texture of their in-game gear. While the game has faced backlash over current progression systems, 343 Industries has proven quick to respond with various tweaks.
Halo Infinite also features an Academy training mode that allows new players to learn the basics of Halo and practice with the game's different weapons. The Academy also allows players to load into offline matches against bots if they would prefer to get the hang of things that way. In these offline matches, players can make themselves invincible, tweak how intelligent the bots are, and give themselves specific weapons in order to optimize their training.
Halo Infinite release date and launch time
While Halo Infinite multiplayer is already live on Xbox and PC, the focus now shifts to the campaign, slated for Dec. 8. Previous Halo games, like other major releases, launched at midnight in your respective time zone. That's not the case with Halo Infinite's campaign release, with 343 Industries adopting a universal rollout across the globe. The game goes live at 6 p.m. UTC on Xbox consoles and PCs, regardless of your physical location, with all players granting full access to the title on the hour.
This simultaneous 6 p.m. UTC rollout translates to an early morning Dec. 8 release for those in the U.S. while translating to Dec. 9 for some eastern regions. We've rounded up a complete list of Halo Infinite launch times across the globe, marking when the game will unlock in your region.
Swipe to scroll horizontally
Region / country
Time zones
Australia
○ 5 a.m. AET, Dec. 9
Brazil
○ 3 p.m. BRT, Dec. 8
○ 2 p.m. AMT, Nov. 8
China
○ 2 a.m. CST, Dec. 9
France
○ 7 p.m. CET, Dec. 8
Germany
○ 7 p.m. CET, Dec. 8
Japan
○ 3 a.m. JST, Dec. 9
Mexico
○ 12 p.m. CT, Dec. 8
○ 11 a.m. MT, Dec. 8
○ 10:00 a.m. PT, Dec. 8
South Korea
○ 3 a.m. JST, Dec. 9
United Kingdom
○ 6 p.m. GMT, Dec. 8
United States
○ 1 p.m. ET, Dec. 8
○ 12 p.m. CT, Dec. 8
○ 11 a.m. MT, Dec. 8
○ 10:00 a.m. PT, Dec. 8
Halo Infinite unlocks for all at 6 p.m. UTC, and it appears the same applies to all physical disc-based versions of the game, too. Those with copies in hand won't receive an opportunity to play earlier than digital versions, with a mandatory download required, before playing on any Xbox One or Xbox Series X system.
Halo Infinite multiplayer is already live on Xbox consoles and PC, following a surprise release on Nov. 15, 2021, following the conclusion of the Xbox 20th Anniversary livestream. 343 Industries launched the multiplayer component of the title in "beta," albeit with all day-one maps and modes included from the outset. Since the multiplayer is free-to-play, this means that the game is now available to everyone, and seamlessly transitions into the final release on Dec. 8.
Halo Infinite download size
Halo Infinite multiplayer and campaign will require 48.42 GB of storage space, according to an announcement from developer 343 Industries. The campaign is designed as an "add-on" to the base free-to-play multiplayer experience, making the multiplayer installation mandatory to experience the single-player campaign.
If you've already installed the Halo Infinite multiplayer beta ahead of the game's full launch, you'll need to download a 3.97 GB update for the multiplayer and 25.86 GB of files for the campaign. In these instances, the total of both downloads will be 29.83 GB versus a fresh download of the entire Halo Infinite installation.
Halo Infinite preload: Why you can't preload on Xbox, PC
While Halo Infinite remains slated to launch on Dec. 8, 343 Industries has unfortunately confirmed that there will not be a preload window for the title, indicating that players will need to download the title once launched in your region. While a notification from the Xbox Game Pass app previously stated preloads had opened, the download won't be going live on either platform before release.
Preloads aren't happening — but there are a few days to reduce your download size at launch. The Halo Infinite campaign is essentially treated as an additional add-on to the multiplayer package, which means you'll need the complete Halo Infinite installation to dive into the single-player adventure. We recommend ensuring the multiplayer is installed early, cutting down what you need for the campaign by almost 50% at launch.
The complete Halo Infinite download, bundling multiplayer and campaign, weighs in at 48.42 GB, according to 343 Industries. You can save time by downloading the 26.53 GB multiplayer download prior, and you'll have a smaller 29.83 GB download that follows once the Halo Infinite campaign launches at 6 p.m. UTC.
Those who want to jump in with no wait can also jump into Xbox Cloud Gaming, Microsoft's Xbox game-streaming platform, bundled alongside its Xbox Game Pass subscription. Xbox Cloud Gaming is now accessible on Xbox consoles, Windows PCs, plus iOS and Android devices, circumventing the traditional game download. Provided you have a stable internal connection and meet all Xbox Cloud Gaming requirements, it's another great way to play the campaign without the lengthy wait.
Is Halo Infinite included with Xbox Game Pass?
Halo Infinite has seen a somewhat atypical rollout with its multiplayer beta launching several weeks ahead of schedule, followed by an entirely separate, paid campaign experience. However, Microsoft's Xbox Game Pass subscription remains one of the best ways to experience the title from launch day.
Halo Infinite's campaign joins the list of new Xbox Game Pass games, included with Xbox Game Pass for console and PC, plus Xbox Game Pass Ultimate. You're getting the whole campaign experience otherwise available via a standalone $60 purchase.
The Halo Infinite multiplayer is an entirely free-to-play experience, meaning you don't even need an Xbox Game Pass subscription to play. It's not officially included with Xbox Game Pass — anyone with an Xbox console or Windows PC can download the game — but Ultimate-tier members do get some cool cosmetic perks as an added reward.
Those without an Xbox Game Pass subscription can also pick up the campaign for $60, including access to the single-player story from release, with cooperative support slated as a free update in 2022. The game is digitally purchased via the Microsoft Store or available as a physical disc-based copy from retailers like Amazon, Walmart, and GameStop.
A new journey awaits
(opens in new tab)
The next big adventure

Halo Infinite's campaign promises fans the most expansive single-player Halo experience to date, featuring a dynamic open world brimming with stories to uncover and hours of shooter action. It's a modern masterpiece that's familiar, yet fresh, in all the right ways.
Windows Central Newsletter
Get the best of Windows Central in your inbox, every day!
Matt Brown was formerly a Windows Central's Senior Editor, Xbox & PC, at Future. Following over seven years of professional consumer technology and gaming coverage, he's focused on the world of Microsoft's gaming efforts. You can follow him on Twitter @mattjbrown.
How do you REVIEW a game and then post an article not knowing the size of the game?

Because they were most likely given a review copy of the game's campaign. Also, the multiplayer is still technically in Beta, So prior to Dec 8th, nobody is going to know the exact size of the game. Especially since it maybe possible to download the two components individually like COD

Well with my shocking Internet speed it'll take 7-8 hours for the campaign to download, don't really want to experience it for the first time on my phone screen. Guess I'll play sea of thieves and download it overnight instead to play after work tomorrow. Keep avoiding spoilers for a bit longer!