Hands-on with Microsoft's brilliantly simple Surface Adaptive Kit
Accessibility in tech has never been more critical, and Microsoft is taking the lead with its $15 kit.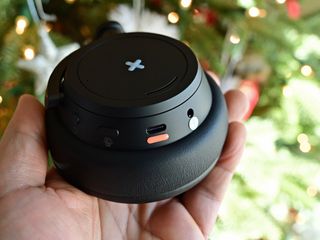 (Image credit: Daniel Rubino / Windows Central)
With the world embracing technology in just about all aspects of our daily lives, the notion that accessibility should play an important role is critical to Microsoft's vision. It's one that the company is taking the lead on and one that other tech companies like Apple and Google need to start taking more seriously.
The $15 Surface Adaptive Kit is, at its heart, a simple creation: It's effectively a pack of labels with various colors and textures meant to improve the usability of Microsoft's Surface products. Of course, anyone can use these on any device, not just Surface, as the need and functionality are universal.
Microsoft sent over a sample of the kit for us to look at. Here's what you need to know about it.
Surface Adaptive Kit: So simple
The Surface Adaptive Kit package is clean, minimalist, as expected from the Surace team. There's no fussy shrink wrap, stickers that need to be peeled off, or any other unnecessary barriers to usage.
Opening it up, you're greeted with a QR code to scan for instructions and usage. That link takes you to this quick guide (opens in new tab) on how to use the labels, which ones are for what, and some rudimentary directions. I say rudimentary only because I think the guide could use a few more examples and better demonstrate the keycap applicator.
Placing the labels onto any device is quite simple as only the middle part is sticky, allowing some forgiveness for aligning and straightening after plonking it down. I'm going to assume those with visual or physical impairments will need assistance to place these stickers in the first place as they can be challenging to handle.
The most convenient labels are headphones, power buttons, and various connectivity ports.
While Microsoft makes this kit for people with disabilities, it can be used by anyone who wants a simple tactile line/bar to signify where the Type-C port is without having to look. They're akin to the bumps on keyboards for the F and J keys to center yourself before typing.
Speaking of, there are labels for the keyboard, including arrow keys, which can be helpful for any person who desires more tactile usability when using their Surface devices.
Some pull tabs can be placed on Surface Pro or any laptop to help open the kickstand or lids for those with dexterity challenges. One of them even allows for a lanyard, but, unfortunately, one is not included in the box, so you'll need to procure your own.
Surface Adaptive Kit: A big step in the right direction
There's nothing revolutionary about creating various labels for hardware to help those with disabilities. But Microsoft is the first major tech company, to our knowledge, to build the ethos of inclusivity at this level for consumers. Simply put, it's thoughtful and smart. Not only does it help an often-overlooked demographic, but it's good business too, as everyone needs technology, regardless of their abilities. If such moves help win over more customers for Microsoft, everyone wins.
Microsoft even took the time to work with people with disabilities to make this kit, including the packaging, something that seems like a no-brainer but can be easily overlooked. But this first step is something we do not see enough of from other companies, and that's a shame.
While something like Microsoft's Xbox Adaptive Controller is more capital intensive to design and bring to market, you can't say the same about the Surface Adaptive Kit. That raises the question of why more companies aren't at the forefront of such a movement.
At least Microsoft is setting the example here, and while the Surface Adaptive Kit is a seemingly small gesture, it's a big step in the right in making sure everyone can be part of this tech revolution.
Let's just hope the community embraces this project and makes it the new norm.
Accessibility for all
(opens in new tab)
The Surface Adaptive Kit is a range of accessories designed to improve the usability and accessibility of any laptop or tablet device, and it's coming soon to the Microsoft Store.
Windows Central Newsletter
Get the best of Windows Central in in your inbox, every day!
Daniel Rubino is the Editor-in-chief of Windows Central, head reviewer, podcast co-host, and analyst. He has been covering Microsoft since 2007 when this site was called WMExperts (and later Windows Phone Central). His interests include Windows, laptops, next-gen computing, and for some reason, watches. Before all this tech stuff, he worked on a Ph.D. in linguistics, watched people sleep (for medical purposes!), and ran the projectors at movie theaters because it was fun.
Thumbs up to MS for doing stuff like this!

I have a hard time seeing low contrast or small iconography on the Surface type cover keyboard, so I use large stickers for the volume up/down, brightness up/down and page up/down buttons. These tactile stickers are an improvement over flat stickers. Placing dots near the volume rockers, USB-C ports, headphone jack and Surface charger port also makes port access easier for users with black Pro X or Pro 8 models. I have to run my fingers over the side of the device to find the port locations.

Laptop keyboards are the worst. What is an intuitive and no-look action on my desktop keyboard is a sudden shock into looking down to search for the right key on just about any laptop. This can definitely help! Same with the jacks, except I find I can usually plug in the Surface Connect connector without looking.

"So simple" As the author notes, this isn't just about "disabled" people. This is about anyone who wants to keep their eyes on the ball and stay in their flow. It takes the mind away from work when you have to go hunting for a USB jack; much better to feel where it is by sticker. (Incidentally, this is why professional cameras are designed the way they are, with tactile and spatial indications of which knob or button does what, so the photographer can stay focused on the image.) It's also about being inclusive in terms of age: Remember that the world's population continues to age, and the elderly years are when things get harder for most people. In advanced countries, most disabled people are elderly. And yet those people have all this accumulated skill and experience, and many want to keep working. An extremely simple product concept like this can help, and for some, maybe a lot. It is high time the rest of the tech industry took notice. True, most consumers are relatively young, don't have any impairments, and care about sexy lines more than functionality. But there's a big and growing market for these kinds of solutions and for design that is inclusive when it comes to physical impairments. Anyway, great review and great to see this showcased here. I am definitely buying one of these (when they're back in stock)!

Typical of the technology industry to think this is new. Check out the RNIB shop in the UK. Plenty of similar available much more cheaply.

The reason this is $15 and not $5 is to give the WinTel ecosystem another value add stream for OEM and others. The profits MSFT will make selling this kit will have no impact on the bottom line. Just like the Surface line in general, it is primarily an effort by MSFT to invest in the WinTel ecosystem. I say WinTel because x86 is still the driver for MSFT. But if say 20 to 30% of WinTel users recognize the importance of color buttons or textured buttons to help with productivity (reading on your Go in the dark), then we are talking about a lot of adaptive kits from $1 to $100. Then the RNIB shop in the UK can sell a lot more stuff to this new group of customers.

The tech industry doesn't think this is new. But it is new to the tech industry. That's a big deal for, for example, people with low vision. We have a PC OEM that is embracing these simple solutions that could make a big impact. Who could have a problem with that?

Thank you for covering this, Daniel. For more info, feel free to check out https://www.bing.com/?ref=aka&shorturl=sak.

Posting my previous answer replaced my short URL with nonsense, so I'll try again : aka.ms/sak

I link to that guide in the article, FYI, where it says "this quick guide."

How strong is the lanyard sticker? Like could I dangle a Surface Duo with it and not worry about it peeling off?

I doubt it. It is for letting someone pull the kickstand, not use as a connector to secure other devices. I would suggest that MSFT drill a 1/4-inch hole about 1/2 inch from each corner of the kickstand to allow you to loop a piece of nylon string to serve as a lanyard. You could do this yourself. they use a magnet to hold the surface pen.

It's one of those stickers you need to let "cure" on the device for a bit, but it's pretty strong, at least for pulling open the kickstand. I'd think for Duo there are better options, however, than buying this entire kit for just that.
Windows Central Newsletter
Thank you for signing up to Windows Central. You will receive a verification email shortly.
There was a problem. Please refresh the page and try again.