You should buy one of these Lenovo laptops today, and not just because of the low price
The Lenovo ThinkPad Anniversary event ends in three days time and you won't want to miss these three incredible value deals.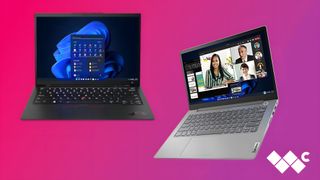 (Image credit: Future)
The ThinkPad Anniversary Event started three days ago and will last until Oct. 22, 2023. and reduces prices of some of Lenovo's best laptops to as much as 60% off. So if you're in the market for one of the best laptops or one of the best 2-in-1 laptops, now is a great time to grab one. We already listed some of the best Lenovo deals here but here are my three picks for the best value.

If you're looking for a laptop that can handle anything you throw at it, you might want to check out the ThinkPad X1 Carbon (Gen 10) from Lenovo. This laptop is a beast, with an Intel Core i7-1260P processor and an Intel Iris Xe Graphics card that can run multiple programs smoothly. It also has 16GB RAM and 1TB of storage, so you don't have to worry about running out of space for your files and photos. And if that's not enough, it also has a 1080p webcam and a fingerprint reader, making it easy to video chat with your friends and family or log in securely. It's a HUGE 60% off in the clearance right now and hard to pass up at this price.
Another amazing deal from Lenovo is the ThinkBook 14 (Gen 4), which is now 50% off. That's right, you can get this laptop for only $763.50, down from $1469. That's a huge saving for a laptop that has a lot to offer if you need a laptop for business use..
Gaming laptop are expensive, but less so if you pick up the LOQ 15 in this deal that chops $350 of it's MSRP. The LOQ laptops are more modest and lower in price to the Lenovo Legion range, delivering gaming performance albeit in an all plastic chassis. If you want a gaming laptop that doesn't break the bank, this would be a great place to start.
I'm a big advocate of Lenovo laptops. In fact, I have a Lenovo Ideapad 11 that's six years old and still going strong and being passed around the family for light web browsing, and despite me damaging it twice, Lenovo customer service has always been top-notch.

We love Lenovo so much here at Windows Central that you can check out our list of the best Lenovo laptops if you're not sold on the above two models.
If you're looking for something more powerful that can handle gaming too, then check out our list of best Lenovo Legion laptops, too.
Get the Windows Central Newsletter
All the latest news, reviews, and guides for Windows and Xbox diehards.
Jen is a News Writer for Windows Central, focused on all things gaming and Microsoft. Anything slaying monsters with magical weapons will get a thumbs up such as Dark Souls, Dragon Age, Diablo, and Monster Hunter. When not playing games, she'll be watching a horror or trash reality TV show, she hasn't decided which of those categories the Kardashians fit into. You can follow Jen on Twitter @Jenbox360 for more Diablo fangirling and general moaning about British weather.