These are my 5 favorite features in the Windows 10 Anniversary Update
The Anniversary Update for Windows 10 is here and these are the five new features I'm most excited about!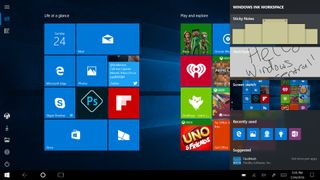 It's indeed an exciting time for Windows fans, as Microsoft has done a phenomenal job improving the overall experience across devices with the Windows 10 Anniversary Update, just to make you more productive and secure when going online.
As a member of the Windows Insider Program, I've been running the Windows 10 Anniversary Update since Microsoft made available the first preview months before the public release. So with plenty of time getting to know the new features over the course of more than 20 preview builds, these are my personal top 5 favorite features in the Anniversary Update of Windows 10.
1. Windows Ink
The first feature that gets me "pumped" is Windows Ink. It's perhaps the biggest feature you'll find after installing the update. Although the operating system has been offering pen support for many years, Windows Ink improves everything.
The new experience brings the Windows Ink Workspace, which is the central hub to access the new apps, including Sticky Notes, Sketchpad, and Screen Sketch. And there is also a new page in the Settings app to customize the experience and the active pen, which makes everything a little simpler.
In addition, Microsoft is promising to make it easier for developers to build apps with Windows Ink support.
I have a lot of hope for this new experience, which is one of the reasons it's on my list.
2. Microsoft Edge extensions
While modern web browsers, such as Chrome and Firefox, have included support for extensions for a long time, now they are also available on Microsoft Edge.
These are simple programs designed to extend the functionality of the browser to help you get things done faster. For example, you can get a password manager that works across platforms like LastPass, so you don't have to remember complicated passwords.
If you want to speed up your web browsing experience, you can download the AdBlock extension to block ads, which most of the time are the problem trying to load web pages faster.
Or when you need help buying something online, you can install the Amazon Assistant to make it easier to compare prices and get the best deal.
Initially, there are only a few extensions that you can download from the Windows Store, but there are a lot more on the way.
3. Windows Defender Periodic Scanning
Windows Defender is Microsoft's free antivirus solution for Windows 10. Although it's a good antivirus, many users prefer to install third-party solutions.
But even with premium security software running, sometimes malware or other malicious code can get onto your system. For this reason, Microsoft is stepping up with a new feature called Limited Periodic Scanning.
Limited Periodic Scanning is only available on devices running a third-party antivirus, and it allows Windows 10 to use Windows Defender to perform a scan periodically on your computer to detect and remove any threats that your antivirus may have missed.
The best part is this new feature won't impact your system performance, battery life, or cause a conflict with the other antivirus.
4. Sync notifications between phone and PC
One of the goals Microsoft has set up for Windows 10 is to build one operating system that works across devices. On the Windows 10 Anniversary Update, we start to see this idea coming together.
Along with all the new improvements, the new version of Windows 10 brings devices closer together with a new notification syncing mechanism. Starting with the Anniversary Update, your phone notifications will sync with your PC.
If you have an Android phone using the Cortana app, or a Windows 10 Mobile device, you can now sync your phone notifications with your PC. The new functionality even lets you reply to SMS text messages from your PC, and Universal Dismiss lets you dismiss a notification on your PC and have the same notification dismiss on all your other devices.
5. Redesigned Start menu
My final pick is the updated Start menu. I really like the tweaks Microsoft is incorporating into the new version.
The new Start menu redesigns the experience to align with the design language Microsoft is using throughout the operating system.
The menu now combines the "Most used" and "All apps" lists into one column, which means fewer steps to get to your apps. Power menu, Settings, and other buttons are now easily accessible through the new left rail with a hamburger button -- very similar to what you see in Windows Store apps.
Similar changes can also be found on the Start screen, but the full-screen experience of the menu comes with a few neat additions, such as the new buttons to switch between "Pinned Tiles" and "All apps", and a new unified list that is front and center to make easier for users to get to their apps.
I personally like these new changes because I can get you my apps faster, and they also eliminate some of the learning curves for new users (remember that once you know how to navigate the Start menu, you'll also know how to navigate apps and vice versa).
Wrapping things up
While there is always room for improvements, overall the Windows 10 Anniversary Update goes far beyond my expectations on the number of new features, improvements, and changes. It's a fantastic update, and you should install it as soon as it arrives in your device.
Do you have a favorite feature on the Windows 10 Anniversary Update? Tell us in the comments below.
More Windows 10 resources
For more help articles, coverage, and answers on Windows 10, you can visit the following resources:
Windows 10 help, tips, and tricks
Windows Central Newsletter
Get the best of Windows Central in in your inbox, every day!
Mauro Huculak is technical writer for WindowsCentral.com. His primary focus is to write comprehensive how-tos to help users get the most out of Windows 10 and its many related technologies. He has an IT background with professional certifications from Microsoft, Cisco, and CompTIA, and he's a recognized member of the Microsoft MVP community.
It's Cortana and Windows ink for me

Sending texts via pc but that still has to come... Really loved that when it was available to insiders!

Yeah..those days with Nokia PC Suite. Unlike any other..

Sure, where you had to install additional software on your computer and find the right cable to connect your phone to your computer.......... Good times... :P

Type cell phone number in email app 7182345678@txt.att.net for att and 1234567890@messaging.sprintpcs.com for sprint

Pushbullet does a great job of it from Android phones...would love to see this come to Windows Phone.

Not sure, may be the notification center. The start menu. I honestly feel is smoother and faster. And the improved configuration settings. Is a better over all experience, however the tablet mode still need some work to feel fully pleased.

Can u please tell me the approx size of the anniversary update.. Thanku Posted via the Windows Central App for Android

Well extensions don't install in my surface pro 4 keeps asking to reinstall it

Go to Pc>Local disk C>Windows>Software Distribution and delete folder called Data Store with some deleter software like Unlocker or Iobit Delete. Restart PC and try to download extensions again. Hope it helps! Note: Before doing that, try to backup that folder or do a System restore point.

how does syncing of notifications work when you have two of the same app? Eg messenger/windows central etc

So far.. I cannot get notifications to sync. 14393.10 on PC and 14393.5 on my phone. Simply does not work. Dunno. And yes it is enabled in Cortana.... so far fail. Does anyone know how it works? How to troubleshoot?

The Ab Block extension makes this upgrade all by itself. Huge leap

Ab Block I believe is a different product :P Agreed Ad Block is a great upgrade and support for other extensions as well.

How do you disable the Phone/PC syncing of notifications? It auto enabled itself and I don't like the idea of my texts showing up on my PC specially since my wife and kids use my PC all the time.

Surely they have their own logins? Thats one of the major plus points of Windows over Android/iOS isnt it? ;)

iOS syncing of notifications/texts to a Mac is account based (and has been since it became available a couple of years ago).


Tell your girlfriend not to call home.

Lol hahahaahaahhah Posted via the Windows Central App for Android

My favourite feature will be improved tablet mode, when hopefully comes in next updates... like more swipping options, better taskview, more touchfriendly browser and action center

Sync notifications between phone and PC...doesn't work here... :(
​I'm on IP fast on mobile and official AU on pc...is there something to enable?

Yes, you need to enable Send Notifications Between devices option of Cortana on both devices to make it work. It's under Cortana settings.

Does Cortana/Notification Center sync require both the PC and the W10 mobile to be on Anniversary? My phone isn't, yet, and I didn't see this feature working as intended. The new notifications are ok, I just feel that design-wise information could be compressed more to take a better advantage of the available space. I also do notice that the Windows Hello login takes a bit more to kick in. And I had some sound issues with Hey Cortana that I never had. Overall it's a quietly great update.

other than the revamp setting all the other feature are useless for me

Very nice, that's if you can get it to install.

Hey Mr. Mauro Huculak, you forgot to mention that now any pc can be used to work on phones that support continuum, not just TVs! And that is HUGE!

I was excited about the phone/PC sync till I found out you needed Cortana running on your phone. I don't want Cortana on my PC let alone my phone. The update does seem to make my laptop seem a bit snappier, but over all it doesn't do a lot for me...

Ah but the insider previews ruins all the excitement...when everyone here in south africa is talking abt the anniversary update n all new feature but u already have them.

I love the upgrade to Sticky Notes that ties it to Cortana. The syncing of messages between phone and desktop is great and Edge is now the best browser for note taking with the introduction of the OneNote Clipper extension in addition to the built in inking capabilities. I has a great time grabbing art tutorials from the web last night for my drawing notebook.

I've noticed a dramatic slowdown in both boot and launching of programs. I generally like the changes, but it's quite noticeably slower on two different machines. Posted via the Windows Central App for Android

I have noticed a slowdown on launching apps as well - but it's not dramatic. There's a 1/2 to 1 second black screen before the app launches - prior to AU the app would launch nearly instantly (1/4 to 1/2 second).

My most used programs for work take an additional minute at times. It's substantial to me. Posted via the Windows Central App for Android

Don't forget about Ubuntu Bash.

My favorite feature is that my PC now starts up successfully 2 out of 6 times now. Just love that black screen with spinning wheels forever. It's so awesome. Thanks Microsoft!

That's the best features? 1. Few people use styluses... 2. Few people use Edge... 3. Most people shouldn't be using Windows Defender but a 3rd party AV. 4. I am not going to be installing Cortana on my phone just to sync notifications and use SMS on the PC when there are better alternatives. 5. I guess the redesigned Start menu is subjective as an "improvement" but I do find it to be a cleaner look. I guess the author doesn't use Edge at all since it's not mentioned but neither do I. All around Redstone One is really a minor update but that's Ok.

1. This number is increasing
2. The whole point of adding more features to Edge is to increase the number of users.
3. Windows Defender is actually quite good and regardless of how good 3rd party AV software is, you can't fix stupid and people will continue to get viruses.
4. Your choice
5. Agreed Conclusion, Redstone One is a minor update for YOU and your mileage will vary compared to other people.

Well said Posted via the Windows Central App for Android

Edge is still a POS.....it needs years to mature. Adding features is a step but, they need to make it go leaps to even catch up to IE 12 (and that is a diffeent story) And it uses almost 2 to 3 times more resources than IE..... junk,

- windows is global product used by millions around the world sync notifications between Pc and phone require cortana which is not available for almost everyone so it useless features for a lot of people - ink is and always be tablet feature which require a tablet - edge extensions are nice but they are few you could count them on your hands so its actionable notifications, badges, start menu and emojies LOL

Cortana is no longer region locked and there are a number of other improvements that have been added. Remember that these are just his personal top five. Also, just because not everyone owns a tablet that doesn't make Windows Ink any less significant and there are more extensions incoming for Edge. For goodness' sake, it just got extensions added and the update hasn't even gone out to everyone's computers, let's give them time to grow before trivializing the new features.

Since I use a Surface tablet in Tablet Mode, the best feature I've found so far is swipe navigation in Edge - Damn I missed that from Metro IE. Being able to swipe back a page while browsing is so satisfying.

I wish the Start Menu default design was how it looks like after you click the hamburger button, which pops out and displays the full text (much better than icons) while also covering up the busy all apps list, which looks cluttered next to the pins to the right. I'd much rather have that be the default and then have it so that clicking the hamburger button pops out the 'all apps list'). Dark theme is nice. So is Ink. Edge has been improved (finally can click and hold the back or forward buttons to jump multiple pages at a time, and the window when opening Edge finally remembers its last location), but is still missing some pretty basic IE features like jump lists.

How to send an image to PC via Cortana on Windows Mobile ??

Just save it to OneDrive?

Cortana not being locked to a specific region is awesome! Casting Continuum to any Windows 10 PC is amazing too. Playing with it right now as we speak

who told you its not locked i just switched from US to my region and cortana got disabled ! switched back to US got enabled

I believe you must change your language not your region

language already set to US english for everything changing region from US to my region will disable cortana.

5 features for me after upgrade- lag- stutter- more lag- freeze-crashes -__-

Bhai what is the size of the anniversary update? Posted via the Windows Central App for Android

It can't be more than 4gb and can't be less than 3gb

Bad things ? 1. If you use Widows Media Center and use cablecards, they no longer work, WMC will not find any tuners. 2. Edge uses more resources by almost 2-3 times than IE... still buggy as hell.

All the features look great Mauro. Hope to get them in the future, I'm still waiting for the Anniversary Update, lol.

You'll get it soon enough. It's a slow rollout. Thanks,

GOTTA be hype over periodic virus scanning......lol

Everyone keeps missing Quick Assist!!!!!!

I can't sync notifications from my s7 to the Surface. I have the Cortana app. What am I doing wrong? Posted via the Windows Central App for Android

Wasn't that coming later in a Cortana for android update?

After this last build my IPv6 has no access internet, please help !

Have you made sure that IPV6 is still enabled on you NIC?

It is, i have last update all drivers on, im the only one with that problem heare ?

Win 10 in general has to be the most unstable OS yet. Ever since we upgraded to Win 10, we can't network our computers. We each can see the others computer, but we can't access eachothers files, even though shares and permissions are set. And that goes for Normal network sharing and Homegrgoup. I've tried everything under the Sun and have asked around on forums. I can't get a working solution either. This is goin to sound odd, but have you checked your router to make sure IPV6 is enabled. I only ask because after the Win 10 Upgrade I decided to try and Upgrade my Router. Thing is, I couldn't log in using my username and Password. I even confirmed the Passord was correct and it still didn't work. I had to do a hard reset of the Router. Anywho, in my Router, you have to turn IPV6 ON for it to work.

I dont have router, i have dirrect connection on G-Pon (optical fibre). I repeat i dont have this problem, only after this last buil update.

3) Windows Defender? You defiantly don't use aftermarket complex anti-malware and network package as I do, because it absolutely irrelevant for me and it really annoying that I unable to turn it off. This is one of the biggest things I hate in Windows 10. Absolutely infuriating unnecessary that is just there to annoy you. P.S. Security analyses are out and Windows Defender is pretty munch useless against modern threats, can't even detect key loggers or block access to webcams.

After downloading a Windows Activator, I could have seen how "Defender" is working... First like 15 apps with chinese names have appeared in my processess, all of them unkillable. Defender couldn't be opened because of some "ERROR"... Restarting the PC got me into an environment fully integrated with the viruses, all of them starting with the PC popping at me with some Chinese social networks... Had to reinstall Windows.

I wouldn't admit to downloading an activator as people will assume you were pirating Windows and you won't find much sympathy for your plight.

They (devs) killed StickyNotes, it is horrid now! I lost a USB Thumb Drive after the Update, Showed up as needing to be forrmatted, but worked fine on other Win 10 Pc's without the Update. It wasn't even plugged in when I updated. This is # 4 on corrupted storage since upgrading to Win 10 last year. Restarts have been slow and now Action Center don't show Notifications. Oh and lets not forget that it Defaulted all/most of the Permissions to ON, It even reset my Context Menu. AND I think they added NEW Phone centric bloatware as well. It's like a completely new install instead of an upgrade, I hope it's not like this every year.

You can use your xbox one controller via bluetooth without the need of the wireless adapter

So long as you have a built in Blutooth Adapter, right?

I gues so. My mobo has BT already built in. Ill give it a try when i get home. I wish I knew about this before, minutes ago my wireless adapter for w10 arrived xD

After the update, sometime my Surface Pro 4 camera cannot activate for Hello login. Very annoying.

So one can do things with Android Cortana but not on WP8.1 with this update.....that sums it up

Cortana doesn't link to my stick notes app and I can't track down any setting to enable it??

Click the three dots > Settings (gear icon) > Enable insights. That's it. Thanks,

I was wondering about this as well. I saw in a video you could Drag StickyNotes to Cortana and she would save them or something like that. But when I tried it did not work. Also StickNotes are supposed to highlight dates and times and again it doesn't. I checked the settings you recommend above but Insights doesn't seem to exist.

Sync between phone and PC is important to me. It makes my life a lot easier....

Bash integration is the most interesting to me. New Start menu is less awful but still not as complete as the 3rd party alternatives. Seems like there is more crapware that is either hard or almost impossible to remove (e.g. Connect, Groove) .

The older start menu was fine enough for me.

Microsoft Edge extensions is the best feature. Second is Quick Assist!

I have blocked Cortana out of the box. But ink and new menu are really cool. Especially on 2 in 1 machines like HP x360 or lenovo x1 yoga.

i dont understand why microsoft didnt use tiles in settings page site wide icons has to be replaced with tiles as tiles are more productive than dumb icons hoping for the best in the next major update www.searchcomparebuy.com

Wow, you know when an annual update is a load of rubbish when #3 on a list of favourite features is that the virus scanner can now do periodical scans, like every other scanner out there. Also, I love how they called it Windows as a Service and then just released what is simple a Service Pack like they always used to. Nothing has changed.

Windows Defender would Default to off if it detected another Antivirus program, in the old version of Win 10. And you could not Turn it On by hand as it were. Now it will pop up a nag in Action Center telling you it needs to scan you computer. It doesn't even do it by itself! Also, I had it pop up twice in as many days... I hope it doesn't stay like that. Concidering their "Service" has Broken many a machine since day one, all they are doing is making it harder on themselves.

One thing that I really like is that you can now have a global dark theme that effects universal apps, e.g. settings. I much prefer having a dark theme for the apps.
Windows Central Newsletter
Thank you for signing up to Windows Central. You will receive a verification email shortly.
There was a problem. Please refresh the page and try again.