Here's how Windows 10 Mobile HERE Map fans can switch to Microsoft's new Maps app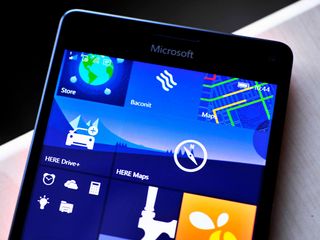 Microsoft has some details on how Windows 10 Mobile smartphone owners can make the transition from HERE Maps to the company's new Map app by migrating up to 300 of their HERE favorites.
HERE removed its mapping suite of apps from the Windows Store in late March, and after June 30 the apps will stop working if they have already been installed on a Windows 10 Mobile smartphone. With this week's release of Microsoft's huge Maps update, the company is making it easy for HERE map owners to switch over to the new app.
In a blog post, Microsoft stated:
If you are still using a Windows Phone 8.1 device, the HERE maps will continue to work, but will no longer be updated. Microsoft says:
Download Windows Maps from the Windows Store (opens in new tab)
Windows Central Newsletter
Get the best of Windows Central in your inbox, every day!
I've been using the MS Maps app and it is very good. It bailed me out when I made a balls up in Belfast a few weeks ago. I can't fault it.

im going to change platform to avoid leaving here if thats what it takes

The Microsoft Maps app users the same Here Map data, but does it in one neat app, rather than three separate apps. It is also a UWP app, so that promises deeper synergy, particularly when the Redstone era begins shortly with the Anniversary update, and also deeper Cortana integration.

dechah you are using facts and logic to assist brorim with their issue. What makes you think they want to hear any such nonsense? :P

Oke.. take care..Bye..!!!

Maps is HERE with a good ui and ux.

Been using MS Maps these days and I'm surprised how accurate and fast the location tracking, rerouting and direction mapping is. I truly do not miss Here Maps no more.

Such an inferior product. The only plus compared to HERE is the multiple routes shown, but HERE's ability to select Balanced routes, toll roads and unpaved roads was superior. It was also much easier to use without needing baby fingers and a telescope; slight exaggeration there but HERE was easily used while driving.

So true. Also MS removed from their maps app transit info for many countries. I sent feedback 4 times about this to Microsoft, but they just ignore this fact. And not to talk about choppy, slow animations.. Eghr, even maps on Nokia n78 worked flawlesly, but there, what a shame. Because of missing transit info (what is available in HERE applications) I'm supposed to use gMaps...

The public transport data in the Microsoft maps app for my country, Australia, is superb, and superior to what we had in the past with Here Transit. I also used it in New York City recently, and it worked very well.

For safety's sake, you shouldn't be tapping on your phone while you are driving anyway. Wait to park first.

Typing is one thing, tapping another. No different than touching controls on a car audio unit if the phone is upright on the dash. If Cortana was more integrated with various apps, no touching would be needed at all.

Heres a suggestion - Open Feedback Hub, and make suggestions.........if enough people vote, maybe you will get what you want.

Hahahaha. Have you ever used Here Drive+ (wp version, not on Symbian or iOS) in a 'dense' area? Like a capital, etc. It's a NIGHTMARE. Because it didn't avoid traffic, it just gave an indication of it. X minutes of delay. Wow. That's what HERE called "traffic awareness". MS Maps does avoid traffic. On the morning, it will show me the "correct" route to office, and in the middle of the day or during holidays, the fastest route in theory. HERE always shows the fastest route in theory (as if you were alone on the road). Just for that, I hated HERE on WP. Because Nokia Maps on Symbian had traffic avoidance, but Nokia/HERE never brought it to Windows. No, the only thing I miss from HERE is the magnetometer (compass) support, for walking. But as for driving, MS Maps is far superior. You can choose to avoid tolls etc for you information.

Traffic on HERE has always worked fine for me in the US in the Boston area. It's moot downtown and during rush-hour when gridlock is everywhere.

You can select all those options like, toll, unpaved roads, etc. in MSFT Maps.

Need more languages for voice navigation

Just curious....have you provided any feedback to them stating your concerns through the feedback hub?

Best map app on any OS platform.. Give it to Microsoft. Boss down

Except it has been, and still is available on Android

Except that it isn't available on Android... Posted via the Windows Central App for Android

Hmm, that's odd. What's this then? https://play.google.com/store/apps/details?id=com.here.app.maps

I doesn't seem to work here... still no favorites, no option to import in the settings... how I miss HERE, with WMaps I can't just drive without a destination set and have all information I would expect from a GPS, like HERE Drive did.

Update to latest version and try

as far as the Store can tell me, it's up to date.
I can't install Here anymore, maybe it's only an offline import. I can still see my favorites on Here.com, I wish I could import on the web.

There are significant updates coming in the Anniversary build of the Maps app for Windows 10 and Windows 10 Mobile.

You can by working with the two websites and a script. Just search on the internet. It's done via a script being run in Chrome or firefox.

You can always come to the dark side (iOS)! :p

I have an Android too, use Here on it, don't like Apple philosophy of nonsensical restrictions and it's not worth the price.
I still prefer Windows because my Android is laggy, but MS has been making a hassle to stay on the platform.

Ah, I got the same question than you, and reading more carefully it seems that this will happen AFTER june 30, when Here dies. Then Maps will let you import the favorites. That's what I got from the article. IF it doesnt', yeah, it's not working for me, and I have Here installed on my desktop, it even works, just tried it.

No it already has this feature, and I imported my favourites from HERE about a week back.

I don't have the option, I have the latest version which is 5.16061670.0. Of course I'm not on any Insider Ring. What are the conditions? I don't have HERE on my phone anymore because I made a hard reset trying to fix Cortana. But I do have it installed in my desktop, where I couldn't find any import option either. What am I missing?

I also don't see the new option in the Maps app.
You can use the online tool I created 3 months ago. It will import all your favorites. http://www.jmevel.com/MapsFavoritesImporter
But BE CAREFUL if you have a huge amount of favorites. Bing maps (Windows 10 Maps) has a bug and cannot handle a huge number of favorites. I don't know exactly where is the limit but it seems to be around 1000. If with bad luck you reach that limit then NONE of your favorites will appear on Maps anymore and you'll be stuck like this until they fix this bug!

Latest version is very good. I'm only missing collection to manage all my favorites. Everything else works very well and I like the multi tabs. It just require a bit of practice but after a while, it's very handy.

awww, still no collections? this is big requirement for favourites management, for like travel vacation purposes. otherwise can't find anything.

I'd rather have a updated Waze app. I went from Ohio to OBX earlier this month and Microsoft said it would take 12.5 hrs to get there. Waze was a little bit more realistic. it was only about 11 hours.

The app will update the TOA as you drive. It also factors traffic into the equation.

I understand that, but so does Waze and other map apps. I don't think these maps do automatic re-routing based on traffic either. Now-a-days I think it's necessary for map apps to have that.

Agreed! Waze is very good at giving one a proper time of arrival (when I'm using it for going back and forth to work). I'm going on a 385 km (239 miles) ride today and Windows Maps says 5 hours, Sygic says 4 hours 30 min whilst Waze gives an estimate of 4 hours. Waze will be correct and the others not, since Waze has better understanding of what type of impediments there are and also knows how I drive (a bit faster than I should :P ). I really hope Google updates Waze at least once within this year. I think we'd all appreciate it.

hey, one thing both apps lack are offline maps for Japan and south Korea. if those countries eventually get offline maps, then its perfect for me.

I have noticed that the Maps app has improved greatly, but still, icons are a little small when driving.

Yes,true.need little bit more big

300 favorites - i have over 500 favorites. MSFT is a software company. Make it so i don't have to compromise, so i don't have to loose any favorites. - This is why i left, lack of shooting to fully satisfy the customer's needs. There is always going to be a compromise by operating within the MSFT mobile ecosystem. If you can do 300 why can't you do 500 - If you can do 500 why can't you do 1,000 favorites ? Its all meta data - make it work. Otherwise customers will simply shift to android or iOS where their favorites are readily available without compromise.

Microsoft doesn't care if you switch to android or iOS. You should know that by now.

"i have over 500 favorites. Of course you do...If MS had set the limit at 500 then you'd say you have over 700.

Who said it was MS who set that limit, and not HERE?

500 favorites? The feature isn't intended to be a database of every place you've ever been to. If someone asks what your favorite candy is do you name a few or do you give them a list of 500 different types of candy that you've tried?

You can use the online tool I created 3 months ago. It will import all your favorites. http://www.jmevel.com/MapsFavoritesImporter
But for other people who are reading this comment, be careful if you have much more favorites. Bing maps (same as Windows 10 Maps) has a bug and cannot handle huge number of favorites. I don't know exactly where is the limit but it seems to be around 1000. If with bad luck you reach that limit then NONE of your favorites will appear on Maps anymore and you'll be stuck like this until they fix this bug!

I don't have HERE Maps on my 950, and I can't download it from the Store. How do I import the favorites then? :( :(

HERE was sold for 0.1 linkedins. Great buy from the Consortium.

NOT WORKING. No option to import fav data from Here .... Only the data from Maps (previously saved from older w10m builds or not) is shown (logged on msft account, of course) Can someone do a step by step for people using the most recent w10m builds ? (including if need to hard reset, get back to 8.1, access Here from any way, etc) * EDIT * Another approach: Someone could improve what is shown on this italian blog ... it seems a good option. Just make it apliccable to any phone using any w10m. (some people even reporting there this solution is not working) http://www.windowsblogitalia.com/2016/05/importare-i-preferiti-here-in-m...

I also don't see the new option in the recent Maps update.
I'm the developer of this online tool http://www.jmevel.com/MapsFavoritesImporter you are not limited to 300 favorites but BE CAREFUL
Bing maps (same as Windows 10 Maps) has a bug and cannot handle huge number of favorites. I don't know exactly where is the limit but it seems to be around 1000. If with bad luck you reach that limit then NONE of your favorites will appear on Maps anymore and you'll be stuck like this until they fix this bug!

I can't pin my current location as favorite, seriously? This is a basic feature here. Moreover, this app need dark theme, and they really need to make the icons and buttons larger in driving mode

I know this is frustrating. I have put in a complaint about it in the feedback hub. At the moment you have to search the current address and then an option to set it as favorite appears. Not intuitive but it's what we have now.

Public Transports!!!!!!!!
In Germany and Italy are still missing!!!!

Still no compass and still no switchable transit maps. Nice Microsoft, this app is still junk. I will miss HERE maps after june 30th.

HERE apps are alive and supported and updated on Android.

I know, but I don't have Android phone. I tried it on my tablet, but was unable to download Offline maps to SD card, only (my smal) internal storage. But it's better than nothing so my next phone I have to think. When Microsoft maps is still a joke, it might be Android... sadly.

I switched to Android, specifically to get HERE maps, and not loose 500+ Favorites and get truly reliable directions and offline maps. At this point in the mobile product cycle, there is no reason to compromise as a loyalist, when the software maker is not making an effort to truly meet your needs. I switched to android 3 months ago b/c i saw the pending end of support of HERE maps and i have no regrets other than - MSFT Lumia 950 phone take superior photos to my LG G5, but the quality is unnoticable to an untrained eye.

@supercat27. You so right! I can't but i guess thats what people do. They will stick to the platform even though its worse than the rest just to be loyal. When in actual fact you dont need to. While i really do love MS and their products, there is no reason for me to stick with them when there is a product of theirs that I dont like. (also yeah 950 photos are amazing)

and still no indoor guide (like for shopping malls) like it was in HERE app

I use it on my android. Its good, but doesn't have LiveSight it had in its windows phone app

I get the option to import my favorites from Here Maps (I have about 30) but it seems to be broken and/or buggy. I choose import and it spins forever. I tried twice, gave it about 10 minutes each time, and then gave up. I guess the beta test is not over. :-p

Oh, NOW they tell us! I closed my HERE account when they stopped supporting the platform. FML! Enjoying the new maps app from this morning's update though. Where are Collections of favourites though? They're available on the Web, but not the new apps... Back to the feedback app I go!

Wish maps had a camera feature like the Here City Lens app. That was great when down at shore looking for a restaurant ( just hold up your camera).

why can't it just let me import from here account?... My here maps got wiped away after my last reset. :(

Alternatively just move to Android, the Here app there rocks. "What app gap?"

Still using Here Maps.
Hope Windows Maps will bring:
Compass
Search suggestion while typing
Livesight
before Here stops working.

Go to feedback hub, search for "compass" and upvote all suggestions :)

Did that....6 months ago!!!

new windows maps doesn't point ur exact location and all the landmarks near by are placed wrong...... time to purchase Android ? but I hate android.... I think we need to go back to 8.1

WP8.1 until Nokia Androids are out. Nice smooth move from Nokia to Nokia.

I like to see Nokia android mobiles..... Nokia is the best in making phones....

What about the people who got a 950 XL and don't have Here on their phones..we can't import our saved locations? I can't see anyway to do it.

OK the look and feel has improved quite a bit, however, here transit is still the one I miss. Tried to save my location on MS version today, but no success. pin and favorities vere not visible. Could be that i just cant use the app, but it should be very straight forward. Some of my MS app favorities were not synced between the devices atleast yet.

Ms maps doesnt have intersection search...ands its gps tracking is laggy... Lumia 950xl

Does anyone know how to pin a destination to Start from MS Maps? I managed to do it once, but can't figure out how I did it! Thanks. (never mind, I see the options are now there!)

"HERE maps will continue to work, but will no longer be updated" F U Microsoft!

It's not up to MS for this move.

MS could have keep HERE updated. HERE just don't see need to support 0.% platforms for free but surely it would have been possible if some money changed hands. In the end HERE is b2b though and free apps are just marketing and getting data for their cloud.

Here maps is the property of BMW/ Audi / Mercedes, MS has nothing to say here.

That's HERE decision, not Microsoft's one.

And I keep pestering HERE folks to come back to Windows. I hate Microsoft's app.

Or perhaps it's a MS decision to not pay what HERE demands in licensing. Knowing culture at MS exec level, it wouldn't be surprising if MS decision makers said "we can do better ourselves".

actually it does NOT work anymore, you can't even install it in W10 mobile

Sweet Posted via the Windows Central App for Android.. But waiting for the HP Elite so I can get rid of this junkie Galaxy S5...

What i hate about win maps is that i can't have my native navigation language like in Here. The rest is just fine

The Romanian navigation lady voice was quite sexy...i also liked the surfer dude, that was a funny one

Just discovered this tool - Could't get it to work in chrome or firefox but just used Edge to make it work and now my faves are all in Wmaps. It doesn't keep them in collections but having all of them imported is better than doing it all manually (288 I imported) http://www.jmevel.com/MapsFavoritesImporter

Wow, I couldn't use the maps importer because there is no HERE maps on Lumia 950. This saved my favorites (read life :P). Thank you!!

Its not able to find my location!! What a fail!

I can't seem to find the option to import from Here as instructed in the post. Do i need to have Here installed?

I can't find it either, and I was looking forward to that option, as I've been relying heavily on HERE for the last 4 years.

Didn't see this coming. For me it's like a dream come true! Thank you so much Maps developers!

Just one more reason to remain on my Lumia 1020 w/WP8.1. The Microsoft Maps app is disgusting compared to the HERE suite. I especially miss City Lens.

What is the name of the app left to swarm? (at article picture) Posted via the Windows Central App for Android

I have updated map apps but i don't have any option for import here favourites

So, still inaccurate when it comes to NYC MTA transit and LIRR? HERE wasn't all that better. Maybe Google and Apple's mapping are the only ones that integrate NYC transit info? I've always found the Microsoft versions highly innacurate. Google Maps would list the days' service outages and train delays, up to the minute, while Microsoft's Map and HERE transit just listed the scheduled transit times.

With the new HERE owners seeming more focused on the mapping data and integrating it into car systems, I wonder if they'll hand off their iOS and Android apps to Microsoft as well. They have a nice symbiotic partnership as it is on Windows with HERE providing the map data and Microsoft building app, why not expand on that further and get out of the mobile development altogether. It would make it a lot easier to promote by being able to sync with the desktop app (the same reason cortana went cross-platform) and the Microsoft name would probably carry much more than HERE which even if people still associated with Nokia (which I doubt, at least in the US) that doesn't mean much anymore.

hello Microsoft just one request make maps for Pakistan please waiting for so long and bing rewards too

PROBLEM! After updating Maps App, in all my devices (Surface, Lumia 950 and Asus Laptop) the App doesn't find any Public Transport in Buenos Aires, Argentina. Before the update it worked great! Please FIX IT ASAP!

It's not a replacement for HERE Drive+: To use the navigaiton mode you have to ENTER A DESTINATION! This is brain dead. With Drive+, Gadgets and bluetooth, all I need to do is start the car. Bluetooth connects, Gadgets starts Drive+ on bluetooth connection, and Drive+ displays the nav screen. True Zero Touch. With MS Maps: Gadgets starts Maps on blutooth connects. Then I have to 1) Get out my reading glasses (I'm 48) 2) tap the Directions button 3) ENTER A DESTINATION 4) Choose a route. THEN I finally get to the nav screen. I have to do this EVERY TIME I USE MY CAR. I know where I am going. Directions is not the only reason to use a nav app. I'm willing to pay $100, or $30/year, for Drive+. It's that good. Killing Drive+ removed 50% of my reasons to stay with WM10 over Android. Not leaving yet, hoping MS product management will listen.

The thing is, if you have 300 favourites places saved in Here, the chances are they are all organised into separate themed categories or collections. When you import them into Windows Maps you just get one humongous list of 300 entries sorted alphabetically. Good luck trying to find things quickly and easily with that. It was one of the problems also with Here drive as opposed to Here Maps. You couldn't even fast jumps to a particular letter in the alphabetical list. Just endless scrolling. It was a really **** user interface in Drive compared to here as far as favourite places goes, and it looks like they've gone for the same **** option in this new Maps app. Did anyone ever try using it in real life when they designed the thing?

Maps are better than HERE. But, sadly Google Maps far more better than any, provide more important & accurate information.

google maps: proper street names, 360 street view, and interesting places is the best thing. here or maps doesn't show any of it. in my country though..

I will miss Here Drive...

HUGE visual improvement but icons are still too small even on 950XL It is still missing A LOT of features compared to other Navigation apps but in a pinch, it works. IMHO, missing features: ​One click navigation to Hospital, Fire or Police Station No Travel Via Option or way to enter additional waypoints Unless something has changed in the new version, there is no auto routing to a faster route when traffic conditions have changed. No traffic view so I cannot see what "light traffic" means. No accident/construction Icons like Inirix I want a "need gas" button that will route me to the nearest 5 stations using GasBuddy data This may be a map problem, but navigation in and around airports and rental parking still sucks Will have to look to see if fixed, but previous version would not automatically adjust to night mode

Would be good if we could sort favorites into groups or categories/collections similar to what is available on Bing Maps preview (and what we did have with Here maps).
Already provide feedback on this.

I really in love with Windows 3D maps!

Well, ms maps replace here maps. I got it. But what replace here drive?

CAMPASS CAMPASS CAMPASS CAMPASS DOESN'T WORK LIKE ON HERE MAPS, IF YOU ARE NEW TO ANY PLACE WHERE YOU ARE NOT ABLE TO DETERMINE WHERE NORTH IS, THE MS MAPS DOEN'T HELP YOU TO OR SHOW YOU THE DIRECTION TO TAKE UNLIKE HERE MAPS THAT HAS A WORKING CAMPASS THAT ROTATES MAPS ACCORDING TO WHERE YOU ARE FACING.

Maps and campass go hand in hand, A Map without a working campass on phone to me is just asgood as a map on paper.

You guys don't like change lol the builtin maps app works great and looks great with the latest update.

For everybody: If like me you don't see the new option to import your favorites in the recent Maps update or if the official tool doesn't work for you, then you can use the online tool I created 3 months ago. It will import all your favorites. http://www.jmevel.com/MapsFavoritesImporter
But BE CAREFUL if you have a huge amount of favorites. Bing maps (Windows 10 Maps) has a bug and cannot handle a huge number of favorites. I don't know exactly where is the limit but it seems to be around 1000. If with bad luck you reach that limit then NONE of your favorites will appear on Maps anymore and you'll be stuck like this until they fix this bug!

Here map once led me to the jungle from highway, it's not updated in some asian countries.

Hey @danielrubino, what's the name of the transparent app (next to swarm app) at the article picture? Posted via the Windows Central App for Android

For me navigation means Sygic but HERE was my best friend alternative solution. I tried this new migration option on latest Maps update and guess what, it brought back all my deleted POIs from my HERE account. Now that's how stupid this app is. I can't even explain how is this happening

I have 295 favorites on HERE Maps but when trying to import those to Windows Maps I'm getting an error message saying that "You have too many favorites so none of the favorites were imported." Are others experiencing similar issue? Do I have hidden favorites somewhere, or does it take time for the changes to propagate since I had to remove 200+ favorites from my HERE account to make it under 300.

Yes, I've been seeing the same thing with just over 100 favourites.... 950XL W10M Build 10.0.10586.420 Maps 5.1606.1670.0

I had 100 favorites and thought the conversion did not work, even the Maps favorites didn't show up. But after 24 hours suddenly the Maps favorites were there, and the conversion of the Here favorites worked within a few minutes after that. Great!

But it still lacks on features, like Language support for all, as it was in Here Drive

I don't know what this is, but I can't add any new place to the favourites. There's only a category named Car and obviously just one location to add. This is frustrating. I can't pin any location either. Just map with no points, no option to add a favourite place, the import of the old ones fails every time (it just can't find any). Very uncomfortable, very disappointing. Don't know what to do.