How to buy Xbox Series X or PS5: 5 tips to get your console
It's not as impossible to get an Xbox Series X or PS5 as you might think it is.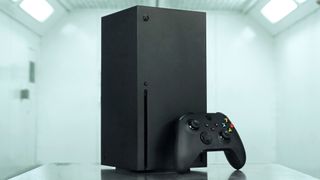 (Image credit: Matt Brown | Windows Central)
Successfully getting your hands on an Xbox Series X or PS5 is incredibly difficult these days due to the rampant plague of scalpers and the global silicon shortage that isn't expected to improve until late 2022. Most consoles that come back in stock at official retailers sell out again in seconds, forcing people to go to eBay and buy at a ridiculous markup if they want to get their hands on a console quickly and reliably.
Thankfully, though, giving in to the scalper menace isn't the only way you can get an Xbox Series X or PS5. There are several online resources that you can use to try to beat the bots to the punch, and as long as you're patient and you don't give up, there's a solid chance you'll be able to score a next-gen console. Here are five tips that will help you land an MSRP purchase of an Xbox Series X or PS5.
Use stock alert websites and Discord servers
The best way to increase your chances of getting an Xbox Series X or PS5 is to sign up for and utilize various stock alert websites and Discord servers. These resources track the stock of pretty much every retailer on the internet in real-time, and you can set up push notifications that will alert you whenever they detect a fresh batch of next-gen consoles going in stock. This gives you a great chance to snag a console before scalper bots buy them all, though you need to be quick.
For websites, your best bets will be HotStock (I scored an Xbox Series X for myself on this site while writing this) and NowInStock.net. If you'd prefer to use a Discord server, we recommend Stock Alert, StockDrops, and Unobtanium.
Get on Twitter
Getting involved in gaming social circles on Twitter is another great way to get a next-gen console, as there are hundreds of other people just like you discussing where and when they recently saw consoles go in stock. Gathering this intel can be incredibly helpful, as it will give you a good idea of which retailers you should keep an eye on and when. If you're lucky, you might even come across someone who's willing to sell the next-gen console they already have at a fair price if they recently picked up a special edition of the machine.
There are also stock alert Twitter accounts that you can follow to compliment your stock alert sites and Discord servers, too. Our favorite is Wario64, who often tweets about imminent restocks hours before they even go live and notifies followers whenever there's a good deal on a console (and games!).
Buy console bundles
Another great strategy is to look for console bundles from Microsoft or Sony. Since most scalper bots are programmed to watch standard Xbox Series X and PS5 listings, a lot of them don't catch bundle editions that pair the next-gen consoles with a recent AAA game like Assassin's Creed Valhalla or Cyberpunk 2077. Because of this, bundles generally go out of stock slower and less frequently (you still need to be quick, though).
The price on these bundled consoles is higher than standard MSRP, unfortunately, but it's still much lower than what scalpers want you to pay on eBay. Therefore, it's definitely worth getting a bundle if you can find one available.
Use Xbox All Access or PlayStation Direct
Using Xbox All Access or PlayStation Direct to get an Xbox Series X or PS5 is also an excellent idea, as these programs have systems that make it incredibly difficult (if not impossible) for bots to deplete stock before real people have a chance to buy a console. Xbox All Access effectively blocks bots by requiring users to sign up for a financing plan for their console, while PlayStation Direct makes users sign in with their PlayStation Network (PSN) account before they can make a purchase.
Go to a physical retailer early in the morning
If you're not having success online, don't forget that Xbox Series X's and PS5s are sold at physical retailers, too. Stores like GameStop, Walmart, Target, and Best Buy all have next-gen consoles for sale available in person, and if you get into the store right when it opens in the morning, you'll have a decent shot of snagging one. Quantities are obviously extremely limited with each stock refresh, but you'll likely be one of the first people in line if you get to the store early.
You can improve how effective this strategy is by speaking with the employees that work at the store you're planning on going to. Many workers have a general idea of when things come back in stock throughout each week, so don't hesitate to ask about next-gen console restocks. If you're able to identify the usual days when new consoles hit the shelves, you'll maximize your chances of success.
Good luck!
Getting a next-gen console to enjoy the best Xbox games or best PS5 games on is very tough in 2021, and it doesn't look like things are going to get easier anytime soon. With that said, you can significantly improve your chances at snagging a console by using stock alert sites and servers, getting involved on social media, looking for bundle deals, and using Xbox All Access or PlayStation Direct. Don't forget that you can try to score a console at physical retailers near your residence, too.
Main
Get the Windows Central Newsletter
All the latest news, reviews, and guides for Windows and Xbox diehards.
Brendan Lowry is a Windows Central writer and Oakland University graduate with a burning passion for video games, of which he's been an avid fan since childhood. You'll find him doing reviews, editorials, and general coverage on everything Xbox and PC. Follow him on Twitter.