How to disable the lock screen in Windows 10
By Cale Hunt published
The lock screen, which appears just before the Windows 10 sign-in screen, can be disabled.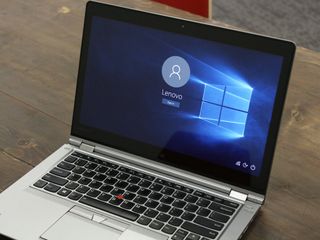 The Windows 10 lock screen divides many users. Some don't mind seeing a nice picture along with a news blurb, some notifications, and the time of day. Others find it to be a waste. Why click or drag just to get to the actual sign-in screen?
Disabling the lock screen is entirely possible as long as you're running the Creators Update or anything newer, including the Windows 10 April 2018 Update. The steps required are a bit different for Home and Pro versions, but we'll explore them both here.
How to disable the lock screen in the Home edition of Windows 10
If you have Windows 10 Home edition, to disable the lock screen you need to make some changes in your registry.
Note: As always when editing your registry, there is a chance that your OS can fail if the exact steps are not followed. Before beginning, make sure you create a full backup of your PC.
Right-click the Start button.
Click Search.
Type regedit and hit Enter on your keyboard.
Double-click HKEY_LOCAL_MACHINE.
Double-click SOFTWARE.
Double-click Policies.
Double-click Microsoft.
Right-click Windows.
Click New.
Click Key.
Type Personalization and hit Enter on your keyboard.
Right-click the Personalization key you just created.
Click New.
Click DWORD (32-bit) Value.
Type NoLockScreen and hit Enter on your keyboard.
Double-click the NoLockScreen DWORD you just created.
Type 1 in the Value data field.
Click OK.
To re-enable the lock screen, change the DWORD value back to 0.
How to disable the lock screen in the Pro edition of Windows 10
If you're running a Pro edition (including Enterprise and Education) of Windows 10, you can use the Group Policy editor to remove the lock screen.
Right-click the Start button.
Click Search.
Type gpedit and hit Enter on your keyboard.
Double-click Administrative Templates.
Double-click Control Panel.
Click Personalization.
Double-click Do not display the lock screen.
Click Enabled.
Click Apply.
Click OK.
More resources
Updated June 7, 2018: I've refreshed this guide to ensure it still works after the Windows 10 April 2018 Update.
Cale Hunt is a Senior Editor at Windows Central. He focuses mainly on laptop reviews, news, and accessory coverage. He's been reviewing laptops and accessories full time since 2016, with hundreds of reviews published for Windows Central. He is an avid PC gamer and multi-platform user, and spends most of his time either tinkering with or writing about tech.
Why not adding this to settings, it would be easier

Something like this shouldn't be easy. It's good that it's available. It's also good that it requires a little tech knowledge to do so.

Why shouldn't it be easy to disable the lock screen? It's not like this circumvents any security but just gets rid of the annoying lock screen on a desktop system and leads you directly to the logon screen. I am totally with lampros on this one.

Because it's a feature that's a part of the OS and it's meant to be used. You can rip out the desktop and most of the shell out too, but it shouldn't be in the settings. Also not many people want this, it's only some special organizations and a small group of individuals.

So many helpful tutorials from Windows Central recently, thanks!

I'm lucky enough to have a Surface Book, and with Windows Hello logging me in I barely notice the login screen anymore. One of my favorite features.

This is not about the login screen but the the rather annoying lock screen that you have to dismiss every time before getting to the login screen. But yeah, with windows hello the lock screen is less of an annoyance.

All very well until Microsoft decides it don't want people to do that anymore and disable the option. When I used windows 10 I found the lock screen a pain, glad it is not on Windows 8

You've always been able to do this. No reason to think MS is going to remove it now.

Why not they reomve other things?

...like spelling mistakes?

Took you ten months to work that out? Wow.

I've always just used Autologon from Microsoft, it's easy to use and always works...
I often use my PC with only a steam controller available (bedroom), so it's REALLY a hassle if I'd have to write in a password each time ;)

Voila, indeed. Thank you!!

Why would you do this? The lock screen is there for added security, just like the one on your phone.

You still have to type in a password or pin code.

Just curious based on this comment and the first reply that states that disabling the lock screen should not be easy: How does the lock screen provide any additional security. If I understand this correctly, the login screen will still be present to actually require the user to enter a password/PIN, but this just removes the extra step of swiping up/pressing spacebar/clicking and dragging the lock screen out of the way in order to reveal the login screen. How is going straight to the login screen any less secure?

I do not get these comments either.

I used to hate the lock screen, but now that it's such a smooth transition to the sign in screen, I don't mind it at all.

Kind of like it being there. I mean I am updating my bucket list because of those gorgeous landmark wallpapers.

Never see it, I use auto-login.

I like the wall papers, sometimes a look at one for a few seconds before signing in, few seconds of pleasure doesn't hurt, ask my gf hahaha

The Reason why Microsoft removed "Disabling the lock screen" is that there won't be any misuse by small children and if you are drunk you might lose your data. It's actually a good thing.

Well I have tried several different ways of disabling the screen lock. Nothing works. The screen saver kicks in after 5 minutes no matter what method I try, so I can't run any videos without having to press a key every five minutes, and it crashes my work program. It has rendered my new laptop completely useless. The screen saver itself is a hideous flipping nightmare. I must have read ten different solutions to this but none of them work for me! and Yes I have spelt perzonilasation with a "z". Worst virus I have ever encountered by a long chalk!

Or get a windows hello camera it works like a charm.
Windows Central Newsletter
Get the best of Windows Central in in your inbox, every day!
Thank you for signing up to Windows Central. You will receive a verification email shortly.
There was a problem. Please refresh the page and try again.