How to enable file compression on Windows 11
Yes, you can use file compression to save space on Windows 11, and here's how.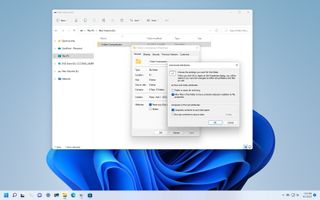 (Image credit: Windows Central)
On Windows 11, you can use the New Technology File System (NTFS) lightweight file compression feature to shrink the size of files to space without manual compression and decompression, which is something often required when using other containers.
The only caveat is that the NTFS file compression requires additional resources to process decompression and recompression every time you access content on the drive, which could impact performance on low-end devices. However, you can still find many scenarios to use this feature. For example, it could be another option to reduce space usage if running low on disk space. You could use the feature to archive files you don't use often. Or you can enable the lightweight file compression from NTFS on a folder or drive you to store files that won't significantly degrade performance, such as documents and pictures.
Regardless of the reason, Windows 11 includes multiple ways to enable compression at the file level or entire drive.
In this Windows 11 guide, we will walk you through the steps to compress files without third-party tools.
How to compress files with NTFS on Windows 11
On Windows 11, NTFS offers the most convenient method to compress files to save storage space without the need for zipping files.
To compress files and folders with NTFS on Windows 11, use these steps:
Open File Explorer.
Open the folder to store the files with compression.
Click the New button and select the Folder option.Quick tip: You can use the Ctrl + Shift + N keyboard shortcut to create a new folder faster.
Type a name for the folder and press Enter.
Right-click the newly created folder and select the Properties option.
Click on the General tab.
Click the Advanced button.
Under the "Compress or Encrypt attributes" section, check the Compress contents to save disk space option.
Click the OK button.
Click the Apply button.
Select the Apply changes to this folder, subfolders, and files option (if applicable).
Click the OK button.
Once you complete the steps, compression will enable inside the folder, reducing the size of existing and future files in this location. You can also use the steps to compress a single file.
If compression is working, you will notice an icon with two arrows pointing to each other in the top-right corner of the folder.
You can always revert the changes with the same instructions, but on step 8, clear the Compress this drive to save disk space option.
Check storage-saving
To view the amount of space file compression is saving, use these steps:
Open File Explorer.
Open the folder location with the file compression.
Right-click the folder and select the Properties option.
Confirm on Size the size of the item without compression.
Confirm on Size on disk the item's size with compression.
After you complete the steps, you will have a better understanding about the storage-saving using the feature.
How to compress drive with NTFS on Windows 11
You can also use the NTFS feature to compress an entire drive instead of a single folder or file on Windows 11.
To enable NTFS compression on the entire drive, use these steps:
Open File Explorer.
Click on This PC from the left pane.
Under the "Devices and drives" section, right-click the storage you wish to compress and select the Properties option.
Check the Compress the drive to save disk space option.
Click the Apply button.
Select the Apply changes to drive (drive letter), subfolders, and files option (if applicable).
Click the OK button.
Click the OK button again.
Once you complete the steps, the feature will enable compression on the storage.
You can enable NTFS compression on an empty drive or storage with content. However, if the disk already has contents, the NTFS compression will need to spend extra time compressing the existing files.
If you want to undo the changes, you can use the same instructions outlined above, but on step 4, clear the Compress this drive to save disk space option.
When you should and shouldn't use file compression on Windows 11
When using NTFS compression, there are a few things you need to know. For instance, it's possible to enable compression on the Windows 11 installation drive, but it's not recommended since it may impact system performance.
Although you can compress files on any drive, you should only consider using this feature on a fast drive like solid-state drives (SSDs) and only on a computer with modern hardware for best results. Also, you should avoid enabling compression on USB flash drives and SD cards.
If you have relatively old hardware, you shouldn't use compression. Instead, you should upgrade the storage with an external hard drive. When you switch to a larger drive, it means more space to save files without extra resources to compress and decompress the data.
The amount of saving with NTFS compression will always depend on the data and other factors. Since the feature was created to be lightweight, the compression ratio will be less than using different tools.
When using this space-saving feature, compressed files (such as .mp3, .zip, and .mp4 files) won't shrink storage usage further. Also, decompression is required to send the files over the network, which means the feature won't save you bandwidth, and it'll need more time to complete the process. If you want to send files using compression, you should be using another compression container (such as Zip) or the SMB compression feature for file transmissions.
More Windows resources
For more helpful articles, coverage, and answers to common questions about Windows 10 and Windows 11, visit the following resources:
Windows 11 help, tips, and tricks
Windows Central Newsletter
Get the best of Windows Central in your inbox, every day!
Mauro Huculak is technical writer for WindowsCentral.com. His primary focus is to write comprehensive how-tos to help users get the most out of Windows 10 and its many related technologies. He has an IT background with professional certifications from Microsoft, Cisco, and CompTIA, and he's a recognized member of the Microsoft MVP community.
This isn't new to Windows 11. It has been available since at least Windows 2000, if not longer.

Yep and it can muck up some files, got to be careful what it is used with.

I've been using it for years on multiple systems with it active on many folders with many thousands of files of different types and I've never had anything mucked up... Whats the cause of it? The compression and decompression in Windows is pretty basic so it can't be JUST that, it's gotta be that plus something else.

True, but the author is not suggesting otherwise, and this is part of a Windows 11 guide.

No one is claiming here it's new. This is a guide on how to use it, not a news story.

Yay
I never used this option
Buy a bigger HDD or SSD now
This is especially the backdraw of modern laptops where you cannot change or even open your Laptop at all.
I don't know why they're presenting every feature of win11 as new. This is as bad as win11 itself.
I'm getting a enterprise key and stay on win10 for a long long time. Nothing is wrong with this now quite mature os. No changes for changes sake. New doesn't always mean better
Have nice day.

It was forgotten to mention that nowadays Office has compressed files by itself and I would certainly not further try to compress already compressed photo and video files. I do not understand todays relevance of the article.

Office compress files these days, have their files go so large that they need to be compressed?
sure, if you have a presentation then I presume the files would be large, but word files even with a few embedded pictures in it should not be that large unless you are writing a novel and with storage being so cheap is there any need to compress?
I remember when all we had was floppy disks, see, more storage and more bloat

I use this all the time to compress various text files generated by the system, it's particularly good for the archive log files generated by windows.

This headline reads like this is new to or specific to Windows 11 but these steps have been identical since 1994. I mean I guess it's fine to tell people how to use it but maybe strike the "11" from the title. "Windows has a file compression feature"

I fuly agree
This all looks a bit Clickbaitery to me

It's part of a series on W11. The author isn't claiming it's exclusive to W11 though.

Wow, Windows 11 includes the copy/paste and drag n drop features. It's also plug n play. Amazing.