How to make text easier to read using ClearType on Windows 10
Is the text on your screen looking fuzzy? Then use this guide to enable ClearType on your Windows 10 device to make text sharper and more readable.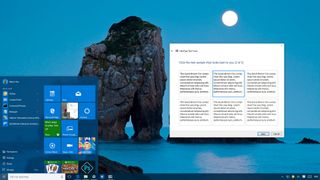 On every major release of Windows, starting with Windows XP all the way to Windows 10, Microsoft includes ClearType, a feature that let you make text more readable on your display.
ClearType font technology was developed by Microsoft specifically to improve the readability of text on LCD screens, like the one on your laptop, tablet, and desktop monitor. Using ClearType will smooth the edges of the words on your device making them sharp and clear, very close to what you see printed out on a piece of paper.
While in Windows XP, ClearType wasn't enabled during installation, starting with Windows 7 and later versions the feature came turned on by default, as most computers today come with an LCD screen. However, this is not the case on every device. In addition, the default configuration may not be the correct settings for your optimal text readability.
In this Windows 10 guide, we'll walk you through the steps to enable and set up ClearType on your device to make fonts look as great as they can possibly be.
How to use ClearType Text Tuner
Open Start, do a search for Adjust ClearType text and click the result.
Make sure to check the Turn on ClearType option and click Next.Quick Tip: You can quickly check and uncheck the Turn on ClearType option to see a preview of how the text would look like with and without ClearType.
If you have multiple monitors, you'll be asked whether you want to tune all your displays or only one. If this is your case, it's recommended that you enable ClearType on every monitor. Make your selection and click Next to continue.
Windows will also check that your monitor is using its native resolution. (If this isn't the case, you'll have to go to Settings > Display > Advanced Display Settings and check the screen resolution to recommended settings.) Click Next to continue.
On a set of five samples, you'll be asked to select the text that you feel most comfortable reading. The highlighted text is the current settings for your device. Pick the text that looks best on each sample, and click Next.
If you have multiple monitors, you'll need to run the same set of steps for each monitor. Once you completed the steps, click Finish to apply the new settings.
It's worth pointing out that this feature goes hand in hand with Display Color Calibration. This is another recommended feature you should use in combination with ClearType to calibrate your display settings to make sure your monitor is set to display the most accurate colors and black levels.
Did ClearType improve how you view text on your screen? Tell us in the comments below.
More Windows 10 resources
For more help articles, coverage, and answers on Windows 10, you can visit the following resources:
Windows 10 help, tips, and tricks
Mauro Huculak is technical writer for WindowsCentral.com. His primary focus is to write comprehensive how-tos to help users get the most out of Windows 10 and its many related technologies. He has an IT background with professional certifications from Microsoft, Cisco, and CompTIA, and he's a recognized member of the Microsoft MVP community.
Swipe to left from Comments to Article is working well but swipe to right from Article to Comments is not working in WC app .. Which is quite disappointing me..

Actually it does work but you have to swipe at the bottom where the icons are. Apparently this has something to do with a limitation in 10 when swiping from web content.

Thanks its working like you said Thanks

Also it works from the very right edge of the screen. But actually using the bottom bar is better for most of the hands (right or left)

You have to swipe from the very edge of the screen.

Because "Edge" is in the name! Bam! Mind blown!

I'd say this does more harm than good.
It's like adjusting contrast on TV.
It's a hit and hope

You must swipe from the right edge to get to comments from an article.

Thanks! I forgot to re-tune after so many updates to the OS. Makes a HUGE difference for my old eyes.

It's so annoying when I use the mouse wheel to scroll down article page, it goes to another article instead. Edit: It doesn't do it now, maybe they have fixed it on the latest update?!

It still does it if the mouse pointer is hovering over the article paging arrows. Just have to make sure you're not there.

HELP!!! "Host process for windows Services" Downloading Over GBs of Data since Last Night and Still Downloading. but when I Change my Connection to "As Metered Connection" it Pause the Downloading. when I turn off "Metered Connection Setting" then it Start Downloading Something Again..... 1) I checked No Updates are Available to Download (Both From Store and From Windows Update). Nothing Else Updating Maps, Setting sync...etc. I checked Everything.... I installed application Named "GlassWire" and it shows me a Host Connection "xxxxx.akamai.net" where "X" as a Some numbers has downloaded 2gb of data since last night.

thanks but.....no reset please....

That's soft reset it wont delete any thing just press and hold "power and volume down button" until phone vibrates...

no phone....man....it's on "Windows 10 PC'.......

17 comments and only one has to do with the article. Nice job!!

Yes only increases including your comment , this comment and still to come :)

Sucks it doesnt help fix ugly fonts in Windows 10 apps and new ui.
Windows Central Newsletter
Thank you for signing up to Windows Central. You will receive a verification email shortly.
There was a problem. Please refresh the page and try again.