How to pause Windows Insider Updates for PC and Mobile
Need to stop getting Windows Insider builds temporarily? Here is how to pause them for one week.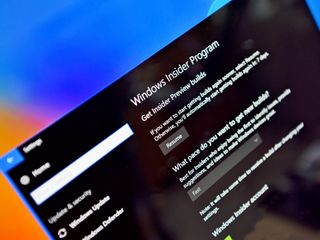 (Image credit: Windows Central)
The Windows Insider Program for PC and Mobile can mostly be a fun and safe place to try early builds of the Windows 10 OS, but there are always risks. In case something gets incorrectly pushed out by Microsoft, or a build is unusually unstable you may want to pause the Insider program temporarily. Doing so will prevent any new Preview, Slow, or Fast Ring files from being downloaded and installed for up to seven days.
Pausing the Windows Insider Program for PC and Mobile is very easy and only takes a minute. Here is how to do it.
How to temporarily pause the Windows Insider Program for PC
Open Settings
Go to Update & security
Choose Windows Insider Program at the bottom
Pick Stop Insider Preview Builds
From the menu select Pause updates for a bit
Under the Pause area toggle the switch to On
That's it. Your Insider Updates are now suspended for one week. At any time, you can resume the Insider Builds by going back to Settings > Update & security > Windows Insider Program and choosing Resume. You can also at any time go back to an earlier build, drop to a different Insider Ring, Stop Insider builds altogether, or keep getting builds until the next major public release.
If you already downloaded the corrupt installation files or do not want to proceed with the update, there is a way you can delete the update files to prevent their installation. Read our other guide "How to prevent Windows 10 Insider builds from accidentally installing on your PC" for more information.
For Windows 10 Mobile, the process is similar.
How to temporarily pause the Windows Insider Program for Mobile
Open Settings
Go to Update & security
Choose Windows Insider Program at the bottom
Pick Stop Insider Preview Builds
From the menu select Pause updates for a bit
Under the Pause area toggle the switch to On
The same rules and options mentioned above for PC apply for Mobile as well. Unfortunately, it not as easy to delete an update if already downloaded but not yet installed.
Windows Central Newsletter
Get the best of Windows Central in in your inbox, every day!
Daniel Rubino is the Editor-in-chief of Windows Central, head reviewer, podcast co-host, and analyst. He has been covering Microsoft since 2007 when this site was called WMExperts (and later Windows Phone Central). His interests include Windows, laptops, next-gen computing, and for some reason, watches. Before all this tech stuff, he worked on a Ph.D. in linguistics, watched people sleep (for medical purposes!), and ran the projectors at movie theaters because it was fun.
Maybe you were just too early.

Timely article. 16212.1000.rs_iot.170531-1800 (UUP CTv2). Is causing damage. not signed correctly http://www.surface-phone.it/windows-10-fall-creators-update-microsoft-rilascia-nuova-build-errore/ Unfortunately it would seem that the release of this new build not only involves customers insider, but also all users of the public branch! http://forums.windowscentral.com/windows-10-mobile/459825-what-heck-16212-1000-rs_iot-170531-1800-uup-ctv2.html

Yep you are right. It is also installing on public branch. I don't know what is wrong inside. I paused insider update but it still get downloaded but not installed. Does anyone have some way to prevent it from installing it?

Set your connection TO A METERED CONNECTION. 😎

Bro it is already downloaded and prepared itself, now just restart is left. Any solution?

😑😒 wow. What a solution. By the way thanks.

Look at Dona's blog post from a few minutes ago. It says to use WDRT because the update was installed.

If it is INSTALLED, them WDRT. If only downloaded or being downloaded, set date to 2050 and do the rest.

mine is downloaded and took a lot of space. how would setting the date to 2050 help?

Set your year to 2050. Restart. Check for updates. It'll be stuck. Wait it out a few days. Your can try changing the date to correct in the mean time.

Okay I'll try then. Thanks.

Change your date to 2050.

I only come to the articles for the comments, I only come to the comments for the rubino slamdowns.

that's true sir , 100 % u right for what u said that i'm too early , just suz there is few reasons . , I trust ms dev dep , plus I'm insider since years now , third , I know there is a lot of risks , that's why I own more than 950 devices . fourth I make an suggest on feedback hub to do while updating progress a button for pause the update , for this kinda of problems , but maybe no one reads my suggest or its not the time for it .. anyways . . Fifth i love u , I cant handle ur hard words , u should have bigger heart . u r already , but a bit bigger . take care and thanks again , Sir .

What if they do not manage to fix it in time? U need new updates before u can do a "pause" again. :P Btw, if u use WDRT, do u need to wait with doing updates again completely or... ?

Why did Amir Mullah's "Too late" comment get downvoted? Because he got hit with the bugged release before this article was posted? Talk about adding insult to injury. On the other hand, I think Dan's comment is meant to be humor in this case―not an insult.

its ok , but I don't think so that he make humor .. anyways ... life like circle . and I think u got me Mika G . thanks man

Be very careful tapping the "ON" button, if you double tap it switch's "OFF" and you can't switch it back on.

Same thing happened to me

"The same rules and options mentioned above for PC also apply for Mobile as well. Unfortunately, it's not as easy to delete an update if downloaded but not yet installed" Not as easy...so this means it's possible? Any help would be great here as this applies to me

yeah! what @dov1978 said..."a little help please."

Sadly, not possible to delete an update in Mobile. For PC, just run the Troubleshooter from swttings and it'll clean up everything.

mine gobbled all my precious 2.5gb which i had left :(

what about those on production and not insider mobiles, I have 950xl that shows pending download waiting for me to plug in my charger? I'm not an insider either... can't see any way to push it back or pause the download or install

change date by a month should do clear it and rest

tried that - and also tried the add 15 years to the date... now i see there is an error in downlaoding the update, but i know that it will continue to try to download it... i have also turned off WiFI and cell connection - did NOT put it into flight mode as this will still let me send/receive SMS messages...and of course receive calls.

I keep change my date on my back phone till I got a retry it will not update till push it. so should be fine till Microsoft remove it

Are you an insider in PC by any chance?

On mobile, if the download is not done yet, I've done this trick they once posted... Turn off Wifi, turn off automatic date/time, set date to 7 or more days ahead, reboot. Upon reboot, it usually gives me an error about the update it was downloading. Then i turn off insider builds, fix my date/time and reboot again. MS also had a step in there to switch from Fast to Slow and then back to Fast before the first reboot i mentioned, but I don't think it was necessary (because I forgot to do it once and it still worked). Of course, I claim no responsibility for what happens if you try this, but it has worked for me.

After hitting the switch, T minus 168 hours and counting in hopes that they push out the appropriate update before the time runs out. Wonder who pressed the button? [***INSERT POLITICAL JOKE HERE***]

Do we think 7 day pause is sufficient, or is the advice to drop to slow ring?

*munch*munch* Man this Production pie tastes good today for some reason...how's you guy's?...nevermind.

And if you accidentally tap the toggle after pausing updates it won't let you pause updates again till you have checked for updates. Guess I'll be resetting my phone with WDRT if this installs while I'm asleep tonight.

Can't belive the update is still available after this long time already. It's not like MS don't know.

Honestly, I was tempted to remark that if this article is really necessary for those affected by this malevolent Insider release, they shouldn't be a part of the Insider program, but I realized that was insensitive and naïve of me to think.
I just hope that few, if any, lost anything of real value because of this. It's all part of the risk (and joys) of being a Windows Insider, and something we always have to be diligent about. We can't just go around installing updates just because they're there, even on Release Preview. I almost did that on my Lumia 950 XL but held off because I wasn't sure about those numbers. I knew how to pause updates, and did so immediately, but I recognize that just because someone might not know every detail about Windows doe not mean they're not fully capable of being a responsible technical preview tester for Microsoft. I hope this issue gets resolved soon.

Not only insensitive it is plain wrong, there are many people, including my wife, who are not on the insider programme but are waking up to find their production build phone fuc*ed. What do you say to those people..??!!

That the build won't affect their phone. Because it won't install on Production Ring devices.

And from what I've been reading, you'd be wrong. This build did get out to devices that aren't in the Insider program. It was stopped before it went out to everyone, but it did get out to some. Check out the comments. Read what people are saying. Some phones that weren't enrolled in the Insider program got this bad build. Others who had paused updates also got the build. This affected people it wasn't supposed to affect. And even then, people in the Insider program expect buggy builds, not ones that make the phone completely unusable to the point where it's in a reboot cycle. There's a difference. I had the problems w/ the 830 builds that seemingly just stopped when installing and only eventually finished after hours of just sitting there. (and the others that didn't progress at all) I can see those things happening, but not an endless boot cycle. That sort of build should never have made it out at all.

Be careful update is still installing in public builds not just insider build. In my 640xl even after stopping insider builds it still get downloaded and waiting for me to restart my device. Does anyone know how to prevent installing it?

Change active hours to delay the installation until they find a solution.

Do they even do anything right ?

My MS Android apps work great.

Great... just woke up to the ****** up boot cycle from hell.

So at least thw WDRT experience is flawless. But to get Windows 10 Mobile again I have to wait for the Ok from microsoft when a stable update is available?

Set it to wait for seven days, but my phone updated anyway...

More than too late, my wifes 950 isn't even on the insider programme since CU came out and yet her phone is rebooting this morning. She is soooo pis*ed. On top of poor performing facebook apps and random phone reboot this is going to be enough to push her over to the dark side. Another user less for you to worry about MS...

How do you unenroll completely from the Insider Program from these steps?

Wish the "Pause" option had actually worked in this case. I paused updates ~ 5pm yesterday. Woke up to a rebooting phone @ 5am. No indications that I'd picked up the bad update before I went to bed. And worse - the unlocked Idol 4S doesn't have a valid ROM to use w/ the WDRT so it's off to Alcatel for Warranty service. (Annoyed, but more a warning to any unlocked Idol 4S users out there than anything else.)

@paschott, yep same with my Lumia 650, appeared to have paused, but woke up to it in a boot loop at 3am.
Windows Central Newsletter
Thank you for signing up to Windows Central. You will receive a verification email shortly.
There was a problem. Please refresh the page and try again.