How to prevent Windows 10 upgrade files from downloading automatically on your PC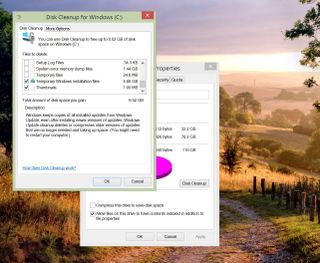 Windows 10 has been out for several weeks, and it has already proven to be a great operating system, as it's getting closer to the 100 million upgrades mark. Aside from all the great new features, perhaps one of the best selling points is that it's a free upgrade for those running a genuine version of Windows 7 or Windows 8.1.
Getting the free upgrade turned out to be a straightforward process. You simply launch the "Get Windows 10" app from the notification area, you reserve your copy, and then you're good to go. When it's your turn, you'll get notified, and after a few clicks your PC will upgrade to Windows 10.
The unpleasant news for some folks is that if you're happily running Windows 7 or Windows 8.1, and you want to delay the upgrade, or you simply don't like the operating system, Microsoft will download the upgrade files regardless of what you want.
For users who are simply procrastinating the upgrade may not be a big deal. But for those not planning to upgrade, they have limited storage space or metered internet connection, this can be an issue as the download can take up to 6GB, which it's a significant amount of space to store an update.
As such, in this guide we'll go through the steps to prevent Windows Update from downloading the Windows 10 upgrade files and reclaim the used space.
Verifying the download already exists
First, you need to see whether the upgrade files are already in your system. To do that you need to verify if the $Windows.~BT folder exists on your hard drive.
It's a hidden folder, so you need to open File Explorer, and from the ribbon menu, navigate to View, and click on Folder Options.
Go to View and under "Advanced settings" make sure to check Show hidden files, folders, and drives.
Click Apply and OK.
Go your main Windows drive and you'll now be able to see if you have the $Windows.~BT folder. If the download has already completed, checking the properties of the folder, you'll notice it's taking between 3GB to 6GB of your local storage.
Stopping Windows Update from downloading the files without your approval
Stopping the Windows 10 upgrade files from automatically downloading without your approval will slightly different if you're running Windows 7 or Windows 8.1.
Open Control Panel and navigate to Programs and features.
From the left pane click the View Installed Updates link.
If you're running Windows 8.1 Update look carefully for these updates: KB3035583 and KB2976978. If you're running Windows 7 Service Pack 1 look carefully for these updates: KB3035583, KB2952664, and KB3021917.
Right-click each update and from the context menu click Uninstall.
If you're asked to restart, simply click to do it later and continue uninstalling the updates.
Reboot your computer.
Now that the updates are out of the system, we need to tell Windows Update that we don't want to install those updates in the future.
Open Control Panel, go to Windows Update, and click Check for updates.
From the left pane, click on Important to view those updates.
Depending on your version of Windows look for the updates we have mentioned above, right-click on them, and click Hide update. This last step will block the service from re-downloading the updates in questions. (The image below will show you an example on how to hide the updates.)
Reclaiming your storage space
Now, it's time to reclaim your disk space. You could try simply deleting the $Windows.~BT folder, but you might encounter some permission problems. Fortunately, there is an easier way:
Open the Run command and type cleanmgr /sageset:11 and press Enter.
While in the Disk Cleanup utility, click the Clean up system files.
Select the Temporary Windows installation files.
Click OK to complete the cleanup.
It's really important to note that when you're ready to install Windows 10, you'll need to go to Control Panel > Windows Update > Restore hidden updates to unhide the updates so they can download and install once again in your system.
The guide we went through today should help to block the upgrade files from downloading automatically. However, this shouldn't be categorized as an issue or as anything new. Microsoft has previously said that to prepare customers to upgrade to Windows 10, those who opted in to receive automatic updates will eventually receive the files automatically for future installation.
If you want to know more about this story, I would encourage you to read Daniel's: Exclusive: Bad IT admins reveal that Windows 10 downloads to your PC, which goes into details on the real problem.
Additional Resources
Remember that we have many other articles on Windows 10, if you need help you always check these for more information!
Windows Central Newsletter
Get the best of Windows Central in in your inbox, every day!
Mauro Huculak is technical writer for WindowsCentral.com. His primary focus is to write comprehensive how-tos to help users get the most out of Windows 10 and its many related technologies. He has an IT background with professional certifications from Microsoft, Cisco, and CompTIA, and he's a recognized member of the Microsoft MVP community.
Yes, very nice tutorial! Thank you!

Yes, simply change the windows update setting to 'check for updates but let me choose whether to download and install them'. Then you just read carefully which update you want to install

Well that only works for future updates not the ones already installed.

uninstall update kb3035583 then hide it done it won't bother you again Posted via the Windows Central App for Android on WM10

Why stay on W8.x or W7 it is a non sense, everybody should upgrade to w10

It's a matter of choice, as said.

None availability of windows media centre to play tv. No support for ati graphics....

I have ati graphics and it is fine.

If your talking about old ATI Graphics cards they do have support, but only through Windows Update. If it doesn't download them, you can grab the update file manually from GURU3D and install it that way.

8.1 is way better on a tablet at the moment. Hopefully they will improve 10 in this area.

I would have to disagree. I didn't mind 8.1 on my Surface but 10 runs great and is an improvement.

I have an Intel/Nvidia switchable graphics card in an Alienware notebook and it requires a 'fixed/signed' older version of the Intel Graphics Media Adapter which could present problems in Win10 and thus lose the ability to switch between the low power Intel GMA or the high power Nivida graphics card. Other Windows 7 devices don't have Win8+ BIOS support so even if I wanted to upgrade I couldn't. That's my reason for staying on Win7 at this time.

Unless, after you install W10, the Windows shell starts restarting every second. There are many instances of technical engineering software not being updated to W10. Wouldn't be a good idea to update then.​ ​ ​

I have CAD software that is not optimized for W10 yet. I wanted W10 but needed W8.1 for productivity. That's why I have both W8.1 and W10 dual booted on my PC.

sata controller driver not stable would be one reason Posted via the Windows Central App for Android on WM10

All good reasons but really: No one has to justify not going to windows 10!!! It's a matter of choice! Maybe it's the privacy issues, maybe it's the janky ui, offer tablet support: Bottom line choice! Maybe Daniel should write an editorial about that?!

Because it hasn't been a simple, pain free experience to upgrade to W10 for everyone. The upgrade killed my parents' two laptops and they spent hours with tech support reinstalling W7/8. It's left a very bitter taste in their mouth and they now have no intention to try W10 again.

Amen. My experience was terrible also. I'm an MS guy with 3 phones and 5 computers, but updating my work computer was a time-wasting disaster. No one at MS helped me, and I had finally roll back to W7.

win10 has a much better interface. but it also has a huge bug with file explorer crashing on many systems. imagine win10 where explorer.exe doesn't work! This bug is HUGE. It collapses control panel and anyting that relies on expl viewing. google this issue and you will find tons of hits, people with this complaint. b4 you offer solutions, many of us have been there, done that 100x, trying to redeem file explorer. i was one of them. after 2 months of misery and trying 50+ solotuions, from running av progs, malware bytes and freinds, to re-tasking explorer.exe, dickering with permissions, tried a registry hack, did sfc/SCANNOW umpteen times, tried everything from clean boot, pc refresh, restore points, safe boot refreshes, pc reset, clean wipes, uninstalls, reinstalls, unloaded drivers, driver rollbacks, driver updates, choking my wife...you name it. On certain machines, file explorer 10 simply doesn't work. i had to unload 10 and will stay on 8.1 till it dies. that's why some hesitate to upgrage. cheers.

Your harddrives belong to us now!

You mean wallets.
Cellphone Carriers love Windows 10.
Data revenue is up a million fold.

Ummm.. What if I want them to download? I've got a win 7 PC that is reserved but i have no ~windows.BT hidden folder.

If you want, you can force the upgrade.

No one should ever have to do this. It's not right.

So turn off Automatic updates if you don't want automatic updates? Lol

No, this is abusive. A whole new OS, up to 6 gigs, downloaded without any permission or notification and then placed in a hidden folder. Absolutely unacceptable. I like Windows, and I would like to use Windows 10 (but have a Surface 2). However this demonstrates profound disrespect for users.

Especially if storage is limited. Hopefully it isn't automatic if there is less than 15 gigs or so of free space at least.

I know someone that got a USD100.00 telcom bill as Windows 10 repeatedly attempted to download/install and kept failing while they were away on holiday. Maybe they should have turned off their PC before they left... but still.

All iOS users have this, not such a weird thing to do actually.

This might explain why my internet has been slow since w10 came out. People are, W10 is intrusive. And also, MS should give us an option to select updates we want to download just like in 8.1. Its annoying when I have uninstall the Intel driver everytime, even the office 2013 updates, i have no use for them, they are just a waste of bandwidth for me.

You should start reading different web sites for your FUD. Microsoft disabled forced updates a couple weeks ago. You can disable the automatic updates and continue to leave Office unpatched, continue using that Intel driver that gives you 3fps, and so on. But since I doubt that you actually use Win10 and just trying to stir up controversy, it will not make any difference to you, it is still somethign that gives you a way to attack - even if other companies that you use products from, do the same.

@nohone, source?
I find that they would back track on the very policy that WaaS hinges on - hard to believe. There are several tiers or branches but none offer you to block updates indefinitely without any form of repercussions.

Can you please tell how do you do it? I am using win10 but don't see any option to disable auto updates. I just can differ them, not disable. I just want stock win10 as I just use it to play games or browsing. I have 5 laptops/PCs running win10 and I cant afford to waste my bandwidth on shitty updates for each of them. Currently I have managed by disabling them from services and blocking everything with firewall except those I need. I did save a lot of traffic this way.​ ​

Is it possible to block the updates on Windows 10 Home Edition? If so, how, with a source if possible. And no IP blocking rubbish either.

You wrote this 9 months ago, but just last night (07JUN16) I had Win10 trying to force load on my PC. And this was after a popup that 'gave' me the 'option' to refuse the upgrade/dl just a week before. All my IT/tech friends have told me not to accept the Win10 upgrade. They and other friends have had nothing but troubles with this. Just like when Win8 first came out. How many times have we users been told and warned about not clicking on and to not accept just any popup?? I've lost count of the times my dad would click on every single popup and then complain about how buggy his computer was. I personally was warned about the dangers of popups and malware by my IT friends when I first went online back in 1998. And I have been following their advice since then. So far I have been pretty lucky and not had major problems, but this FORCED Win10 update is not acceptable. I have already chosen to refuse the 'free upgrade' so MS needs to really accept that and stop trying to force it onto my PC, laptop, sons laptop and hubby's PC. We do NOT want Win10, please accept that refusal Microsoft and stop trying to force it on us!!

You guys know how to securely delete Windows.old folder after upgrading to Windows 10? It seems to take up ~10gigs :/
Storage is crucial to me especially on my 64GB Surface 3

http://windows.microsoft.com/en-us/windows-8/How-remove-Windows-old-folder

Open Windows Explorer, right click on the C: disk, select Properties. Click on Disk Cleanup, and wait until it scans your disk. When it finishes, click on Clean Up System Files, and wait for it to scan your disk again. When that is done, select the items that you want to clean, and one of them will be named something like Previous Windows Installations. Check that one and it will remove your Windows.old folder.

Also for those who dual-booting WIndows 10 with Windows 7, 8 or 8.1 as a secondary partition or using either of the three older Windows versions as your PC's main OS, you can also go through half of this tutorial to uninstall Windows Update KB3086255 if it's auto-installed into your PC. Windows Update KB3086255 is disguised as a "security update of the graphics component" for Windows 7, 8 and 8.1 and it disables secdrv.sys' services which allows games and apps that use older versions of SafeDisc or SecuROM to stop running but if you did not configure auto-installing for Windows Update then you can just hide KB3086255 and don't install it.

It should not download by default,we shouldn't have to jump through hoops

Its not just to save space. I have to delay updating a Windows 7 box and Win7 updates can't be installed. If I go to Windows Update, the only option available is to start the update to Win 10. Hopefully there will be something in this article to help me continue to get Win 7 updates. I haven't read it all the way through yet.

Look close at the Windows Update screen. There is a small line of text, a link, to the other updates. ​

Thanks! I'll look for it next time.

Seems like Microsoft is going in full W10 mode

Ignore if your reading my previous comment. I sounded silly:)

Please stop shoving windows 10 on our hard drives. We can decide if we want it or not.

What a ridiculous article... Backward progress

Its actually pretty simple people. If you don't want automatic updates, set windows to notify you only. If anyone was concerned about a data limit, how have they avoided issues before? You can get some rather hefty updates and result in gigs of data downloaded, so you should have disabled auto updates already.

For Microsoft's sake, they should streamline this process and make it seem less "sneaky." I personally am not bothered by it, I understand what Windows Update is and how it works, but most people are not into the nuance and would rather jump to the crazy end of conspiracy theories.

I'm an MS guy, but once again they commit Public Relations Hari-Kari with this move. They had to discuss it knowing this would happen yet they decided it was the best thing for them. Motives - who knows?

Motive is simple: Get add many installed as possible. This download is really a convenience feature. Problem is, convenience should NOT come at the expense of privacy and choice. It's blase to say this is the way the world is going. That is wrong.

Yeesch what a lot of problems people have with this. Welcome to the new age.

Doesn't make it right or good. Choice is always best fire the consumer.

i was running pirated version of win 7 still got the update

I clean installed Win 7 professional last night. Groove Music broke, and it couldn't be repaired short of a clean install. That's just how early the full development of Universal apps are.

MSoft z just offensive/abusive
2 say abt Win10,automatic
upgrade of files as large as
6GB:
1>Automatic download of files
2>No owners permission
3>No notificatiom
4>(TO MAKE MATTERS WORSE)
..Downloaded and HIDDEN in a
HIDDEN FILE
hahahah come on ppl

i have found this link is also helpful to you http://www.lapycure.com/2016/04/disable-windows-automatic-update.html

I own a small Computer Repair business and alot of people have been having trouble with this. I found a very simple tool that allows you to stop windows 10 from installing. Check out my article: http://www.1fixcomputermedic.com/tech_tips/stop-bothering-me-to-update-to-windows-10/

Help! Followed the directions, now my computer is in eternal "Preparing to configure...do not shut computer" mode. Any suggestions?

Thanks for this help -- it's really nice. As for Windows 10, I tried it for several weeks and there were several things that I disliked a lot about it. Probably the worst thing is that it is (for me) too invasive, just like these downloads foisted on me against my will -- it really demonstrates the philosophy of MicroSoft-- they want to make choices for you, and they're not always in your best interest.

GWX Stopper 3.0 released to make forced Windows 10 upgrades impossible.

I love your help however i cant seem to right click the update in the uninstall update control panel place please help me if you can thank you

There's a much simpler way to prevent windows 10 installing automatically! Install a file never 10> http://onsitecomputers.proboards.com/thread/12/prevent-windows-10-instal...

Here's a much simpler way for you! Just install a small program and takes 2 clicks. I don't get any notifications any more! We shouldn't HAVE to upgrade if we don't want to. Microsoft think they can decide for us what we must do. It's a matter of choice. If we are happy with 7 or 8 then why force us to upgrade?? http://www.onsite-computers.co.uk/stop-windows-10-installing.html
Windows Central Newsletter
Thank you for signing up to Windows Central. You will receive a verification email shortly.
There was a problem. Please refresh the page and try again.