How to remove those nagging ads from Windows 10
Everywhere you look, ads are all around, even in Windows 10. But you don't have to just accept it — in this guide, we show you have to remove them.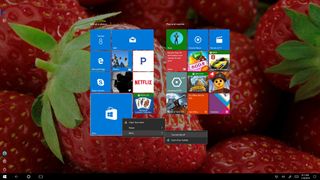 You might have obtained Windows 10 for free, but there is a hidden price, which comes disguised as ads to get you into buying apps and services you probably don't need or want.
It doesn't matter if you moved to Windows 10 using the free upgrade offer, it came pre-loaded on a new device, or you paid $200 for a copy of Windows 10 Pro (opens in new tab) (or $120 for a copy of Windows 10 Home), you'll see ads everywhere — on the Lock screen, Start menu, Action Center, Cortana, etc.
Perhaps for many non-technical users, this kind of advertisements can help them to figure out the possibilities with Windows 10, but for those who work with the operating system on a daily basis may actually affect the user experience. Thankfully, Windows 10 let you disable most of these ads, as long you know where to go to find and turn off the switches.
In this Windows 10 guide, we'll walk you through the steps to reduce the number of annoying advertisements on your device for a less irritating experience.
How to remove ads built-in Windows 10
Windows 10 allows you to remove most of the nagging, but there is not a master switch, you actually need to hunt down the options, which can be troublesome when they're are scatter around, and the operating system doesn't even call them ads. Fortunately, you can use these steps to get rid of ads on your computer.
Remove ads from the Lock screen
On the Lock screen, Windows 10 displays advertisements in two different ways: through Windows spotlight and using your own custom background.
While you can't disable ads when using Windows spotlight, you can choose to show a custom background picture or slideshow, which includes an option to prevent Windows 10 and Cortana from showing ads on the Lock screen.
To remove ads from the Lock screen, do the following:
Open Settings.
Click on Personalization.
Click on Lock screen.
In the Background drop-down menu, select Picture or Slideshow.
Turn off the Get fun facts, tips, and more from Windows and Cortana on your lock screen toggle switch.
Remove ads for the Start menu
Microsoft has found a sneaky way to monetize the Start menu. They're not called "ads," they're called "suggested" apps, and it's a mean for Microsoft to lure users into getting apps and services through the Windows Store based on your behavior using the operating system.
To remove ads from Start menu, do the following:
Open Settings.
Click on Personalization.
Click on Start.
Turn off the Occasionally show suggestions in Start toggle switch.
Remove ads from the Windows Ink experience
Starting with the Windows 10 Anniversary Update, the operating system also introduced a new feature called Windows Ink, which is just a new fancy name Microsoft picked for the same existing pen support, but with the promise of new improvements and features over time.
In this new pen experience, Windows 10 also displays ads in the Windows Ink Workspace to promote apps from the Windows Store that include support for Windows Ink. However, if you're not comfortable seeing these suggestions, you can easily remove the advertisement from the Workspace.
To remove ads from the Windows Ink Workspace, do the following:
Open Settings.
Click on Devices.
Click Pen & Windows Ink.
Under Windows Ink Workspace, turn off the Show recommended app suggestions toggle switch.
Although Windows Ink is available even on devices without a touchscreen, you can only change the option this if you're using Windows Ink on a Surface or another device with pen support.
Remove ads from Action Center & Notifications
On this new version of the operating system, Microsoft is trying to make easier for users to find and use the new features. One way Windows 10 "helps" users is by pushing tips, tricks, and other suggestions as you use Windows through toast notifications and in Action Center.
For example, if you use Chrome at one point in time, you'll begin getting suggestions to switch to Microsoft Edge. If you don't want to get bothered with apps and services suggestions, Windows 10 offers an easy way to disable this form of advertisement.
To remove ads from notifications and Action Center, do the following:
Open Settings.
Click on System.
Click on Notifications & actions.
Under Notifications, turn off the Get tips, tricks, and suggestions as you use Windows toggle switch.
Remove ads from the Cortana search box
Cortana is your personal digital assistant that Microsoft introduced with Windows 10. While the assistant is very useful in a number of scenarios, if you don't interact with it, the assistant will pipe up now and then to offer suggestions on how to use the feature.
Although many users may not consider these suggestions as intrusive ads, Cortana is trying to lure you into using it, which in some way, it can be considered advertisement.
If you don't want to Cortana showing you any suggestions, you can easily disable this feature.
To remove ads from Cortana in the search box, do the following:
Open Cortana in the Taskbar.
Click on the Settings (gear) button on the left.
Turn off the Taskbar tidbits toggle switch.
Remove apps advertisement
It seems that app suggestions aren't enough on the Start menu, as Windows 10 also comes bundled with a number of apps that can be considered purely advertisement.
We're actually talking about, the "Get Office" app and games, such as Candy Crush Soda Saga, Age of the Empire: Castle Siege, FarmVille 2: Country Scape, Asphalt 8: Airborne, and World of Tanks Blitz. Additionally, let's not forget the Microsoft Solitaire Collection game, which also shows you long video ads if you're not part of the premium offering.
If you don't like to see these apps again, you can quickly remove them from your computer with just a few clicks.
Open Start.
Right-click the tile from "All apps" or from the tiled section, and select Uninstall.
Click the Uninstall button again to confirm and to complete the task.
It's important to note that some tiles are simply shortcuts to download the app from the Windows Store, which means that you can simply right-click, and select Unpin from Start to remove them.
Currently, any built-in app you remove from Windows 10 will return once you install a new feature update. However, after feedback, Microsoft is making changes to prevent the apps you uninstalled from coming back in future updates. You'll see this new change with the Windows 10 Creators Update.
We're showing you here the steps to deals a specific number of apps, but computers manufacturers are also allowed to ship their devices with their own set of apps. However, you can use the same approach to remove any apps you don't like.
Alternatively, you can use the Settings app do remove any app, including useless bloatware and trials:
Open Settings.
Click on System.
Click on Apps & features.
Select the app you want to uninstall.
Click the Uninstall button.
Click Uninstall again to confirm and to complete the task.
Remove ads from app Live Tiles
Although you can uninstall certain apps posing as advertisement, there are also those apps that are part of the operating system that you can't (or shouldn't) uninstall and often offer ads. This kind of apps can include, the Windows Store, Xbox, Groove Music, and Movies & TV.
You probably didn't notice, but every time you open the Start menu, tiles, such as the one from the Windows Store, light up promoting apps and services, and other apps do the same too.
If you can't uninstall the app, one thing you can do is to disable the app tile from showing updates.
To remove ads from Live Tiles, do the following:
Open Start.
Right-click an app tile.
Select More.
Click on Turn live tile off.
Or you can alternatively, unpin the apps from the Start menu by right-clicking the app and selecting the Unpin from Start option.
How to stop Windows 10 displaying targeted ads
In addition to the numerous ads you see in Windows 10, Microsoft also assigns you a unique identification number to track your every move in the Windows Store and on apps to target you with specific ads.
If you don't want Microsoft to display targeted ads, you can change your privacy settings to turn off your advertising ID. However, the operating system will still be able to show ads, just not ads based on your computer behavior.
To stop Microsoft to target you with ads, do the following:
Open Settings.
Click on Privacy.
Click on General.
Under Change privacy options, turn off the Let apps use my advertising ID for experiences across apps toggle switch.
If you're only looking reset data tied to your advertising identification number, you can simply turn off the option and then turn it back on.
Wrapping things up
Once you disable the options we're mentioning in this guide; you'll see the number of ads significantly reduced throughout the operating system. However, keep in mind that these options won't remove advertisements on those apps from the Windows Store that are ad-supported. Those ads can't be disabled.
If you're looking to remove ads from Microsoft Edge, remember that if you're running the Windows 10 Anniversary Update, you can install one of those popular ad blocker extensions from the Windows Store.
It's also worth to point out that advertisement you see in Windows 10 is different to those you see when you browse the internet. Microsoft won't show ads on the Lock screen or in the Start menu to lure you into buying new sneakers or asteroid insurance. Instead, the operating system will only nag you to get apps and services from the Windows Store.
Do you mind Windows 10 showing ads within the operating system? Tell us what you think in the comments below.
More Windows 10 resources
For more help articles, coverage, and answers on Windows 10, you can visit the following resources:
Windows 10 help, tips, and tricks
Mauro Huculak is technical writer for WindowsCentral.com. His primary focus is to write comprehensive how-tos to help users get the most out of Windows 10 and its many related technologies. He has an IT background with professional certifications from Microsoft, Cisco, and CompTIA, and he's a recognized member of the Microsoft MVP community.
An expensive "Pro" operating system that insists on installing NYT Crosswords and Candy Crush Saga in the Start menu doesn't make sense to me. I can see it on 'free' and semi-subsidized Windows installations, but its a real dick move in Windows Pro.

I'm assuming Microsoft forgot to pre-install different sponsored apps depending on the Windows edition. It would be cool if more professional sponsored apps were part of the pro edition and more educational apps as part of the educational edition... Maybe they'll sort it out in the future :/

They shouldn't pre install any apps on those version. For Home users that get their license from buying a new machine, I can see including a few sample apps. For Home users that buy a USB stick license, or Pro and Education users, don't install anything beyond the basics. Those are prosumers and they know exactly what software they do and don't need. And none of these need Candy Crush.

If you want granular control over those types of things, I think the correct version is enterprise.

No license is actually free, the user pays for it as part of the cost of their machine.

lol , the guy who uses Google to surf internet now complain about microsoft puting a small strip of suggetion to its users . I can't belive that some people are complaining about this. It's just a small peice of information about new apps not that someting to be bothered by. And by the way you did agreed to the terms and condtions when installing windows 10 so you are the wrong one here for skipping to accept it

We need a utility, to do this in one Click

Can't wait until uBlock Origin shows up in the Store. It's annoying to re-enable the preview extension every time I open Edge, not to mention I keep forgetting to check for updates.

Ads are some kind of nanam might disturbance, I think I am going to fine this tutorial useful

I don't consider any of these ads. These are just suggestions, and the "ads on the lock screen" are, as the name suggests, are fun facts and tips. An ad is totally different.

I agree. What ads? I have all those things on and have never once thought "I am seeing an ad." Pre-installed apps are like crapware but crapware that is easy to delete and doesnot not slow down my computer.

Sorta crapware, yeah. But I bought Minecraft thanks to it, and played it for more than 300 hours now :D

Other than the pre-installed apps like Get Office, which doesn't care that I have Office 2016 installed, I don't really consider most of the items in this article as advertisements either. I was confused about the Lock Screen instructions above until I realized that he has his lock screen background set to "Pictures." I never changed mine from Windows Spotlight, and that choice doesn't give the option to "display fun facts and tips." Is the Windows Spotlight some kind of ad itself? I've never noticed anything other than the background image and my normal notifications.

Spotlight is just a background changer. Btw, waiting for it to be available on mobile :D And yeah, get office should be uninstalled automatically once you install office :D

Wondering if it was Google's how hard you'd be running your mouth about ads

Do you mean things like "ur androit 5 virus plz fxi it!" in every damn app? :D Cause that's how I remembered it.

sort of.... but i meant non intrusive ads just like those from let say gmail recommentation?

@Random DS, I think I agree, unless I'm just not seeing the same things as others here who are complaining. I do run all my versions of Windows on AD Domains (yeah, even our home network), so that my change my experience. But as you've said, I've never seen anything that I considered to be ad unless I open a web browser and start browsing, of course.

I have yet to see an ad on my start, lock, or Cortana screen. Am I the exception?

Same here. Do you think he's taking about Windows feedback request and tips?

ive never seen any ads on my lock screen or Cortana either...

lol it seems I'm soo anti ads that I already blocked everything everywhere, never seen spotlight here, but cortana tips are somewhat cool sometimes

Adindows 10 for you, you used to have an ads blocker for all websites in your browser now you need an ads blocker for your operating system :S


I removed the ads by reverting back to W7. Don't hate, it does what I need it to do.

it would be so easy for MS to stop it themselves. a simple tab switch Ads or No Ads.

Sick of full video ads in things like news. Was reading POTUS news, clicked on next item and got a full bloody Tesco Xmas ad! Non intrusive ads are fine, banners are fine, but view news through Cortana and you can't read it without with ads ALL over the place. You can't read a story without it. Huge great video ads, on my effing data, and no way of getting rid unless you go back or squint looking for a badly placed (x), that when you click it, invariably opens another ad!! Rant over.

Somewhat off topic, but is there any way to make the background of app tiles transparent in Win10, just like you can for W10M?

This article takes the meaning of advertisement very loosely.

Agreed. Totally ridiculous.

Can you write a similar article for removing ads from Xbox One, please? I bought it as a family entertainment console, but it's tough to digest when Microsoft is constantly shoving ads for all the first person shooter games down our throats. I write this in jest knowing that MS couldn't care less about this, but I am generally against ad nauseum advertisements, especially ones that aren't necessarily age appropriate.

I love Windows 10 and all, but I think it's absolutely ridiculous that a guide like this need exist at all. What the hell Microsoft... Shipping your OS with ads? Not cool.

'In this guide, we show you have to remove them.' Wow, that's a pretty commanding statement! LOL

They don't bother me at all. In fact, I seldom see them. I was gonna say never but I checked the app list and I saw one there. No problem with this whatsoever.

I don't buy anything from the Windows Store, so this was pretty helpful to me. Thanks!

Wow, if you start calling app suggestions Ads, I'm out.

Folks just install Adguard. It's the advertiser's worst nightmare. Windows Central alone is full of crappy ads. Adguard can also block apps and embedded ads. Now being online is a lot safer.

I'm glad that Microsoft will stop reinstalling apps like Candy Crush after I have removed them. Do we have any idea when extensions for Edge in W10M like Adblock will be available?

"We" already have them, since months. Open "Extensions" in EDGE

I must have a special version of windows as I have none of these ads in any section mentioned. Now I have apps that I have downloaded that has ads but that's it. I'm also looking at the settings shown to remove or restrict the ads and they are different on mine or they just don't exist. For example the first topic on here is for the lock screen ads. mine only says "Show lock screen background picture on the sign in screen".

I feel the same way, some of these mentioned, I have never seen or experienced! I guess there IS something good about not having Cortana available in your region :P

How to remove them from WP10 next would be so handy!!

Who finds it ironic that the article talks about how to remove ads in Windows 10, yet throws up a flag when you use an ad-blocker on their site?
Windows Central Newsletter
Thank you for signing up to Windows Central. You will receive a verification email shortly.
There was a problem. Please refresh the page and try again.