How to install apps on Xbox One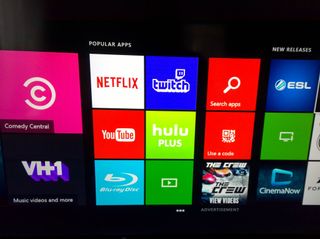 While you probably use the Xbox One mostly for gaming, there are other uses for it thanks to apps. Yes, you can install apps on your Xbox One. Don't know how to do it? We'll show you how. Go watch our video.
Go all the way to the right on the Xbox One dashboard. It's quicker when you press the RB button on your controller a few times.
Select Apps.
You can check out which apps are featured, popular, or new.
If you see something you like, select the app and press A on your controller.
Read the description of the app and view its images. If you like it, press the Install button.
That's it! You can press and hold the Xbox button on your controller when the download finishes to quickly launch the app.
Next time you want to open the application, you can select "My games & apps" from the dashboard and find it from there. For faster access, you can pin it to the dashboard. Press the menu button on your controller and select "Pin to Home"
You can also install apps on your Xbox One from your Windows Phone. You'll need the Xbox One SmartGlass Beta app.
Tap the hamburger button on the top left corner
Tap the Store and keep swiping until you see Apps.
Apps are sorted by popularity or release date.
Select the app you want and tap the green button. It may say 'Get it free' or mention a price.
If you already know the name of the specific app you want to install on your Xbox One, it's faster to use the search form. You can do this either on the Xbox One or the SmartGlass app on your phone.
What are some of your favorite apps on the Xbox One? Let us know in the comments!
Windows Central Newsletter
Get the best of Windows Central in in your inbox, every day!
Anyone who doesn't know how to install apps onto there xbox deserves a slap along with a 1 month ban from xbox live.

Looking down on people who don't know things is not the way to go if you want a successful website or community. Also, don't forget, this isn't just for people who own a Xbox One, but for people who are thinking of buying one and want to see how it works, what it can do.

Or simply, it's a slow news day and we're out of original content to post.

25 articles by 5 PM? Could you quit being a jerk and just skip the article?

Kick some ass Danny Boy...

LoL!! He was joking Dan..but, agree. A slap & one month ban!

Can't wait for Cortana to be on Xbox One but hopefully I want the ability to read/send texts from my WP on my SP3 & XBONE kinda how Apple does with their iPads and Macs with iMessage.

It's funny how I thought at this possibility right when I saw my phone next to my PC... Now it's gonna be another "like apple does"

To be fair, I don't think you can send an SMS from iMessage (I can't see the option to do that on my Macbook running Yosemite anyway), but you can send an iMessage to somebody else with an apple device...In a way Skype is Microsofts multi platform alternative/equivilent to sending an iMessage, and you can already do that from the Xbox. However....If Cortana integrated directly between Windows Phone and the Xbox One so you could send real SMS messages using voice on Xbox One, then that would be pretty awesome (And it would be easily do-able if they wanted to as well), I'd love to see that. Cortana on Xbox One in general is going to be great when it finally happens, as long as it has many of the features the phone does. If I'm playing a game or watching a movie and I need leave for a meeting or something, it would be really cool to get those alerts and things via the Xbox too. Could open up some nice scenarios: "Remind me to download Shadow of Mordor next time I'm on Xbox" (From phone) Getting reminders when you skype a contact like you can on the phone (The "Remind me to ask x about y when I next speak to them) and many more :D

That was previously the case, but now devices running iOS 8.1 and/or OS X 10.10 Yosemite get support for Continuity and Handoff, which allows iPad users and Mac users to send and receive SMS messages, and answer incoming phone calls on an iPhone logged in on the same Apple ID using the same WiFi network. Microsoft has been pitching this concept for nearly a decade, but Apple has been the first to successfully ship it en masse.

Thanks for letting me know about the SMS features. I knew the handoff stuff was added for calls, but didn't realise it added SMS capability (Don't have an iPhone to try it out, but will use my Wife's 5c to try it one day). I remember using the classic Nokia suite to send and read SMS via my PC, have always wanted to do that for years on my Windows Phone. A friend has used an app for a while (I think it's called "SMS Mate") to do it on Android. I think handing over voice and video calls has limited uses for me personally, but the SMS ability would be very useful. I use Skype credit to send SMS sometimes when i'm in the office, the downside is the SMS history isn't linked with the phone in any way like you would get in the new iOS/Mac setup, or with third party apps on Android.

Definitely! I'm really hoping this will come with Windows 10. While I don't care much for voice calls, sending SMS via my phone while working on my Surface, playing on an Xbox, or using any other device would be so fantastic! When I'm working on something in Word and I get a text, I don't want to have to pick up my phone, send the text, put in back down, and repeat every time they reply to me. How lovely would it be to just get a notification in the top right corner of my display, tap on it, replying using my full keyboard, and seamlessly get back to work without ever touching my phone. Priceless. Message syncing would be a huge plus, also, especially since I already backup all my messages via my Microsoft account (I've had several different devices and gone through a few hard resets, yet every text message I've ever sent or received [minus some attachments] since getting my Lumia 1020 on launch day over a year ago is still with me, even if the devices aren't, thanks to the cloud). And I'm aware there have been smaller scale options available for years, but Apple is definitely the first to integrate it so well, and make it some prominent and no frills (something Apple is admittedly good at, if nothing else) for the common consumer. Again, fingers crossed that Windows 10 will had this functionality!

Perhaps they should do grammar and spelling articles.

But it does seem hard to find the apps. Seems like you need to know the name so you can search. Why not have categories like other app store or did I miss it?

I think you deserve a 1 month ban from the internet. What about people that haven't bought a One yet. How are they supposed to know how without any documentation or instruction?

Off topic, the Nov update looks sweet! On topic, we need more apps to install! Talking to you HBO...

How do I turn it on though?

LOL, I don't use the Xbox One at ALL for gaming. I use it for apps & multimedia.

Now its just a matter of principle. Slow news day is not offensive, or looking down on anyone. Whoever is deleting these comments seriously needs to reconsider being an online journalist. Criticism goes with the job. You don't see the guys at bgr deleting comments

BGR is trash. I'd rather pour bleach in my eyes than ever read another article from them again. I'm glad this site isn't like BGR!

I don't own an Xbox so this is interesting to me. So I do find it offensive!!!

Start your own site if you have such a problem with it. You're free to never visit this site or comment again. In fact, I recommend you stop commenting for the better of all us readers.

My rude comments often get deleted. Of course, I usually insult the poster and their entire extended family with colorful language....

I wish there was a separate category for free games & apps. Everytime I have to click open it to see whether its paid or free. I am absolutely new to Xbox One.

Huh? There are no paid apps for Xbox one. You may need a subscription to services, but they're all free. Games, on the other hand is a different subject. There are no "Free" ones. There's always a catch.

There are free games. Pinball Fx2 & Killer Instinct to name two. There are others as well.

You could use that "Beginners series" thing at start of the article.

The text could really be larger on the dashboard. Sometimes it isn't as easy to read the text from the couch as it should be.

Not just on the Dashboard, there are some games like Titanfall and Battlefield where the text is hard to friggin read. My tv isnt large but its not tiny either.

Favorite app the power button

Jajajajjaja hilarious the First comment rn50

He's getting his ass handed to him now...

Hamburger icon? Lol that's a first I heard of that

Lol yeah I actually looked for a hamburger symbol for split second..

Oh I like that for the forums. A beginners tab, a advanced tab and an expert tab. A beginners tab would include like how to install Xbox One apps, how to take a good photo, how to install windows 10. Then the more expert tabs would include like how to use macro/micro shots. How to take apart the back cover of your (insert phone) to get Qi charging. Ahaha just a thought to expand on that one guy up there.

Debating whether to get the Xbox One. Is it fast booting up? Intrigued with the hdmi pass through watching TV. Is kinect a must have if doing this?

Don't use pass through. But definitely think Kinect is a must have. I use it to turn my "XBOX, ON" all the time as well as starting different apps. I find it easier to just say it even with comtrol in hand. Also, there are several games that use it. For example in Need for Speed...when I need to get to a Repair Shop or Hideout I just say "GPS Hideout" or "GPS Repair Shop" instead of dealing with the menu.

It depends if you're booting from standby or from it being completely off. From standby it's reasonable, otherwise I'd classify it as slow. TV controls are about the only thing Kinect is good for.

I use the pass through. Very fast booting up. Typically my xbox is sitting on TV before my tv is fully booted. Assuming fast boot (low power) is turned on.

I spend hours on Netflix. Get the game bonus apps there great!

Yep, especially if you the cable cord

Don't know if you use Kinect at all, but I noticed the latest version of the Netflix app is missing voice commands in numerous locations. Which I was personally quite disappointed with as I also use Netflix a lot.

So why are there so few apps? About 30 in total.
Not even basic weather apps, a news app etc?
Hardly overwhelmed with universal apps are we?!
What am I missing?

All apps are made by first parties and they have to be thoroughly tested and approved by real employees (at least right now)

Right I'm from the uk my beta version does not give me an option for adding apps is it a U.S. only feature

Do you mean adding them from SmartGlass?

If you don't know how to use the marketplace, you shouldn't even be using an xbox.

Mark, how about an article on how to hook up an Xbox One to a component TV - what's needed, what to expect as far as audio/video quality, where to get hardware, cost, etc.

I want YouTube on Xbox One to become a universal application.

Hmm... As far as I know the Xbox One uses a proprietary connection method for it's controllers, right? Is it actually possible to use a Keyboard on it? What would be it's requirements?

I agree with the first comment this is fill news and how about some more apps for the Xbox One!
Windows Central Newsletter
Thank you for signing up to Windows Central. You will receive a verification email shortly.
There was a problem. Please refresh the page and try again.