How to use the Troubleshoot tools to fix problems on the Windows 10 Creators Update
You can now quickly fix most common problems on Windows 10 using the Settings app -- Here's how.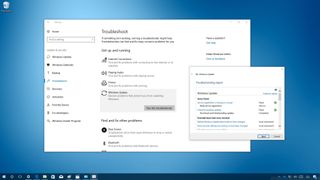 On Windows 10, troubleshooters are small tools that you can run on your device to diagnose and automatically fix common problems, such as network and printer connectivity, Windows Update, Bluetooth, and a lot more.
Troubleshooters have been part of Windows for a long time, but until the Windows 10 Creators Update they were buried inside Control Panel — now you can find them with ease in the Settings app.
In this Windows 10 guide, we'll walk you through the steps to use the new Troubleshoot page in the Settings app to fix common issues on your PC, laptop, or tablet.
How to troubleshoot and fix problems on Windows 10
If something is not working correctly on your computer, and you're running the Windows 10 Creators Update, then you can run a troubleshooter to resolve the issue.
Open Settings.
Click on Update & security.
Click on Troubleshoot.
Select the troubleshooter that best describe your issue, and click the Run the troubleshooter button to start the process.
Depending on the problem that you're trying to fix, you may need to follow additional on-screen directions, then the troubleshooter will correct the issue automatically, or it'll give you an option to apply or skip the fix. At the end, you can click the View detailed information link to see a report of issues found, and what was checked and fixed.
Windows 10 troubleshooters explained
The Troubleshoot page is divided into two sections, including "Get up and running" and "Find and fix other problems" featuring 19 troubleshooters in total to fix a variety of problems on Windows 10.
Get up and running
The "Get up and running" section contains the troubleshooters to fix the most common problems on Windows 10, including:
Internet Connections: Diagnoses and fixes internet connectivity related issues, or if you're having problems loading a web page.
Playing Audio: Finds and addresses common sound problems.
Printer: Diagnoses and fixes problems connecting to a printer, including driver and spooler issues.
Windows Update: Detects problems that make block updates from downloading and installing on your PC.
Find and fix other problems
The "Find and fix other problems" section is where you'll find the most troubleshooters, but these are to fix less common problems on Windows 10:
Blue Screen: Diagnoses errors that may be causing Windows 10 to fail and restart without reason. If the troubleshooter isn't able to resolve the issue, you can use our comprehensive guide to fix a Blue Screen of Death (BSoD) on your PC.
Bluetooth: Troubleshoots and fixes a number of Bluetooth issues connecting to other devices.
Hardware and Devices: Detects hardware changes and addresses problems, such as drivers issues and other hardware related problems.
HomeGroup: Diagnoses and addresses problems sharing files and viewing computers on a HomeGroup.
Incoming Connections: Finds and detects Windows Firewall related problems, such as issues sharing files, connecting using Remote Desktop Connection, finding a PC on the network and more.
Keyboard: Addresses keyboard settings related problems.
Network Adapter: Diagnoses and fixes problems with Wi-Fi, Ethernet, and Bluetooth adapters not working properly.
Power: Scans and adjusts power settings to conserve and extend battery life.
Program Compatibility Troubleshooter: Allows you to change the compatibility mode of older programs to get it working again on Windows 10.
Recording Audio: Finds and addresses issues that may be preventing you from using the microphone to record audio.
Search and Indexing: Fixes specific Windows Search problems, such as search or indexing slowing down your PC, or files and emails not appearing in search results.
Share Folders: If you're sharing a folder, but other computers in the network can't access its content, this troubleshooter finds and fixes most common sharing problems.
Speech: Diagnoses and fixes issues with your microphone.
Video Playback: Checks for potential issues with video driver and protected audio to fix problems with movies, TV shows, and video not playing.
Windows Store Apps: Finds and fixes problems, such as issues with the Windows Store cache, security or misconfigured settings, Microsoft account, and other problems that may prevent apps from updating or working properly.
Wrapping things up
While you won't be able to fix every problem on Windows 10, using these troubleshooters is a good place to start to get your computer performing as it should.
On the Creators Update, you can still find troubleshooters in Control Panel, but it may not be for long as Microsoft will eventually retire the experience in favor of the modern Settings app.
More Windows 10 resources
For more help articles, coverage, and answers to common questions about Windows 10, visit the following resources:
Windows 10 help, tips, and tricks
Mauro Huculak is technical writer for WindowsCentral.com. His primary focus is to write comprehensive how-tos to help users get the most out of Windows 10 and its many related technologies. He has an IT background with professional certifications from Microsoft, Cisco, and CompTIA, and he's a recognized member of the Microsoft MVP community.
One problem with CU is Maps. Maps The Netherlands on AU is 365 MB. After update to CU it's only 174 MB. Much detail is missing. CRAP.

I met a miller on the back of a cow He was looking for the wind
but he didn't know how.
I said: "Follow the cloud that looks like a sheep"
In the Dutch mountains
in the Dutch mountains

This is a cool feature, sorted a few minor issues I was having, thanks!

Too bad not available on W10M. It seems CU broke syncing for Band and Garmin devices. Yay.

Will it help with the dreaded bootloop issue that the Creators Update is causing many of us?

what's a 'bootloop issue'?

nope, the only solution is a CLEAN install

hey thanks for this post!

Still troubleshot look like 98/xp

How to use the Troubleshoot tools to fix problems on the Windows 10 Creators Update... The problem I find with this tool is, it rarely works in solving problems, like 99.999% of the time not working. If you have a problem, and have a recent backup or if you do restore points before making major changes to your system, this is your best chance of fixing a problem, the problem with restore points, they don't last very long, so make them often, it only take a couple minutes, it will save your system and ass, and lower your frustration level.

i didn't get the update yet. how long will it take to get it? not sure why didn't get it on computer or phone yet
Windows Central Newsletter
Thank you for signing up to Windows Central. You will receive a verification email shortly.
There was a problem. Please refresh the page and try again.