How to watch UFC 248 on Xbox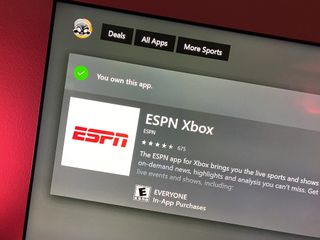 (Image credit: Windows Central)
Anyone with an Xbox already knows this, but it bears repeating: Microsoft's gaming console is good for so much more than just playing games. It's also one hell of a streaming video system. That doesn't just mean on-demand video like Netflix, either. It's also great for live TV. And that includes live TV on ESPN+.
And that brings us to this weekend's highlight: UFC 248 on ESPN+ Pay-Per-View, which will stream just fine on an Xbox. All you need is an ESPN account, and to purchase the fight. (And an Xbox, which if you're reading this we'll assume you've procured by now.)
All you need to do is sign up for an ESPN+ subscription, download the app, and purchase the fight. We'll walk you through it.
ESPN+
Two big fights

The third UFC event of the year is one you don't want to miss. Your Xbox is the perfect way to watch the match.
How to watch UFC 248 through ESPN+ on Xbox One
Sign up for an ESPN account and subscribe to ESPN+ through ESPN's website.
Install the ESPN Xbox One app through the Xbox One's app store.
Open the app, and select the ESPN+ tab at the top right.
Scroll down, and you should eventually see a banner advertising UFC 247.
Highlight the banner and press A. You'll be prompted to purchase the fight.
How much does the UFC 248 pay-per-view cost?
On its own, UFC 248 PPV costs $49.99. You can also purchase UFC 247 and one year of ESPN+ at a discounted cost of $84.98 if you're a new subscriber and sign up for an annual account. Monthly subscribers can also sign up for an annual account to enjoy this offer.
How to watch UFC 247 outside the US
Believe it or not, you can watch UFC 248 on your Xbox one if you're outside the United States. You'll just need to do a bit of legwork. First, we recommend installing purchasing an ExpressVPN subscription.
Using ExpressVPN allows you to spoof your location, making it appear as though you're within the United States. Unfortunately, since you can't really install a VPN on your Xbox One, you're going to need to tweak your network settings.
That means purchasing a VPN-capable router if you don't already have one. We've included our recommendation below.
VPN for UFC 248
Region locking sucks - so don't deal with it

With ExpressVPN, you can both secure your network and make region-locked content a thing of the past. It's got multiple pricing plans and it's easy to use, too!
VPN Router for UFC 248
Perfect for ExpressVPN

The Linksys WRT AC 3200 keeps with Linksys's reputation for excellence. Better yet, it's VPN-capable, meaning you can install ExpressVPN or a range of other VPN software onto it.
Get the Windows Central Newsletter
All the latest news, reviews, and guides for Windows and Xbox diehards.