Microsoft Surface leaked renders reveal redesigns ahead of launch this week
Spoilers: Leaked renders showcase upcoming Surface hardware ahead of the official launch on Wednesday.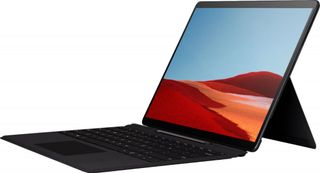 Microsoft is planning to unveil a new ARM-powered Surface at a hardware event in New York City this week, and renders of the device, alongside other Surface hardware also being announced, have finally leaked in the form of renders. Posted on Twitter by evleaks, these renders give us a detailed look at some of the upcoming hardware being announced this week.
The Surface on ARM device is going to be the most interesting one, as it's a redesign of the Surface Pro with slimmer bezels, a new type cover and pen accessory, and a rounder yet thinner chassis. This device looks sleek, and will definitely rival the likes of the iPad Pro that's already on the market. The Surface on ARM device is expected to be part of the Surface Pro product line, according to my sources.
In addition to the Surface on ARM device, Microsoft is also planning to unveil a new Surface Pro 7, which features the same design as last year's Surface Pro 6 but with the addition of a USB-C port in place of the Mini DisplayPort. Internally, the device should also be updated to 10th generation Intel processors.
Finally, renders of the Surface Laptop 3 have also leaked, revealing an updated design that replaces Alcantara with metal. The Surface Laptop 3 looks very similar to the Surface Laptop 2, except much cleaner as the entire device is metal now. The device will also come in a 15-inch variant and will be powered by AMD processors.
Luckily, these aren't the only products being announced on Wednesday, so the internet hasn't been completed spoiled just yet. Microsoft has some significant announcements planned for Wednesday, so make sure you stay tuned to Windows Central as we'll be covering all the announcements as they happen on the ground at New York on October 2.
Windows Central Newsletter
Get the best of Windows Central in in your inbox, every day!
Zac Bowden is a Senior Editor at Windows Central. Bringing you exclusive coverage into the world of Windows on PCs, tablets, phones, and more. Also an avid collector of rare Microsoft prototype devices! Keep in touch on Twitter: @zacbowden.
The ARM Surface has a pretty interesting design. I'm particularly curious as to how well that type-cover with pen holder works.
I just hope they don't limit the black option to it, though, 'cause I'm looking more at the Pro 7 to replace my Pro 5 and an ARM device just doesn't cut it for my usage.

It looks like the idea is that the pen is held between the keyboard and the device when it's closed. Is that what you were thinking too? I guess a thin, rounded edge is not so great for holding it magnetically.

Yup, looks like that's what they're going for. The pen is clearly also redesigned to fit better there. I personally still think the original loops were better solutions than anything else Microsoft has tried since, though.

Not a fan of "leaks"... but am making the exception here... this Surface 7... if real... will be spectacular!

Personally looking forward to getting the details on the Surface Pro ARM version, possibly to replace my SP(2017). All it needs is the full suite of MS software which I use and i'll probably get one, would be great if it ran the new CoreOS. Being SOC, it should be able to play games better than the intel chips I'd assume.

Games will be interesting. Unity is supposed to have gone ARM, and we may hear about that this week. That'd allow native ARM gaming.

Games better than the intel chips? How so? If the game is ported to ARM, it should run fine and dandy if the SOC's GPU (and GPU drivers) can handle it. I know Retroarch and any open-source game emulators (I am more of a retro-gamer myself) will definitely be (or have probably already been) ported to Windows 10 ARM.

I think the ARM Surface looks great. Hardly "borderless" but that's OK with me. I'm not loving the pen placement. The side magnetic attachment has always been the most natural for me. But I'm most happy with the Intel version. Why wreck a good thing? Keeps the Surface Connect but adds USB-C - great idea. (Not that I love my Surface Dock...) I bet the battery life is greatly improved too. When I'm next in the market that's the one that'll be on the top of my list.

I guess that, if the device is thinner and more rounded, attaching magnetically to the side would not be overly secure. Storing the pen between the device and the keyboard is also more secure when putting the device in a bag. I wonder whether the pen has to be narrower than the current version though.

Yeah since they make it rounded compromises the way to have the pen magnetically attach. Though Surface Go already have slightly rounded sides, so this one based on the photo looks way more rounded. TBH I rather have the flat or flatter sides like what we used to be. It makes it more unique and also feels more industrial. It having it flat also serves better for having the pen attach on the side through magnet without any visual difference to the chassis. New pen design also looks more like a marker now, less like a pen. Looks kinda fat and have a bigger flat side than currently we have. I wonder how this fare well with ergonomics, especially for long duration on making art.

It's definitely more secure this way, that's true. Also if it charges in the cradle in the keyboard, that'll be a plus. I just hope they haven't gotten rid of the eraser button on the pen itself.

Glad centaurus didn't leak. It'll definitely be there.
If you watch that animation of the all metal circuit pcb-looking Microsoft logo, it highlights two corners, like a ninety degree angle. The noises in that sneak preview sound like the car door sounds they were so in love with during the first surface device. I was a Microsoft store employee and remember our training highlighting the luxury feel and sound of the hinge. Last, but not least, the invite says 10.2, combined with that animation highlight, 10 and 2 on a clock, crates a ninety degree angle. The same ninety degree angle used for displaying open books. 📖 Aka Centaurus. One of the sounds sounds like a pen or pencil writing, highlighting the new pen. It actually sounds very much like a rougher surface than glass, like e-ink.

"CADILLAC DOOR!!" - Ballmer.

Now give me a Surface Go 2 with that same ARM design and thinness and we are in business!

I wonder how much the arm surface will weigh? I love my sp4 but using it as a tablet, it's quite heavy, compared to an iPad.

I wish I had the willpower not to peek 👀. The ARM and laptop Surface make the pro look dated. No 🎧 jack -- earbuds coming I hope.

I assume the ARM model is the "Surface 7 Sans Suffixe" and could be a replacement for the Surface Go LTE configs but that's a pure guess. It wouldn't surprise me, though if they want to do something along the lines of: Surface Go 2 WiFi
Surface 7 "Sans Suffixe" LTE (ARM)
Surface Pro 7 WiFi
Surface Pro 7 LTE (Intel w/Qualcomm modem) I.e. instead of offering the top end Surface Go (LTE/256), they let the Surface 7 take the spot. It could be a good idea and make a lot of sense. It would allow them to position the Go 2 as their "entry level" model rather than "entry level/mid range" as it is now. A $399 and $499-549 Go 2 and then a Surface 7 starting at $699 for 8/128 and $799 for 8/256 or something along those lines could be the thing.

I`m 100% sure this Evan is paid by all the major companies. Its impossible to have the press images all the time and to be always correct. I also don`t think the tech sites should promote the leaks out of respect for the people that work for this products. But then again you need trafic.

If you are sure this is orchestrated by Microsoft, how can it at the same time be disrespectful showing it?

Because the marketing department of every major companie don`t care for the development department. For them publicity is publicity . I said "out of respect for the people that work for this products." not "out of respect for the company. Read better.

He's not paid. But many companies obviously do leak stuff from time to time.
Microsoft doesn't, however. That's why the leaks only arrive one or two days before the event. That's when Microsoft sents the press images to stores worldwide. Once that happens, the chances of it leaking increase exponentially. That's how Evan Blass gets his leaks.

If I buy the new ARM Surface, it'll be to replace my HP Envy X2 snapdragon. It'd be great if they gave us a way to load the new Windows OS on devices like the Envy.

I also expect the new OS to be able to get installed on older ARM devices

From what I'm getting from this is that they backed themselves into a corner with the pro design as far as compatibility goes. They weren't going to be able to significantly revise it so long as they committed to keeping type A etc. so they made the pro 7 more to cater to the enterprise audience who probably have already bought tons of older ones and don't want major changes while the ARM version is a clean sheet that will be the consumer facing one.

That makes sense, but the Surface Pro seems quite popular among students at my college. Status conscious millennials like the classic design well enough. The new design does look great, though.

Is this a bad thing though? Since personally I use usb-a on device a lot and the thinness of a device beyond a certain point has only disadvantages (mainly heat management), while in comparison e.g. reducing bezels makes it noticeably more compact than trimming down the thickness by a mm.

If you perfected a product, there's no reason to try to reinvent the wheel. The Pro is aimed at enterprise AND at consumers who want a device that just works and don't care about silly changes for the sake of changes.
The ARM one is aimed at more flashy consumers who worry about form over function.

am i the only one that didn't like how the bezels aren't symmetrical on the ARM device?imagine holding this device in portrait mode!!!

My OCD is already tingling

In portrait mode it is better since you have more bezel to hold the device.

i dont see any ipad owner complaining about holding their devices!

That's because the iPad also has asymmetrical bezels.

I don't understand what you are trying to say, Ipad have similar asymmetrical bezels (just horizontal bezels instead of vertical). And the bezels are even bigger by the way.

I hope that Surface Laptop will at least have an SD card slot. Many were looking for that especially for photographers. Less things to carry is better to pack light and less things to loose.

Will attend the event. Hope they will give us each a Surface Campus as a gift.

I think it would be interesting if they indeed will have a different design between the arm and intel Surface (Pro's) tablets, would be interesting for future comparisons (pro's & cons of each).

I am pretty excited about the ARM Surface. I have been on the fence about getting an ARM-powered Windows 10 device for quite some time, but I can't help but be seduced by that 20+ hour battery life and LTE, which are a boon for me as a freelancer. Only concern is performance of some x86-only apps I need for work...productivity ones like Trados, MemoQ, etc. They should run fine, but without having a device to test them first, getting one would be a $900+ gamble for me.

I'm in a similar situation. I'd love a device with the pros of mobile OS tablets plus all the power of full Windows, but I just have to know how slow (or fast) x86 applications are going to run. I have a feeling, though, that I'll be sold on WOA soon enough.

Once it is out just check it in a MS store and see if it is fast enough (I am sure there is something that will be similar as a benchmark) or check the reviews.
Windows Central Newsletter
Thank you for signing up to Windows Central. You will receive a verification email shortly.
There was a problem. Please refresh the page and try again.