Lenovo announces 17-inch Y70 Touch gaming notebook and Erazer X315 gaming desktop at IFA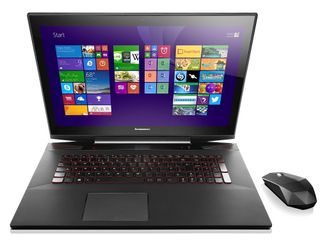 At IFA, Lenovo has announced two new products running Windows 8.1 — a 17-inch touchscreen gaming notebook called the Y70 Touch and a budget desktop catered to gamers, dubbed the Erazer X315.
The Lenovo Y70 Touch is the hardware vendor's first 17-inch notebook with a multi-touch screen. The 17.3-inch full-HD display is standard across all models, but internal hardware is customisable. You can configure up to an Intel Core i7 CPU, 16 GB DDR3L RAM, 1 TB internal storage — SSHD with either 8 GB SSD or a 512 GB SSD — and an NVIDIA GTX-860M with 4 GB video memory. The notebook features JBL stereo speakers and comes with a backlit keyboard, two USB 3.0 ports, one USB 2.0 port, card reader (SD,MMC,SDXC,SDHC), HDMI out, Gigabit Ethernet, Wi-Fi 802.11 ac and optional Bluetooth 4.0.
With dimensions of 422.9mm x 290.6mm x 25.9mm and on overall weight of 7.5 pounds, the Y70 Touch isn't exactly portable, but it does offer decent gaming prowess. The notebook is set to go on sale in October, with a starting price of $1299.
Erazer X315
If you're looking for a desktop solution that won't run into thousands of dollars, the Erazer X315 is a system you should consider. The desktop has been designed to play mainstream titles at full-HD resolutions, with most configurations coming under $1000.
Lenovo is offering a host of AMD processors, going up to the A10 series. Also on offer are the Radeon R9 and R8 series of video cards, although the dimensions of the chassis mean that the higher-end R9 290 or R9 280 GPUs will not fit in the enclosure. In terms of memory, Lenovo offers up to 12 GB of RAM and 2 TB of internal storage. The front panel houses four USB 3.0 ports, with one port offering an always-on connection that will allow you to charge your mobile or tablet even when the machine is not powered on. The Erazer X315 will be available across major retailers from November, with the entry-level configuration costing $599.
Prepared to enhance your game? Let us know your thoughts in the comments.
Source: Microsoft
Windows Central Newsletter
Get the best of Windows Central in in your inbox, every day!
Harish Jonnalagadda is a Senior Editor overseeing Asia for Android Central, Windows Central's sister site. When not reviewing phones, he's testing PC hardware, including video cards, motherboards, gaming accessories, and keyboards.
I'd beg to differ. Surface Pro 3 is a really awesome device, and might be good for casual gaming. This laptop is made for powerful gaming.

Thats what I think. The games which now are trending in windows store, app store and play store can't be compared to PC games. Dvd rom is also a problem. That's y preferring windows laptop is better for gaming but of u want just for work, productivity and little bit gaming sp3 is a great device.

i have a 3.5 years old thinkpad w510 with i7, and performance of surface pro3 i7 is practicly the same as my laptop... while that is awesome, i will wait some more :) i want to UPgrade, not stagnate :)

Lenovo also announced 8 inch android tablet with full HD display, 2GB RAM, quad core intel processor for just $199. I don't understand why they are not releasing windows variant with similar specs and price now that Windows is free?

Coz maybe hp and dell are marketing windows better then them.

This year windows tablet market may show good growth with android tablet market falling down little bit

What's better than surface pro 3 ?

There are allot of laptops better than the SP3 but certainly not any hybrids that I can think of or any other tablet for that matter

Shame this is just the y50 with a larger screen. They could have added some extra usb ports. Still, great value for gaming and for work, though the three hours I spent with the y50 were enough to convince me I don't like this new keyboard. Spongy.

Funny, I was just thinking the same. If I ever buy a tablet for gaming it will be from Alienware. That one from Razer just doesn't appeal to ne for some reason. Always been pleased with the build quality of my Alienware laptops so I know it will be good. Plus I'm sure they'll offer multiple combinations of hardware. The question though is are we prepared to spend $2000 on a tablet?

Gaming laptops are generally a terrible investment. With the amount of heat coming out, short battery life, and bulk to these things, you'll pretty much always be confined to a desk anyways.

the point is that it's a laptop. you can game almost anywhere as long as there's a power outlet. and this y70 is not really that bulky compared to other gaming laptops. i have my y500 for almost 2 years now and i say it's a very good investment.

umm with that chassis an r9 280 couldn't fit? I just built a mITX build and fit an SSD, a 2tb HDD, three fans, cpu and cooler (my aftermarket wouldn't fit) and a 280x. also of course a 650w PSU. it's about the same width and height of my gamecube except a little longer to fit the card. that's ridiculous if it can't fit in that tower.
Windows Central Newsletter
Thank you for signing up to Windows Central. You will receive a verification email shortly.
There was a problem. Please refresh the page and try again.