Lenovo Cast is the company's new $49 streaming gadget
Lenovo's Chromecast competitor promises faster speeds and more connection options.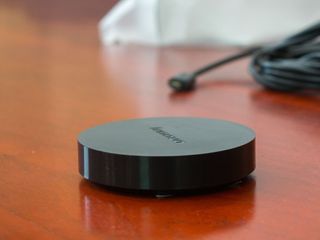 At its first TechWorld show in Beijing, Lenovo has taken the wraps off a new media streaming device, the Lenovo Cast. A small hockey puck-like that connects your TV and mobile devices, Lenovo Cast aims to outdo Google's established Chromecast stick with faster connection speeds and more ways to stream your stuff to a bigger screen.
Lenovo Cast supports both 2.4 and 5GHz Wifi networks, with a range of approximately 20 meters and support for playback at up to 1080p resolution. Content is piped to your TV over a microHDMI cable, while a standard microUSB connector powers the small, hockey-puck-sized contraption. As for the technical nuts and bolts, Lenovo Cast supports DLNA and Miracast in addition to the Google Cast standard, which should make it a more versatile streamer than Google's basic $35 stick.
The Lenovo Cast is set to launch globally beginning in August priced at $49. In percentage terms that's a big increase from the Chromecast, though still within impulse buy territory for its target audience.
Lenovo Makes Moments More Shareable with Its First Media Casting Device
Expands focus on flexible home entertainment
BEIJING, China and RESEARCH TRIANGLE PARK, North Carolina – May 28, 2015: Lenovo (HKSE: 992) (ADR: LNVGY) today at Lenovo Tech World launched the Lenovo Cast, the company's first media casting device to bring content from smaller, personal devices to the big screen.
Encourages More Multimedia Sharing
As more people capture and store their favorite photos, videos and apps on their most mobile and personal devices - their smartphones and tablets – they need a bigger screen to share with others. Imagine huddling around a friend's phone to look at vacation photos or trying to enjoy watching the big game live with others crowded around a tablet. In fact, studies have found that 80 percent of people are using tablets at home with 52 percent of them using tablets to watch TV. At the same time, they're sharing them with other people in their household.
Lenovo created the Lenovo Cast, its first streaming media device, to give users the ability to share their favorite content by streaming it wirelessly from their personal screen devices to a big screen TV. Lenovo Cast works in three simple steps: plug, link and play. First, plug Lenovo Cast into any large screen device's HDMI port. Then link Lenovo Cast to the device's signal. Then play and enjoy media from a DLNA or Miracast-enabled tablet or smartphone. Lenovo Cast offers extreme flexibility with its convenient pocket size and simple set up, making it an ideal companion device for smartphones and tablets. Its dual form factors allow users to hook it up either behind the TV or anywhere near it. Unlike other casting devices, Lenovo Cast ensures seamless streaming thanks to its dual frequency WiFi and its ability to transfer content up to 20 meters, even sending the signal through walls. And it's not limited to just sharing videos. It mirrors any content users have on their smartphones.
"Today people want more from their devices – the freedom technology gives them to accomplish more. They want to share a variety of content from their smartphones and tablets such as online videos and games with friends and family on a larger screen," said Liu Jun, executive vice president and president, Mobile Business Group, Lenovo. "The new Lenovo Cast is our latest device created to enable such personalized experiences."
Pricing and Availability
The Lenovo Cast will be available beginning in August worldwide. Pricing is $49 USD.
For more information, visit www.lenovo.com/techworld after the keynote.
Windows Central Newsletter
Get the best of Windows Central in your inbox, every day!
What, I think this is better than the Microsoft hockey puck 2

Do you realise how large 4k videos are to stream them wirelessly? Even a wired connection would struggle in this case.

You'd need HDMI 2.0 to do it anyways. I don't even think the $400 Xbox One has that.

I think 5GHz 450Mbps Wifi is enough, with practical speeds around 60-80Mbps. Most 4K content has about maximum 40-45Mbps bitrate.

So, obviously, Belkin is making one such device. So what's your initial complaint about?

To truly compete Lenovo (and others) needs to offer more options at the same price or lower. $35 is impulse, not $49. That's 'I'll think about it and check out reviews' pricing. And if people have to think about it they're likely to find an alternative.

That's your impulse/think pricing. Won't be the same for everyone...

And which alternatives are better? Chromecast is cheaper, but this is more versatile and will work with more devices since it does dnla, miracast, and chromecasting. The only thing left to see is performance. I bought an amazon fire stick hoping it would do miracasting. The performance is so poor that it is useless as a miracast device. I will continue using it as a regular video streaming device, but I am still on the lookout for a goor miracast device. So, far Microsofts wireless adapter seems to offer the best performance, but it costs more.

Weird mine works fine... Not the greatest but I can stream stuff from my Lumia 2520 without problems. Did you update it?

What's better is this...
Tronfy 4K KODI (XBMC 14.1) DDR3 2GB 16GB MX4 MXIV Amlogic S812 Google Android 4.4.2 kitkat OS HDMI Smart TV Box Mini PC & Streaming Media Player 4Kx2k UHD HD 1080 H.264+H.265 HEVC Video Decoding HDMI and E-SHARE Function 3D IPTV HDTV Bluetooth BT 4.0 wifi AC Home Entertainment
http://www.amazon.com/dp/B00W1H85KM/?tag=hawk-future-20&ascsubtag=UUwpUd...
I'd buy this before any Chromecast, AppleTV, or Lenovo trash.

Wow. That's alot of words strung together with no punctuation.

That's borderline Off Topic, man. Seriously.

Comes with extra malware.

Nah, the NSA is pretty good for it too. There's a pretty big division devoted to it.

If Google technologies are involved the spyware is a given.

I'm impressed about how a lot of websites talk about Chromecast, Amazon Fire Stick, and yet very few talk about Microsoft Wireless Display Adapter (WDA). Now a new one from Lenovo. I have the Microsoft WDA and I love it because it supports 2 technologies Intel WiDi + Miracast in one device. My laptop has Wireless AC card and Microsoft's adapter is great for streaming games like Project Spark (available for free for Windows 8 PC's with Intel Core i3 or better). Also what I like from Microsoft's adapter on a PC is that you can extend your display, so you can actually playback a Netflix movie on your tv while keep working on your PC at the same time.

Thank you. I didn't know those features. I'll check out the Windows Display Adaptor (WDA).

Here is the link http://www.microsoft.com/hardware/en-us/p/wireless-display-adapter

Chromecast sucks. End of story.

Lol no it doesn't. But obviously you've never used one. You people are more Google obsessed than Google is to themselves Posted via the Windows Central App for iOS on my Lumia 940

What the heck?? "Windows central app for iOS?? On a Lumia 940?? you gotta be kidding right?

Lol second that? You joking right?

There are always at least two people in the room not getting the sarcasm/joke, demanding explanation :D

Hey, look. It's Alex! ;P This seems like a compeling device for people in search of a stream-all device. I don't have much use for it though. I already have a ChromeCast and my TV has DLNA and Miracast built-in. I might pick one up for my sister (though I confess I'm not at a fan of Lenovo).

How the F is "Google Cast" a standard?
It should read "including the proprietary Google Cast protocol."

That's the great thing about standards... There are so many of them!

Still, google cast is not a standard, but a one firm definition, would not be covered by a standards limited patent license clause, even if there are many standards

It would be cool if this was nfc, and Qi... So once you start, say the movie, you then can get some juice. Qi! ALL the things!!!

I agree, but the price I killing in Bulgaria about 150BGN. This is half the minimum wage. Impulse price lol.

Wait, you have to work half an hour to afford something you didnt need in the first place? That's just not fair.

I'd get the Lenovo long before I get a chrome cast.

I was actually considering a Nexus Player yesterday and then I realized that the apps I want to use on it aren't available on it. Glad i didn't invest. I'm interested in seeing what apps this platform supports without resorting to XDA to make it work on my own. Otherwise I'll just stick to my excellent Amazon Fire TV/Stick options.

comparition between lenovo streaming device and microsoft miracast