Let's Golf 2 bringing home the cup as the Xbox Live Deal of the Week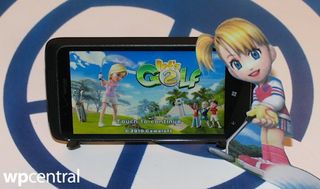 It's Gameloft week on Windows Phone, folks. Not only do we get a long, long, long-awaited new Xbox release from the big G (Real Soccer), but another one of their titles is going on sale as well. Let's Golf 2, normally priced at $4.99, drops down to an affordable $1.99 this Wednesday. This continues the awesome trend of greater-than-50-percent discounts on Xbox titles.
Let's Golf 2 is an arcade-style golf game modeled after Sony's popular Hot Shots Golf franchise. Features include cartoony players, clean 3D graphics, six 18-hole courses, and both Career and Challenge modes. Even if you don't care about the sport of golf at all (like me), the game is actually very enjoyable and easy to learn. Check out our full review for more details.
190 out of 200
One of the reasons I wasn't enthusiastic about Fusion: Sentient headlining the return of the Deal of the Week program, beyond the game's utter crapulence, is that it suffers from a broken Achievement that the developers will never fix. Unfortunately, the same applies to Let's Golf 2, except for the crapulence part.
Initially Let's Golf 2 launched with two broken Achievements, though a subsequent patch fixed one of them. Unfortunately, the 'Secret Code' Achievement remains unattainable by design. That's right, the Achievement's requirement of inputting a special code in order to unlock the ninth golfer is simply impossible in the Windows Phone version of the game. Why the developers would do that, and how it slipped by Microsoft's certification team, remains a mystery.
Still, if you can overlook that small blight on your GamerScore (I only have about 54 percent of my games completed anyway), Let's Golf 2 remains a lengthy and fun title.
Grab ya clubs
Let's Golf 2 will be on sale for $1.99 for one week only, starting Wednesday (or Thursday for some people). Get it here on the Windows Phone Store. If you search for it by title at said store, remember the name is mispelled as 'Lets Golf 2.'
Paul Acevedo is the Games Editor at Windows Central. A lifelong gamer, he has written about videogames for over 15 years and reviewed over 350 games for our site. Follow him on Twitter @PaulRAcevedo. Don't hate. Appreciate!
who says windows phone doesn't have any apps?

As usual, I'm voting with my wallet. If they don't bother fixing it, I don't bother buying it

+1 I would have bought this otherwise.

In that case you're missing a great game

Tough decision. I want the game and 3 dollars off is great! But a broken achievement is crap outside the bowl.

Voting with wallet, broken game, no pay.

I assume the developers have no plans to fix the broken achievement?

They promised to investigate it at the beginning of the year, but we never heard back from them after that.

LOL. One meaningless achievement you can't get and the game is horribly broken - gotta vote with your wallets, YOU'LL SHOW THEM.

It's one of the best games that I've played on the titan and it IS a shame that people have missed this one

What are you on about ? I'm not showing them anything, specifically my money, operative word being "my". You can do whatever you want.
Also what's that meaningless thing ? Want to discuss the "meaning" of a video game ? They're pretty much all meaningless. Achievement or no Achievement.

Ok, here's an example of a meaningful achievement in a game. In FTL, make it to sector 5 in the Zoltan Cruiser without upgrading your reactor. You have to adapt your playstyle to meet this challenge, think in different ways, and balance going after the main objective of the game vs. trying to get this achievement. Ultimately you may learn a few new tricks that will help you in the future. That is fun, rewarding, and meaningful.

Getting an achievement because you entered a secret code is meaningless. What does it have to do with playing the game? What did you achieve? Nothing. It's utterly stupid.

If the game is fun, play it and enjoy it. If you're a completionist who must have every single achievement in every single game you play, no matter how stupid they are, well, that's pretty sad IMO.

Judging is sad. Buy the game twice if my decision bothers you. And no no Zolton something means whatsoever, it means nothing. Writing a book, raising a kid, building a house means something.


Getting error: d0000011 for a few days in the marketplace, so I cannot buy/test/update apps.
I do not find a solution, except creating a new live account.
Someone know how to fix this?

Just Bing'ed "d0000011" and i got this: (more solutions) I resolve the problem with error d0000011 like this. I went to windowsphone.com myphone and discover that my account doesnt work. I can log into my account but doesnt show my phone model, my app purchase history, find my phone, etc, etc. Nothing worked. Then i go to my phone in settings-find myphone and enabled this features because that features i disabled along time ago. Then i restart the phone, go to www.windowsphone.com/myphone and everything apears........and now i can download app updates to my phone, install apllications etc,etc. I dont like that i need to have the phone conected to www.windowsphone.com but microsoft..........

Isn't this game considered Bloatware on nearly all Verizon Android phones (as in it comes preinstalled and cannot be uninstalled)?



Since when? As of last year wife's android when on Verizon did not have it

I hope that devellopment of games will increase and also the quality when WP8 arrives, i am not buying this one i already have Let's Golf 3 on my S3.

I bought this game last year. It is a fun WP game if you like golf games. Broken achievements are fine with me. It is very rare for me to get all the achievement for a game anyways.

I've been waiting for this game to go on sale. I enjoy golf games, but $4.99 for a game on a phone is too high. I purchased 2 games for that price, no more. $1.99 is my limit. Just like I won't pay more than $199.00 for a smartphone. I guess I just like the way those numbers look;-). Oh and a broken achievement, what else is new.

I will be picking this up regardless of the broken achievement. I have been waiting for this game to go on sale. I almost bought it recently at full price. They should just pay Microsofts patch price...the increase in sales from all these stubborn achievement whores will more than cover the cost...

Very fun game but the broken achievement sucks. I hate that I invested my time and money in this game and it's glitched

As the article says, it will drop to a sale price $1.99 on Wednesday. It's still $4.99 when I last check, waiting....

And what is sad and weird about this is that when Miniclip came up with an Achievement that one had to spend money in order to get it, MS pulled the game from the Marketplace, and rightly so, but in this case where we get the iPhone scraps, badly and and laughably slapped into our store, it seems to be o.k.. I'm not buying other systems left overs, a little self respect.

It's a really, really good game and it's a shame that you feel this way.

I'll pick it up, broken achievement be damned. Crimson Dragon doesn't have the legs I thought it would.

Woohoo!!! Been waiting for this one for quite a while!!! And $2 instead of the normal $3? Awesome!!!

I feel your excitement, seriously

Is it going to drop in price for the UK, hasn't yet?

Still no price drop. Le sigh.

So the game is still $4.99..anyone get the deal yet.

Still £3.99 in the UK, :-(

Still $4.99 as of 8:18pm EST in the US.

Just bought it for £1.49.

Just bought it for $1.99 in Canada :)
Windows Central Newsletter
Thank you for signing up to Windows Central. You will receive a verification email shortly.
There was a problem. Please refresh the page and try again.