Microsoft's new London flagship store is magnificent
Microsoft is opening its first retail flagship store in Europe with the London Microsoft Store. We had the chance to check it out before it opens, and it's awesome.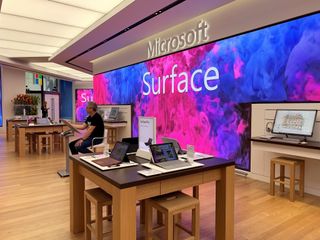 (Image credit: Windows Central)
On July 11, 2019, Microsoft will open the doors on its latest retail space, the first flagship Microsoft Store in London. Just like the flagship store in New York, Microsoft is treating the new London store as a place for not only buying Microsoft products and services, but also partaking in learning opportunities, new experiences, and communal activities in the realm of Microsoft, for both consumer and enterprise customers. Microsoft invited me to check out the store in person before launch, and it's really cool.
Located in the heart of Oxford Circus, the new Microsoft Store is in a prime location in central London. The building itself was built in 1912, making it one of the oldest Microsoft Store buildings yet. On the inside, however, you'd never know it. Microsoft has worked hard to maintain some of the original architectural work, including old ceilings and window panes, but the overall aesthetic on the inside is modern and clean, just like other Microsoft Stores across the globe.
The Senior Store Manager, John Carter, said: "This is more than a store, it's a destination, right in the heart of London. Our store associates aim to be trusted advisors, providing unrivaled local tech support for businesses, learning institutions and individuals. We want to give people amazing technology experiences and learning opportunities."
Consumer appeal at Microsoft's London flagship store
The store space is split into three levels, the first of which is home to Microsoft's first-party devices and experiences, aimed primarily at consumers. There are a plethora of Surface products to play with and get a feel for, including the Surface Studio 2, which features predominantly throughout all three levels of the store. There's also a Windows Mixed Reality area, which features AR experiences powered by Samsung Galaxy S10 devices and HoloLens.
Customers will be able to try out the HoloLens in store, allowing many to experience wearable AR for the first time. There's also an Xbox area which features a real McLaren Senna supercar that has been fitted with an internal Xbox One X and hydraulics that sync up with Forza Motorsport 7 on the big screen. Visitors will be able to sit inside and virtually drive the McLaren Senna. I got to try it, and it's super cool with all the hydraulic effects adding to the immersion of the game.
The ground floor also features massive video walls that advertise all kinds of Microsoft products, ranging from Microsoft AI to Surface. The video walls are incredibly eye-catching and will likely draw in audiences walking by on the busy high street. There's also a super magnificent staircase that leads you to the other floors, along with elevators for accessibility.
Image 1 of 6
On the second floor, Microsoft's gaming area, OEM devices, first-party accessories, and the Answer Desk are available. Throughout the second and third floors are numerous Surface Hub 2S devices, which people can play with or get a tour of. There's a "modern workspace" area, which showcases how Microsoft users can work from home using Surface devices.
The gaming lounge is something very special. It's an entire area of the store dedicated to gaming, featuring RGB lighting, dark colors, and gaming setups for professional and casual gamers. Microsoft hopes to host gaming tournaments here, as well as introduce gaming to new audiences through Xbox One S and casual games such as Minecraft. This is where Microsoft will be demoing xCloud on July 11 during the Xbox Showcase.
London Surface Design Lab
Microsoft has a Surface Design Lab, too, which lets you create custom Type Cover patterns for the Surface Go and Surface Pro, right in the store. This is exclusive to the retail space and can't be ordered online. The patterns are laser etched into the Type Cover, and you can watch it as it happens. It's so cool and should draw in any Surface fans looking to spice up their PCs.
There's also a community theatre located on the second floor, a classroom style setting for up to 30 guests to take part in workshops, training, and special events put on by Microsoft or third parties. Microsoft announced today that it is giving a £1 million grant to three partners to empower young people across the UK to access new opportunities through digital skills. These partners include UK Youth, Raspberry Pi Foundation, and The London Community Foundation.
Image 1 of 4
Finally, the third floor is more business orientated, with an experience center designed to allow businesses to train and grow clients and employees using Microsoft technologies.
The store is fantastic, and I'm sure there will be plenty of people popping in just to check out the venue. It's a real flagship Microsoft Store experience, complete with 150 new staffers who have all been trained for this specific storefront. The Store will about at 11 am local time on July 11, 2019, when Microsoft will be holding giveaways, special events, and more to celebrate the launch. Will you be attending?
Windows Central Newsletter
Get the best of Windows Central in in your inbox, every day!
Zac Bowden is a Senior Editor at Windows Central. Bringing you exclusive coverage into the world of Windows on PCs, tablets, phones, and more. Also an avid collector of rare Microsoft prototype devices! Keep in touch on Twitter: @zacbowden.
what about bring windows iot to raspberry pi4 ASAP???

Probably not in the remit of the Microsoft Store team or anyone else in the retail channels.

Why? Windows on IOT sucks big hairy ballz and Microsoft know it. That's why they created the Azure Sphere and are pushing towards Linux on IoT. Windows has always been a joke on small motherboards and will always be.

That's awesome. Wish I could see it.

A distinct lack of Lumias... 8-( [Sorry, couldn't resist]

I'm visiting London on Saturday so hoping to check this place out!

This is what I've been waiting for (amongst other Microsoft related things). If only they had somewhere like this at the height of the Lumia days....ah well. A place where finally we can celebrate, collaborate, salivate and participate and get all the exclusive benefits that those in the US have been privy to for years. I hope they have a generous trade-in program for Surface devices as I'd like to upgrade my SP4 to an SP6. I can't wait to visit!

Damn it, have a meeting at 11 am that I can't miss. Otherwise would definitely been there at the opening. Will definitely be there at lunch time lol.

Ha I'm on holiday in London right now from Australia. I was there for the Sydney opening, I'll be there for the London opening.

I also want to see deals on those Surface headphones. Need to add them to my collection.

I really wish they had an Azure cloud services area. Where we could interact with "the cloud". :0)

Maybe they could have a fog machine, and some fun big red interactive buttons you could push. When you pressed a big red button it could say "Hey there friend, welcome to the cloud. My name is ML. Isn't life great in the cloud? Let's go meet my dear friend AI. She's in the cloud too." :0)

Okay, in all seriousness, these stores are a distraction from MS' main goal of selling Azure to enterprise customers. All of these expensive, revenue draining, stores should be shuttered. Tough to hear I know. But seriously in what way do these brick and mortar stores move Azure forward?

Enterprise is important but not the main goal. Besides, Azure is the backbone of MS services. When people walk out with xboxes loaded with xbl and game pass, bundled if MS Office to go with new laptops, and a business specialist to facilitate Halolens sales, Dynamics365, and Enterprise Office 365, and M365 licensing, what do you think is powering that?

It doesn't cost anything to connect to the azure portal. And there are free services like a few free websites. Microsoft also Chuck you free stuff if you sign up at visual studio I think. Like some credits for virtual machines and stuff. Just try it.

You interact with Azure hundreds of times a week without realizing it.

open more stores in the heartland of Los Angeles. i have to drive out to orangecounty cuz i live at the edge of LA.

I mean...think how we feel in the UK. We only just got our first. And not everyone in the UK lives in London, contrary to popular belief!

Was there today, Hololens was amazing, will be going back there a lot!

Doing what? You're going to buy stuff everytime a lot? Because being a window shopper and making a crowd is for no use of anyone

Can someone tell me why someone would need to go into a store like this? Everything about MSFT is pretty much already supported by the online community and MSFT's pretty awesome learning and doc sites. These suck on Apple which is why you need to go into a store or figure it out yourself. And the only reason Apple stores exist are to figure out things like how to use their apps to make songs, record video or use their cloud service or whatever. That's consumer stuff. What does MSFT have at their store? Do they show you how to use Office etc. etc? Just curious.

All large corporations have Flagship stores for various reasons over and above advertising capabilities. In a more and more virtual environment large corporations not only want to showcase but also want to demonstrate with physical shops that there is substance underneath their global Tax optimization schemes.....

You can you try out Surface Hub, Hololens, demo services, play competitive games with like minded people in the same room, get ideas, use bespoke services, get fast fixes to issues, learning/tutorials (classroom or 1 on 1) basically, lots of reasons!

"Apple's cloud service" lol

A little confused as why they are spending so much money on a store. Microsoft has messed up every thing in the consumer market, great designed, poor marketing and failures, and pretty much dumped the consumer market now. A Surface is way out of the budget of the non-business consumer, so to me seems pretty pointless.

Okay I was originally coming to the comment section here today to complain about the use of Google maps vs. Bing maps in a link - but nevermind that! A new flagship store opens and most of you sourpusses COMPLAIN!? What the "bloody" hell, guys!? (Thanks for those pointing out the positives) It's absolutely wicked, this! And a huge milestone for MS in retail 😁
Be happy about it opening - I wish one would open in my country so I could really dig deep, connect and hopefully create a local community around it 😄!
Windows Central Newsletter
Thank you for signing up to Windows Central. You will receive a verification email shortly.
There was a problem. Please refresh the page and try again.