Microsoft is taking the summer and upcoming fall of 2012 by storm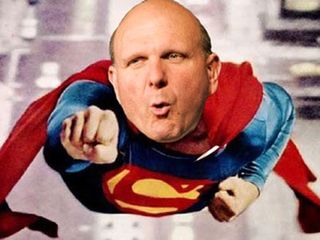 Frank Shaw, Vice President of Corporate Communications at Microsoft, published an interesting article on the official blog today. The post details how Microsoft has been running what appears to be a sprint with consecutive releases of Windows Phone updates, Windows 8 previews and the desktop OS recently hit RTM. Things are going well at Redmond, which is painting Microsoft in a completely different light to what consumers are used to.
The summer started back in June at E3 where Microsoft demonstrated SmartGlass, which will enable consumers to control their Xbox 360 via Windows 8 and smartphones, be able to stream media, and much more. The next big news for us was the Surface tablet and we believe these will be a hit should they be priced competitively with other Windows 8 OEMs, Android tablets and the iPad.
Joe Belfiore returned in San Francisco to unveil Windows Phone 8 (aka "Apollo") to the world and to showcase what was to be expected in the next release. It's just unfortunate that current and previous generation Windows Phones wont be eligible for any upgrades to Apollo, but Windows Phone 7.8 should keep owners happy until they make the move to the next level. You still with us? There's more.
Moving into July and we had Microsoft CEO Steve Ballmer address nearly 16,000 partners at the Worldwide Partners Conference to discuss Windows 8 and other upcoming products, which is being billed to be the largest product and services launch in the history of software giant. Following this was Ballmer launching the customer preview of the new Microsoft Office, and if that wasn't enough Microsoft (in the same week) reported record quarterly and annual earnings.
With the new Office, Outlook.com, Windows 8, Windows Server 2012, Visual Studio 2012, Xbox 360 / Kinect, Windows Phone 7.8 / 8 and Surface tablets to look forward to, I say: bring on the fall! Microsoft is looking to go big this year
Source: TechNet (opens in new tab)
Rich Edmonds is Senior Editor of PC hardware at Windows Central, covering everything related to PC components and NAS. He's been involved in technology for more than a decade and knows a thing or two about the magic inside a PC chassis. You can follow him over on Twitter at @RichEdmonds.
My Boss use the same saying!:) I like it!

Love the piccy! :D We WP7 users have known about the new Microsoft for some time...

It's the proper time to change the logo too. I hope they do.

They did change it. See the Surface.


Time to change their motto too. I thing they should slap "Deal with it" or "Like a Boss" under the Windows logo... :)

Can I get a bigger version of that Steve pic? I want to print it and put it in my cube haha

I have never been so excited to be in the Microsoft ecosystem, i have been using w8 since DP and it is now my daily driver at home and work, and wp7 since the quantum. I am ready for the apex of Microsoft product synergy. Win 8 desktop tablet/laptop, wp8 and Xbox working together seamlessly.

I am so excited, I am dropping everything android for this. I am pumped.

Im so glad im a WP7/8. No regrets whatsoever. Its gonna get even better!!

I couldn't be happier to be a Microsoft Fan!;) BRING IT ON Steve & Co.

Happy with everything they are doing. As a consumer and as a it bod with server 2012. Lync 2013, exchange 2013, SharePoint 2013, office 2013, win 8, wp8. My software assurance will pay for itself next year!

Hopefully they get some WP8 phones out before the IPhone 5. With as many people that flocked to the slightly changed IPhone 4S, you can bet a lot of people with upgrade eligibility will go get the IPhone 5 and thus lock them out of switching to the WP platform for another 2 years...

Not everybody goes out and buys a phone right after it's out. Most people will probably get a new phone during christmas time. People who buy an iPhone the day it comes out are probably not going to get talked out of buying one.

The iPhone 5 is said to use a new data/charging port. So anyone wanting to upgrade is going to have to upgrade everything or get adapters if they are available..

And will buy said accessories

Whoa, That's a scary Pic...

Don't forget exchange, SharePoint and lync,all of which will have new releases in the next 9 months

Microsoft all day everyday !!

LOL SuperBallmer nice pic!

And this "sprint" is why Apple and Google are rushing their products. MSFT may finally have them worried. Bring on the Surface.

lol at steve ballmer picture you go ballmer save the day :)

Big this year and next with Xbox 8 and Kinect v2 :D

Don't forget all the newly announced mice and keyboard options to work with Windows 8

I too would love a big version of the pic :D

I'm glad to see Microsofts much needed renaissance. They've needed to update their products and image for some time and im glad to see it all come together. I've felt for some time they offer the most flexible and powerful products out there, but it was always hard to market in the days of Apple simplicity and marketing. I really hope that they can quantifiably show to consumers what makes the Microsoft ecosystem better. Xbox, Windows, Windows Phone, Xbox Live, Xbox Music, Xbox Smartglass, Outlook.com, the new Office, Surface.... It just goes on and on. I just hope its enough. If people don't leave Apple with these offerings on the table I fear they never will.

Love the Balmer pic. lol.

I can't help but think that Gates knew quite well in advance this was the roadmap. Whatever you think of him, he was definitely a technology evangalist and certainly a visionary. This is the ecosystem he's been espousing for years. Now it makes sense why he stepped away to focus on other things. MS was already on its way and Ballmer is the trusted custodian of the master vision. Or the crazy uncle entrusted with the master vision. :P Exciting times for a long time fan of Microsoft technology.

that picture make me crazy

Two things that caught me by surprise, outlook.com and surface. Good year for MS lots of innovation.

I guess time will tell, Something still tells me that Windows 8 is not going to be as huge as Windows 7 was (Too major of a change for the corporte world, traning cost would be crazy and that's about 65% of MS's income from Windows). Sure, I'll end up dual booting with it but, I still think I'll use WIn 7 more...

From what I am seeing for Windows Phone 8, they are changing the sub system to support better hardware and faster performance..

Apple = Ballmer's Kryptonite. And we don't like Kryptonite :P

Microsoft is getting back to the game with apple.
Windows Central Newsletter
Thank you for signing up to Windows Central. You will receive a verification email shortly.
There was a problem. Please refresh the page and try again.