Microsoft will euthanize Zoo Tycoon Friends on April 28 due to technical failures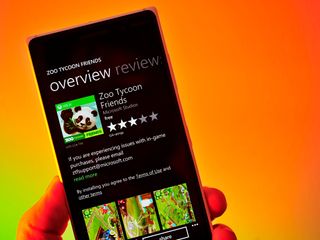 Back in July of last year, Microsoft announced plans to release Zoo Tycoon Friends for Windows 8.1 and Windows Phone. In addition to being an Xbox title, the game looked to fit into the growing trend of simulation and management games for mobile. Later in October, the game finally launched after some limited testing and things were looking good for the game.
Jump ahead to early 2015, and it does not take much to find complaints in the Store about the title. Reviews are littered with the same grievances, which includes the backend servers essentially not working, rendering the game (and any purchases) useless.
Today, Microsoft is throwing in the towel. In an email sent to those who are playing the game, Microsoft Studios have announced that Zoo Tycoon Friends is shutting down on April 28, 2015. Microsoft says that the closure is part of their "ebb and flow" of portfolio management, but there is little doubt that the game's constant problems likely forced their hand.
This decision is not the first time Microsoft has canned a seemingly favorite universal Xbox game for Windows and Windows Phone. Back in late 2013, Microsoft axed their distinctive space battle and strategy game Galactic Reign. Galactic Reign (review) did some unique things like rendering space battles on Microsoft's cloud servers, which were then viewable within the game as a mini-movie. The game had many fans, including the staff here, but Microsoft still nixed it.
It is a shame for those who invested time and money into Zoo Tycoon Friends, especially since the game had a shelf life of literally six months. Sometimes it makes you wonder who is managing these programs and how they can seemingly go so wrong.
Microsoft and Windows 10 promise to bring a lot for gamers, but Redmond still has an uphill battle to win us over these days.
You can still download the game for Windows Phone here, although the Windows version has already been pulled.
Thanks, Benni L., for the tip and email
Windows Central Newsletter
Get the best of Windows Central in in your inbox, every day!
Daniel Rubino is the Editor-in-chief of Windows Central, head reviewer, podcast co-host, and analyst. He has been here covering Microsoft since 2007 when this site was called WMExperts (and later Windows Phone Central). His interests include Windows, Microsoft Surface, laptops, next-gen computing, and for some reason, watches. Before all this tech stuff, he worked on a Ph.D. in linguistics and ran the projectors at movie theaters, which has done absolutely nothing for his career.
I really enjoyed this game but it won't progress past chapter 6 as the mission I'm on won't advance. Shame.

You need to update your game. They fixed the Snow Leopard habitat issue with the first update over 5 months ago.

I'm stuck part way thru Ch 7. It's not just the Leopard bug (which is Ch 5) that's the problem. The devs. said they would fix my save but clearly they aren't going to now. Even GameLoft can (mostly) do cloud saves so there's no reason the MS shouldn't be able to.

MS should be aware of the Xbox live server for windows /windows phone truly is a pain in the ass!

Same fate like secrets and treasures.

Yeah, I really don't get it. All those sunk costs. They spend so much money developing these games, and then they just kill them months later. I can't imagine it would cost that much money to strip the game of it's cloud features and just make it an offline game, slap a $3 price tag on it, and leave it in the store. I was really looking forward to playing Zoo Tycoon Friends, and I really liked Secrets and Treasures too (as much as anyone can like a freemium game, anyway). At least Age of Empires: Castle Siege seems to have staying power.

I never even heard of the game until this article, but that title made me lol.

That's weird, I'd never noticed this game on the store until now. Probably won't have enough time to finish it though...

It never fully released to the Windows Store. Only available in Trinidad & Tobago region.

This game requires 1GB ram... So 512 mb users can't see a 1GB game in the store

Downloaded it but never got around to playing it

I think MS Studios is not a good studio. A lot of negative things in the past years...

Couldn't help but hue at the headline c:

That title made me laugh....

Looks like the baby version of AOE: CS.

Damn it, wanted it since release but says not compatible with my phone and wont download (920) Now I guess it'll never be fixed either :(

Another example why its not worth investing even a cent into these 'free to play' games, as you are very unlikely to get a refund if the whole thing goes bust few months down the line, if it was a paid app you could get a refund if it was pulled since WP does not support re-downloading of pulled apps, unlike Steam or any other proper service does.

You can get a refund for any game or IAP for a game that is delisted. And you should request it, for the only way to knock some sense into Microsoft is to knock some cents out of Microsoft.

We can't just accept this you guys.
That game never saw a full release (only by accident) but you were able to spend money (which I didn't).
This is really unique and not comparable to Secrets and Treasures or Galactic Reign.
About one month ago, the game stopped working for me, always says "server not available". Tried everything, no chance.
Many other players have the same problem.
This is really a case where the community needs to stand up against. At least get that game working until you pull the plug.
Really disappointed.

This has been happening to many players, and the only thing that can be suggested is to keep retrying until you can connect to the server. Someone setup an auto-clicker on the popup until he finally connected on the W8.1 version, but I've had very few issues on the US WP8 version while others that downloaded it in T&T have been having a host of server issues.

Yeah I've been having the same issue. Will try as Shadow suggested tonight and just keep trying to connect. I usually give up after trying 2 or 3 times. Thanks!

Not a great choice of wording for the title (for me). Brings back memories

If anyone has any apps that can rehome the animals please let Microsoft know.

Sigh. I've never played this game, but it sucks that yet another app is leaving us.

I can imagine more people will want to play it now before its removed.

No only Chase is doing this... Come on Microsoft

wow your title sounds... really bad Daniel. just wow, wow and more wow. But anyway, this was not that great anyway, I mean it was cool and all like other tycoon games but, it's not like someone will die because this game, which had many problems is closing. But really, many free to play games close yearly. it's nothing new... I remember being beta test for some mmorpg and then it wouldn't even go out of beta. some would close a little after release due to bad servers or issues in gameplay. also companies changing managment and publisher and then region locking the game, leaving me without being able to access to it no matter how many characters i got. or games that had legal problems with other publishers and just cloosing it until issues are resolve (but they never are) so yeah, vidoegames are like that. especially free to play and the ones that try to use servers and such. paid or free it's the same, even Tabula Rasa closed once, even if it was a nice game and not cheap. so yeah, nothing new here, people can keep walking and living their lives.

Request a refund, it's unacceptable to purchase something like this, and it's been easy for me in the past to get refunds and credits for issues with apps being pulled.

It was a free title (with in app purchases that never worked)

It was terrible, especially compared to other freemiums. For one, the only way your animals won't get sick (a lot) is if you wake up in the middle of the night multiple times just to feed them. And that's even with fully upgraded feeders. Plus the store never worked at all, and the ads that give diamonds have recently decided to only give like 2 at a time. Freemiums are supposed to have some degree of fun, but with the middle-of-the-night-and-six-times-a-day feedings, ZTF felt more like a chore than a game.

"For one, the only way your animals won't get sick (a lot) is if you wake up in the middle of the night multiple times just to feed them." Sounds like good training for parenthood. Maybe they should rebrand it and keep it in the Store.

LOL actually I have an infant that gets up in the middle of the night anyway so whenever she got up, I'd make sure to feed my virtual animals first before warming up her milk.

Or if they would try to kill all the other apps that have not been updated for months or years the Windows store would end up losing the same number of apps that were added in the store over time.

feel bad for microtransactioners. all that money gone. this is why i ahvent spent a cent on AOE CastleSiege yet.

Microsoft should read the reviews on Xbox Music and Video (which are far worse), euthanasia that bitch, and re-release Zune. Change the name if you want, just give us the program back already. You keep saying your listening, but obviously you don't care. You keep worrying about little things like this game and not large stuff that the massive majority is screaming for.

When is Rocket Riot coming back

They'll kill the game on my birthday! Why Microsoft? Why? I never played that game and never heard of it. LOL

What ever happened to that stellar Xbox integration?

I'm surprised Microsoft actually reads reviews considering the atrocious reviews Skype gets. I've never seen a review for an app with more 1 star entries.

Have people been able to login to this game? For the past month anytime I try to get on it says "service not available". I am like halfway done. Has anyone else had this issue and were they able to fix it somehow?

On a less serious note. Funny title. Seriously, completely inappropriate on many levels.

For a company now run by a man who headed up cloud services, their online services are absolutely pathetic.

Oh no i didnt test This Game but i want to try it now

Never even knew of this game.

Well it's officially killed. I was never able to progress pass level 11 1/2. I deleted it and reinstalled it yesterday hoping for it fixed itself as I had the non-us version. Once I installed the US version, it made a small xp progress. I thought everything was right in the world again, until I checked my zoo this morning. Stuck at 11 1/2 again. Tried doing the delete and reinstall to see if it would budge, but now the app has been pulled. It was fun while it lasted.

Anyone know the name of the genre of this kind of games? Like cities where you need to upgrade things and collect things.

Microsoft did the same for the WSOP Full House Poker..... What happen to them....they produce games then when everyone is playing them, they close the servers....I don't think it's a good way of working.... Mav2300

I haven't been able to connect to the Zoo Tycoon Friends service since this email was sent out on Wednesday. I don't know why the fuck they bothered saying the cutoff date was April 28, 2015, three months from now. Even Slant Six was true to its word, keeping Galactic Reign online until the day it was supposed to be terminated.

Plz upload this game for 512 mb ram phones
Plz plz plz plz plz
Windows Central Newsletter
Thank you for signing up to Windows Central. You will receive a verification email shortly.
There was a problem. Please refresh the page and try again.