Mobile Nations Weekly: The Week of Priv
The Priv's putting BlackBerry back on the map.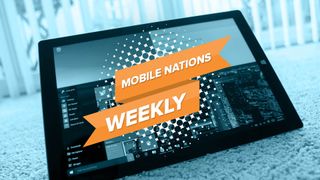 The biggest news this week was simple: the BlackBerry Priv is here. It's BlackBerry's first new phone in several months, and their first running Android. A big screen, a slide up keyboard, and BlackBerry's legendarily rock-solid hardware have combined to make one hell of a phone.
But BlackBerry wasn't the only news in town — Microsoft made waves with changes to OneDrive, but they're not exactly well-received alterations. Bucking the trend of increasing storage space and lowering prices, Microsoft is eliminating their unlimited cloud storage tier due to abuse and plans to cut the free 15GB tier down to 5GB. Needless to say, heavy OneDrive users are up in arms about the changes.
All that and more, in Mobile Nations Weekly!
Windows Central — The magical shrinking cloud
This week has been more on the slow side as Microsoft puts the final touches on the Windows 10 Fall Refresh. That update for desktop and PC users should hit November 12 and Insiders got the expected release version (build 10586) on Thursday.
The biggest news, however, is not what Microsoft released but what they took away. Late on Monday night the company quietly said they were removing 'unlimited' from OneDrive plans. If that wasn't bad enough, they are also reducing those with 15GB of storage down to 5GB in 2016. Microsoft blames abuse, but the real reason is strictly business and money. Speak up in UserVoice to make yourself heard..
Finally, in some good news some Lumias on Windows 10 finally got slow motion video. Still no word though on a US release date for the Lumia 950 and Lumia 950 XL.
Android Central — This week's new Android phone comes from … BlackBerry
CrackBerry isn't the only place where people are excited for the BlackBerry Priv. Behind that keyboard lies a phone running Android, after all. Russell did up quite the review, and we're looking into how everything is done so Android fans as well as BlackBerry fans can make the most of the Priv.
CrackBerry — Welcome to Android
The wait is finally over and the all-new BlackBerry Priv has arrived. While some folks are still waiting for their shipments to arrive, there's plenty of folks who have one already in their hands. If you're still on the fence about Priv, be sure to read our full review!
iMore — Prepping for Pro!
We've now seen the launch of the iPhone 6s, iPhone 6s Plus, and the new Apple TV and that leaves the iPad Pro. At 12.9-inches it's Apple's biggest tablet yet, and with the Smart Keyboard and Apple Pencil, it's the most productive and creative as well. The question iMore addressed this week, though, is whether you should get one?
Kicked — tablet holders, sleeping headphones, and a trip to the DMV
This week on Kicked, we tell you about the best tablet holder, the most comfortable sleep headphones, and the best way to get your kids to fall asleep. Kim also tells a DMV story where her lack of makeup is called into question. This amuses Dan.
For the coolest crowd funding projects you need to know about (along with a few weekly antics) be sure to subscribe to the Kicked TV YouTube Channel and follow us on social media. We're active on Twitter, Facebook and of course Instagram.
Connectedly — Push this
This week on Connectedly, we took a look at some exciting crowdfunded projects that are looking to make our connected lives better. Ario is a smart lamp that hopes to help you be more productive during the day while getting a better sleep at night. The PuzzlePhone looks to be the phone you keep for a while, with its swappable components. We also saw a neat little gadget that wants to push all your buttons for you in the Microbot Push.
Windows Central Newsletter
Get the best of Windows Central in your inbox, every day!
Derek Kessler is Special Projects Manager for Mobile Nations. He's been writing about tech since 2009, has far more phones than is considered humane, still carries a torch for Palm, and got a Tesla because it was the biggest gadget he could find. You can follow him on Twitter at @derekakessler.
Never expected the Priv to make waves...am impressed with the review on android central especially this being their first android phone...glad to see blackberry back...:)

With the good reviews it's getting and the delays with Microsoft's phones could it win the Christmas war? Posted from my Note 5

The war? WP & BB don't even know where the front lines are.

I don't know what map they are saying Blackberry is back on with the Priv. Last I saw, Tizen had passed it as the 4th OS. Not because Tizen is doing well, but because Blackberry is continuing its disappearing act.

Um..read the article...blackberry priv runs android...its been leaking on the net for months now... seems you are outta touch with mobile tech in general... :)

Whoops, my bad. I guess BlackBerry is doing great then since Android rules market share globally.
The Priv won't do much to stave of the inevitable death of BlackBerry phones. The CEO Chen says they need to sell 5 million phones to be profitable and remain in the smartphone business. They sold less than 800,000 in Q3, that's not on track.
At $700 and only available in one carrier (in the US), I don't see that changing. Particularly since the Priv, being an Android device now, doesn't stack up well against other Android in that price range. It's camera ain't great, the touchscreen ain't great and... IMO, it's ugly (subjective, I know).

"At $700 and only available in one carrier (in the US), I don't see that changing." I love how Americans keep thinking that OEMs need the US market to survive...Even though they've been time and again proven that they don't. Let's see how the Privy (yeah, I'm calling it that and I know what it means lol) does. There's an entire World market beyond the US. It's only in one US carrier? So are Microsoft's new flagship devices. And? Outside the US people buy phones normally, at full price. The Privy just costs as much as any other flagship phone. I don't believe that the Privy will sell 5 million devices. But it stands better chances of doing it than any other BlackBerry phone in years.

That will be interesting, since BlackBerry was not historically popular in Europe like Nokia. Posted from my Moto X Pure Edition via the Windows Central App for Android

Good grief DJCBS, I didn't say anything about 'needing the US'. I simply used it's price & placement in the US because that was all the info i had, it was an example. And yes, it's priced right along other flagship Android devices, which goes right along with my point that it doesn't compare well with those phones. Other than a keyboard, there's no differentiator without BBOS. Paying full price outside the US market really only strengthens my point, because I see this as overpriced.
The anti-US & anti-Microsoft themes to ALL of your posts us getting really old. Go jump to conclusions on someone else's posts.

In terms of carriers, it's already been announced it will be picked up by all major us carriers in 'the coming weeks'. It was an exclusive at launch. If you want to know what's different about the device over other androids go look it up but don't say there are none because there clearly are a lot
1. The BlackBerry Hub.
2. Multitasking overlay accessed from curved edge
3. Cleaned up implementation of widgets.. swipe on icon
4. Use of 'active frame' in app switching
5. Added hardware security layer
6. Added software security suite
7. BlackBerry universal search Posted via the Windows Central App for Android

"Other than a keyboard, there's no differentiator without BBOS. " Maybe then you should go read Android Central's articles on the Privy. BB didn't simply slapped Android on a random BlackBerry, they took the time to change things and secure the OS in a way no other Android OEM does. So what BlackBerry is offering is not only a BB runing Android, it's a BB running Android with all the BB features you'd find on BB10 and an Android experience that's more secure than on other phones, for all the people that love to bash Android for being "not secure".

That was a terrible choice of name for the device. The name 'Venice' should have been kept. How could the executives at BlackBerry have not known that a privy is a toilet? Toilet is the first thing I thought of when I saw the name 'Priv'. Posted from my Moto X Pure Edition via the Windows Central App for Android

lol so did I. Which is why I keep calling it the Privy XD
It's a terrible name. Specially because they based the excuse they gave for it is ridiculous.
"Priv" is for "Privacy"...and it would be ok if you pronounced it the American way, ie, "pryve". But they are pronouncing it "preev". Well, that's all good if you're in Britain where people pronounce "privacy" as "preevacy"...except then it sounds like privy. So they want to convey the idea of privacy. But then they want to sound classy and so they pronounce it the British way...and fall into a language trap that's just a disaster. "Venice" would have been far more classy. Or heck, they should have called it "BlackBerry Vegas". Because what happens in Vegas, stays in Vegas =P

Well bis(bb tax) is the gate & the gatekeepers are the carriers cant see this changing

There hasn't been any BIS on BB10. BIS was only on legacy BBOS devices. BB10 devices use the same data plan as Windows Phone, Android and iPhone. Posted from my Moto X Pure Edition via the Windows Central App for Android

Blackberry really doesn't have much to do with mobile tech in general, so I'm not sure what you mean. This is the equivalent of saying that someone is out of touch with tech because they don't know about the new Linux Mint update

Soon Blackberry will have more market share than WP.

Lets hope not. I have faith on WP 10

Come all will know the windows phone is really have a bad start all these years. But with windows 10 I hope fix things up you know right now even the windows central apps is by far better in android but I really hope in it's universal apps they fix that to.

Lol when aow launched I sideloaded

The hope is strong with this one :)

I think you are confusing wishful thinking with faith. MS doesn't even have faith in it anymore and is why I finally went to Android. WP is going to be relegated to the Enterprise market.

Please join crackberry bye....

This is a mobile weekly post. Please avoid it if you get triggered by news about Android and BlackBerry. Posted from my Note 5

They just need to get 4% market share. If it catches on as a business phone then they're all set. Posted from my Note 5

No. They just need 2.6% market share and they'll surpass WP. Because WP is already at 2.5% marketshare ;)

Doubt it. Blackberry isn't even 4th anymore, Tizen passed it.

And it will likely pass WP in a near future too, mark my words.

Possibly, if it is released to more markets. I think it passing BlackBerry is more about BB losses than Tizen gains though. That's just a hunch, I haven't seen any data. Hate on.

I wish BlackBerry made the Classic for Windows. The Priv is a bit too big for my taste but it's really nice. I can see blackberry doing very well with this phone. It's good for the market. Posted via the Windows Central App for Android

I'm waiting for Asus to make one high-end windows phone, their products are excellent.

Like PadFone with Continuum? That's epic!

Slideup keyboard must be different in every region. Costly for BB. Maybe it will sell in US. Not so much in Europe.

i think bb did a good job in designing it...slideup key does not increase the thickness of the phone much and it is not much noticeable unless anybody knows

Not really. Most of the Western World uses the QWERTY layout. Only Germanic countries use QWERTZ (which just means switching two keys) and, of course, the French who insist in using AZERTY. At any rate, that only requires changing keys around. Everything else is done software-wise. But even in all those places, QWERTY is used and I highly doubt anyone would have a problem with a QWERTY keyboard, specially when in all those places people also write a lot in English. I don't believe the keyboard layout will be a problem at all in selling the phone.

BlackBerry used to make QWERTZ and AZERTY keyboard devices. I remember threads on CrackBerry back in the day where a poster ordered a device and got one of those and didn't know what it was. Posted from my Moto X Pure Edition via the Windows Central App for Android

C'mon Derrek, you had to bring up OneDrive? Just when commenters around here began to cool off! ;)

The strange thing is that they scale back OneDrive storage just when they were going to release the new Lumia phones. Maybe the OneDrive/cloud department didn't know if the Windows and Devices department is going to launch new phones? No coordination whatsoever between different departments at Microsoft.

Oooor everything was already done & in transit or in location already before the decision was finalized.

If blackberry makes a windows phone I would buy it ASAP

Me too. Blackberry classic or passport on windows and I'm there! Posted via the Windows Central App for Android

They wouldn't. Windows is a lost cause.
Microsoft should end it already Posted via the Windows Central App for Android

Yup microsoft should just close down and deactivate all existing copies of the OS. Enterprise, government, services be damned.

Love the Priv form factor (still miss my old Palm Pre, which started that style). Since they're not using Blackberry OS anymore, I wonder if they would consider putting Windows Phone on it. Probably not economically worth it to them at Windows Phone's current market share, but probably not impossible and a good way to keep their own unique branding without being overly beholden to Google ("Get the BB keyboard and messaging experience on Android or Windows").

Kicked TV is new to me. Interesting stuff and well done.