Monster Island gets super cheap as the Xbox Live Deal of the Week on Windows Phone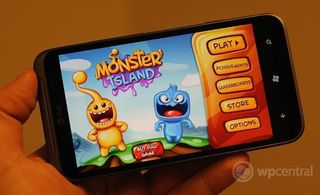 Last week's Xbox Live Deal of the Week marked the return of the popular sales program, but it failed to impress due to the subterranean quality of the game on sale, Fusion: Sentient. Still, the DOTW's return promised brighter days to come, and quickly, too. This week's deal is Monster Island, widely regarded as the best Angry Birds-type game currently available on Windows Phone. Plus it's on sale for not just $1.99 like we've come to expect from a discounted $2.99 game, but only 99 cents!
Monster tosser
Monster Island is basically a monster-themed version of Fragger. Instead of a grenadier, you're now a monster who must defeat invading monsters. Aim and throw five different kinds of monster grenades to destroy your stationary enemies. With a whopping 262 levels (and more promised in a future update), it offers plenty of bomb-throwing fun.
Monster Island features a robust in-game shop in which players can purchase new characters, level unlocks, level skips, and level solutions using in-game currency. Initially the game's Achievements actually required players to purchase coins with Microsoft Points, breaking the rules of Xbox Live. Thankfully the game was pulled over those concerns and returned a month later with less villainous Achievements.
Introducing the reverse Fling
Monster Island dropping to 99 cents for a week is somewhat ironic because another of Miniclip's games Fling initially launched at the 99 cent price only to mysteriously increase its price to $2.99 two months later. We contacted Miniclip about the price raise but received no response. Monster Island's Deal of the Week status shows a bit of benevolence (or at perhaps savvy) from the Swiss publisher. At any rate, any Xbox Live sale that surprises us in some way shall henceforth be known as a 'reverse Fling.'
Monster Island is on sale for 99 cents for one week only. If you like throwing things at helpless stationary targets, it's a must-buy. Get it here on the Windows Phone marketplace, I mean, Store. Who says Marketplace any more?
Windows Central Newsletter
Get the best of Windows Central in in your inbox, every day!
Paul Acevedo is the Games Editor at Windows Central. A lifelong gamer, he has written about videogames for over 15 years and reviewed over 350 games for our site. Follow him on Twitter @PaulRAcevedo. Don't hate. Appreciate!
I prefer Marketplace though. I has attachments to it, somewhat. :(

Please, if someone from Miniclip are reading this now, make this game, and others too, available in the Brazilian Marketplace!! We miss games like that in here. About the rating politics specifics from here, there are some changes that can help developers like you. If your game already have a rating classification by one of the most common organizations around the world, like PEGI, you can automatically rate your game and publish in here.
If anyone have some doubts about this I can help.

Wouldn't be surprised if this was a permanent price drop disguised as a deal. Microsoft is not one for 66% discounts. Will see next week I guess.

We waited to confirm this with Microsoft before posting. ~ ~

Interesting. Good to know. Even if they did conform it (I mean it is being posted all over their site), they could have it as a little trick up their sleeve. They put retail DLC on sale just before gake of the year editions are announced or before they put season passes on sale. Or sales just before an item price drops permanently.

Ms gives dotw discounts like this on arcade at times and it is great to see the same reduction for phones. Makes it an easy purchase.

Got it and love it. More fun than angry birds!

I found this game to become boring really fast :-(

Was good.....more levels needed....

Fu** i already own this.. :(
From now on i only will buy games tha are Dotw or have a permanet price drop!

After 20 weeks, you might go to an average restaurant with the money you saved.

If money is not a problem for you and you are so cool.. why don't you sent me the money that i could save in 20 weeks now..

Dude chill, was a joke, same way I think your "end year resolution was" because let's face it, it should depend, on the game; lack of games or plenty to play at the time etcetera. I'm not rich, but thinking I should waited 1 year to save 2 EUR, it depends on several things not only in the 2 EUR per se.

It just got real up in here! I typically wait for dotw on some titles, except .99 games I buy those day one. I reserve day one purchases to titles I really want and do not want to wait for a sale that may never happen. I also will spend more for a developers that support wp, are awesome, and make great games.

Just downloaded it (will be an a flight soon, so I'll give it a try then...). Checked it out for a few minutes and it reminded me a lot of Worms for sure. Actually I have a question dealing with Worms (hope thats not too Off-Topic). Are there some nice clones on the marketplace...I mean...the Market Store? :) I couldn't manage to find the original (I guess they didn't port it yet...what I don't understand...) Thanks in advance for your help!


Isn't this the game where you had to buy a load of in-game purchases in order to finish it?


Pfft reading! You know most people just look at the title, the picture, then scroll to the bottom to see the price, then immediately add a comment to express their rage, excitement, or inane questions accordingly :P :P

Those people make me (and surely every writer) cry tears of sadness. Ah well, can't be helped.

Finally back on track with dotw. :D
I cannot get crimson dragon to download over WiFi, :'(
Not sure why.

Mine took a while yesterday and even made my phone a little sluggish in the process. First time that's happened on my 900.

Can someone convince me this is just not Fragger re-skinned? I thought Fragger was 'okay', I didn't like the puzzle elements of throwing, or trying to throw into ridiculously tight pipes and whatnot. I'm looking for more casual throwing like Angry Birds. But if this is just Fragger again I'm going to skip. :)

It's close, but still a larger and better game. The puzzles get more elaborate and there are more levels. But any Angry Birds-style game will be a lot like Fragger since they all clone the original game.

The problems with $.99 cent games at launch is that they most likely will never be deal of the week. Are they really gonna drop the price to $.49?

That way you don't have to wait to buy them. :-)

Some games launch at a discount price and then go up. i.e. Hexage who made Evac, Totemo, Radiant and a bunch of other cool games launched their entire range at $0.99 across the board. Now they're all $2.49 (possibly 0.50 cheaper in the US). So there's still room for them to go on sale, and I wish they would :P
Windows Central Newsletter
Thank you for signing up to Windows Central. You will receive a verification email shortly.
There was a problem. Please refresh the page and try again.