Polarr Photo Editor Pro for Windows 10 PC down from $19.99 to $0.99 for next five days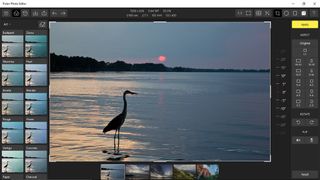 The Polarr Photo Editor Pro for Windows 10 on the PC is getting a big discount this for the next five days. During that time, the price for the app has been reduced from $19.99 to $0.99.
Here's a look at the app's many features:
Designed for mouse and touch
Proprietary controller-inspired design for speed and precision
Interactive in-app guide to photo editing
Expandable and collapsible workspace
Responsive and adjustable user interface to fit your screen
Hand-crafted collection of over 50 preset filters for quick edits
Import multiple and exports in batch
Light: exposure, highlights and shadows
Detail: clarity, sharpen, denoise, diffuse and dehaze
Optics: distortions, vignette, fringing
Advanced HSL and RGB Curve tools
Filter blending and mixing tools
Highlights/shadows toning tools
Multiple local adjustments areas
Circular and gradient filters
Powerful cropping and aspect control
Create custom filters based on history
Export photo at different settings
Persistent edit history tracking
Infinite undo and redo
The version notes for Polarr Photo Editor Pro state that users will need to download the free version of the app Photo Editor | Polarr (opens in new tab) first. Polarr says this is "to make sure your CPU/GPU doesn't crash or perform poorly with Polarr's graphic requirement."
Download Polarr Photo Editor Pro from the Windows Store (opens in new tab)
Windows Central Newsletter
Get the best of Windows Central in in your inbox, every day!
Any comments from informed users of the app?

I got this last time it was on sale and IMO it's one of the more advanced examples of a UWP app.

Does it edit raw files? Anyone know?

I just installed the free version, and I does indeed open raw files. The open dialogue box has a list of about 40 formats it can open, so I guess it'll be widely compatible. For what it's worth, it seems like a nice program. I use lightroom/photoshop for heavy work, but this could be a really decent alternative for quick one off edits. Especially if they make it a UWP app!

I bought this app last time is was on sale. It's great. The controls like exposure and saturation have some kind of smart curves behind the scenes so they preserve contrast and look more realistic than on other apps. Dehaze is an amazing tool and it isn't available anywhere else I checked except PhotoShop proper. Polarr is not very stable for me on my Surface 3 4GB. If I leave a lot of photos open in it then it crashes on opening everytime. It's fine as long as I close each file before I open a second one.

@ Arkanoid: Thanks very much for the info. I'll nab that when I get home. I'm really hoping they make a Universal app too.. Maybe...

No problem, I was wondering that myself since I work almost exclusively with raw files. I bought the app anyway, seems like it is quite powerful, and definitely worth 79p hah

Been using this app for a while now so happy to see it's on sale. Definitely grabbing it now while I can!

It would be nice if the devs fixed the issues with Intel GPUs. It would mean that it wouldn't crash on launch on Surface 3

Crashes when attempting to open program on Surface Pro 3. Worthless until fixed...

It works for me up until I try to export or save an image. Hoping that the developers are on top of these bugs. Otherwise, the app looks great!

@MarkMayberry, not really. If I were you, I'd buy it now on sale as the crashes can be fixed later with updates. It's a bargain at less than a $/£.

Agreed. It's strange because if you right click a photo it will open in the app and load properly but if you try to open the app itself, it just crashes. Intel chip here too. Shame, could be promising, especially if it ever went mobile..

Not that great of reviews for this app. But I lose more change in between the car seats so 99 cents is worth the price of investigation.

Sorry about double post...

I have no problem using the app, but it crashes when trying to save or export. Surface Pro 2. Too bad.

Great app, thanks for the hint, John!

It won't open RAW file from the picture was taking from 950XL

Not sure why in the features they say at 4MB it's the smallest editor on a MAC. And that it uses webkit. Can't be very UWP if that is the case!
Windows Central Newsletter
Thank you for signing up to Windows Central. You will receive a verification email shortly.
There was a problem. Please refresh the page and try again.